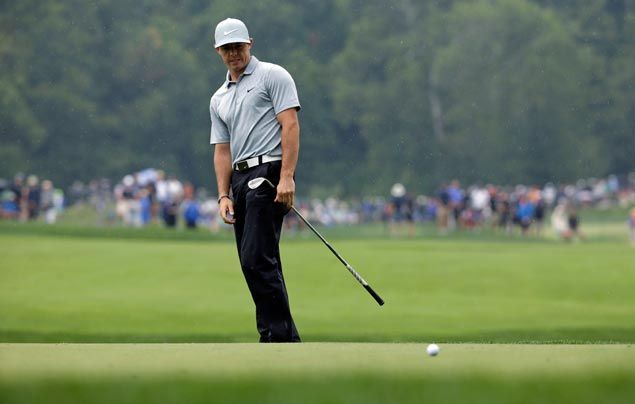 LOUISVILLE, Kentucky — Rory McIlroy is making this PGA Championship feel like 2000 all over again at Valhalla.
Back then, it was Tiger Woods who was making the game look easy as he started to pile up majors. Now it's McIlroy, the 25-year-old from Northern Ireland who produced superior shots with his long game and made all the right putts Friday (Saturday, Manila time) for a 4-under 67 that gave him a one-shot lead over Jason Day and Jim Furyk.
"When I'm playing like this, it's obviously very enjoyable," McIlroy said. "I can't wait to get back out on the course again tomorrow and do the same thing all over again."
For Woods, such feelings are becoming distant memories.
He missed two short putts early — one for birdie, one for bogey — and looked as if he should never have tried to play the final major of the year with a sore back. Two birdies on his last three holes only kept it from being worse. Woods shot another 74 and missed the cut in a major for the fourth time.
"I tried as hard as I could," Woods said. "That's about all I got."
Oddly enough, McIlroy opened with the exact same scores (66-67) as Woods did 14 years ago at Valhalla, when he barely outlasted Bob May in a playoff for his third straight major of the season on his way to an unprecedented sweep of golf's biggest events.
McIlroy, who was at 9-under 133, isn't nearly at that stage. And his competition going into the weekend is a little more experienced.
Furyk, a former U.S. Open champion who was runner-up last year at the PGA, got up-and-down from behind the green on the par-5 18th for birdie and a 68. Moments earlier, Day capped off the best round of a soggy day with a birdie on the 18th for a 65. Day has three runner-up finishes in the majors.
ADVERTISEMENT - CONTINUE READING BELOW
Right behind were Ryan Palmer (70) and Rickie Fowler (66), a runner-up in the last two majors.
Even so, McIlroy is dangerous when he gets in the lead, especially at a major. He learned his lesson at Augusta National in 2011 when he tried to protect a four-shot lead and wound up shooting 80. He bounced back for an eight-shot win at the U.S. Open, won the PGA Championship by a record eight shots a year later and only last month went wire-to-wire to win the third leg of the career Grand Slam at the British Open.