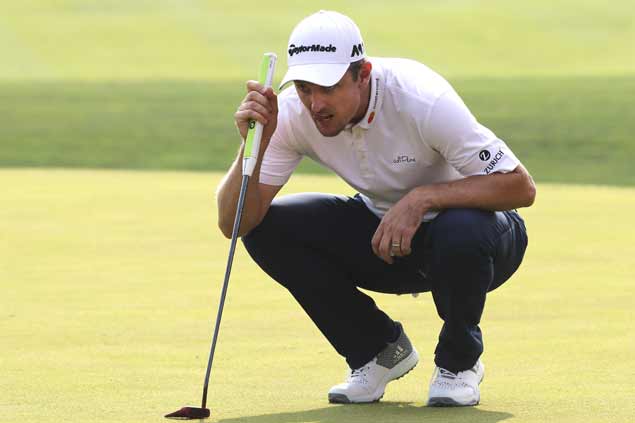 SHANGHAI — Justin Rose took advantage of a record-tying collapse by Dustin Johnson and rallied from eight shots behind to win the HSBC Champions.
Johnson, the world's No. 1 player going for his third World Golf Championships title of the year, lost a six-shot lead on Sunday. That matches the largest blown lead in the final round on the PGA Tour, most recently by Sergio Garcia at Quail Hollow in 2005 and Greg Norman in the 1996 Masters.
Rose seized on the surprising opportunity with a 31 on the back nine, making birdies on the 16th and 17th holes and closing with a 5-under 67.
He finished at 14-under 274 for a two-shot victory over Johnson, Henrik Stenson and Brooks Koepka. Rose won for the first time since capturing the gold medal at the Olympics last summer in Rio de Janeiro.
But this one will be remembered as much for Johnson's unseemly collapse.
Johnson made 22 birdies over the first 52 holes at Sheshan International, and even a world-class collection of challengers figured they were playing for second place. But a bogey-bogey start was ominous, and Johnson played the final round without a birdie.
His last chance was to make eagle on the par-5 18th. He hammered his second shot into the wind and over the water, and it caught the right side of the green before tumbling down a bank and into the water. He had to scramble for par and shot 77.
Koepka was the first player to get within a shot of Johnson, only to hit into a bunker on the 15th and three-putt from 30 feet on the fringe for a double bogey. Stenson was briefly tied with Rose following a birdie on the 16th, only to catch a gust on his tee shot at the 17th and badly miss the green, leading to a bogey. Stenson shot 70, while Koepka had a 71.
Rose won his second World Golf Championship title, and extended his streak of winning at least somewhere around the world every year since 2010.