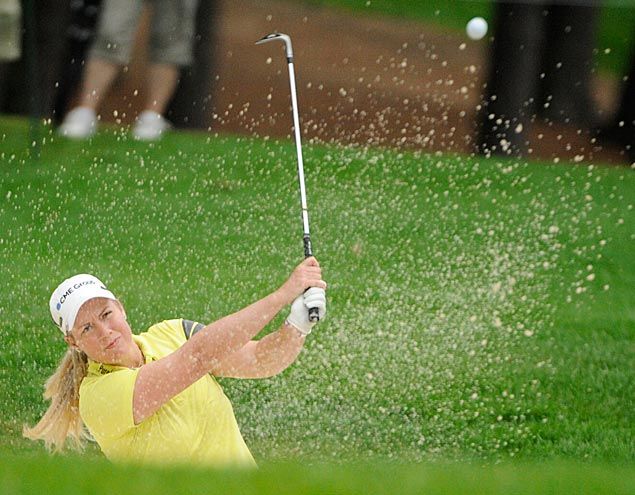 PITTSFORD, New York — Brittany Lincicome beamed. She had fought off the jitters while leading an LPGA Tour major and it felt oh-so-good.
Lincicome, who hadn't held a second-round lead since 2009 and never in a major, shot a 1-under 71 on Saturday (Sunday, Manila time) at the LPGA Championship to finish the third round at 10-under 206. That was one shot better than Suzann Pettersen (67) of Norway and defending champion Inbee Park (69) of South Korea as the fourth major championship of the season heads to the final round.
"Nervous is probably an understatement. My stomach was in knots," Lincicome said. "When it came time to eat lunch, it just wasn't happening because I haven't been in this position in a while. Hopefully, going into tomorrow it's out of my system."
Mirim Lee of South Korea was alone in fourth at 7 under after a 69, while 17-year-old Lydia Ko (71) of New Zealand was another shot back along with South Korea's Meena Lee (71) and Gerina Piller (69).
The long-hitting Lincicome began the day at Monroe Golf Club with a three-shot advantage over Park and Lexi Thompson, who finished with a 74 and was at 4 under.
Lincicome won the 2009 Kraft Nabisco for her lone major title and has five LPGA Tour victories. The United States is seeking to win its fourth straight major.
The long-hitting Lincicome is 11 under on the generous par-5s at Monroe Golf Club, a distinct advantage over most of her challengers and surely the reason Park wasn't looking down from the top of the leaderboard.
"I hate talking about it. I feel like I'm going to jinx myself," Lincicome said. "If I can hit it on the fairway, get it on the green and two-putt, it's stress-free. I feel like my tempo the last couple of days has been really, really good. We're going to be more aggressive (Sunday)."
ADVERTISEMENT - CONTINUE READING BELOW
Lincicome birdied all four par 5s on the opening round and added two more to go with an eagle on Friday.
"This golf course is not exactly for short hitters," said Park, who won three majors last year. "She was probably 50 yards ahead of me. I haven't really played that well on the par-5s. I only made one today, none the first day. That's a big difference. If I had made a couple I'd be up. It feels like a little bit of a disadvantage. It's an easy birdie for her."
Pettersen has five top-5s in her last eight majors, including a victory last year in the Evian Championship, and she continued her solid play when it matters most, reeling off four birdies on the back nine.
"I seem to like the back nine. I like what I see," Pettersen said. "I managed to make a move. It's nice to make a charge. I actually could have had a couple more."