FRANKIE MINOZA and Jay Bayron join the title chase in the Davao National Pro-Am Presented by Samsung and Emcor beginning Wednesday, adding depth to the already formidable field of 107 two-man teams vying in the P1 million event at the Apo Golf and Country Club in Davao City.
Minoza, the two-time Philippine Open champion and former Asian No. 1, will team up with regular partner Ting Castillo while Bayron, a regular Asian Tour and Asian Development Tour campaigner and local tour's former Order of Merit winner, has tapped Joe Marfori as teammate in the tournament to be played alternately under the foursomes and alternate-shot format.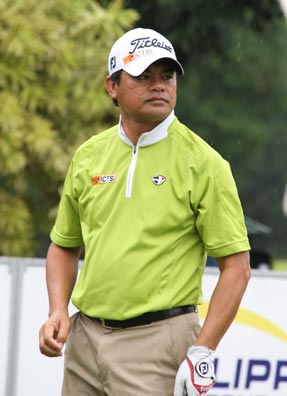 The two pairs will be as much tested as the rest of the field, particularly the homegrown talents, led by early favorites Tony Lascuna and Elmer Salvador, who will be trying to bring their winning form in the pro circuit to the three-day championship.
Lascuna and Salvador, both two-leg winners on the Philippine Golf Tour and the top two players on the Order of Merit, will be paired with Den-Den de Castro and Ryan Gotan, respectively, in the featured 9:31 a.m. flight on No. 10 with the Rey Pagunsan-Boy Paduano tandem.
"It's a wide-open race since no one has an advantage in this kind of format although much will defend on how our amateur partner would fare," said Lascuna in Filipino.
The pros will tee off on odd holes and the amateurs on the even ones in the first round before switching tee-off assignments in the second day and back to the first day sequence in the final round.
Also tipped to contend for the top P172,000 prize for the pro and merchandises for the amateur are the teams of Johvan Abaño-Noel Langgamin, Jhonnel Ababa-Benjie Leparto, Ferdie Aunzo-Monchit Mackay, Jessie Balasabas-Jeffrey Ramirez, Jun Bernis-Paul Garcia, Gerard Cantada-EJ Marcelo.
Cassius Casas will be playing with Bob Bandolon, while also vying are the teams of Marvin Dumandan-Anthony Sasin, Mhark Fernando-Ais Fernando, Boboy Jaraula-Reymond Jaraula, Clyde Mondilla-Takayuki Kozono, Miguel Ochoa-John Kier Abdon, Elmer Saban-Bobby Iñigo, and 2010 pro champion Edgar Ababa with new partner Oscarlito Ababa.
Last year's winners Ernie Rellon and Marcel Puyat, who outlasted two teams in a thrilling final day showdown, are not around to defend their crown, while Paul Echavez, Edgar Ababa's amateur partner two years ago, has turned pro and will team up with Jojo Lagahit.