WHEN Dottie Ardina begins her campaign next year as the country's latest entry to the Ladies Professional Golf Association (LPGA) Tour sweepstakes, she will find herself competing with a star player she has one thing in common with.
That player, Ariya Jutanugarn, is from Asia. Not only that, she's from Southeast Asia — from nearby Thailand, to be exact.
But, if we call it what it is, there is little else Ardina has in common with Jutanugarn.
Because, while Ardina will go into her first full season as a member of the LPGA family, Jutanugarn is already on her fifth year.
And, at 22, Jutanugarn is three years younger than Ardina, in a sport where starting young is a big plus.
Ardina has a lot of catching up to do.
Jutagunarn has career earnings of more than $7 million; Ardina has yet to break the $500,000 mark, in a professional career that began in 2013.
Ardina also has yet to win an LPGA event. In fact, where she came from, in the Symetra Tour where she earned her LPGA playing privilege, the best she could manage was second place.
Meantime, Jutanugarn continues to perform with astounding consistency, taking women's golf by the neck and racking up one fantastic record after another.
Continue reading below ↓
Recommended Videos
When the LPGA Tour season ended a week ago, the Thai star was on top of the heap as world No. 1.
The honor came with a financial bonus: $1 million for being the best player in the season just ended.
In 2016, she was also the top finisher in what's known in the LPGA as the Race to the CME Globe.
There were moments when the $1 million might have slipped from her hands, but a strong finish in the season-ending CME Group Tour Championship ended the suspense.
Jutanugarn finished tied for fifth, enough to turn back a few challengers.
The $1 million bonus, however, was just icing on the cake.
Jutanugarn, who in 2017 was world No. 1, won all these in 2018: the Vare Trophy for lowest-scoring average, the Rolex Player of the Year Award, the LPGA money title, the Rolex Annika Major Award, and the newly instituted LEADERS Top 10 award.
In the annals of the LPGA — the world's toughest women's golf tour — no one has ever won those awards in a single season, until Jutanugarn.
As if these were not enough to impress, Jutanugarn made a birdie on the final hole of the CME Group Tour Championship, her 470th of the season, a tour record.
"I'm really proud of myself today," Jutanugarn said of her Sunday finish. "The first three days, I couldn't play golf at all because I was thinking about everything too much."
Her 6-under-par 66 was the low round of the day. It was also her 57th round in the 60s this year, another tour record.
Having tied for fifth also made her the player with the most Top 10s with 17.
For 2018, Jutanugarn won three titles, including the U.S. Women's Open where she led by seven strokes, nearly lost all, and then won in a playoff.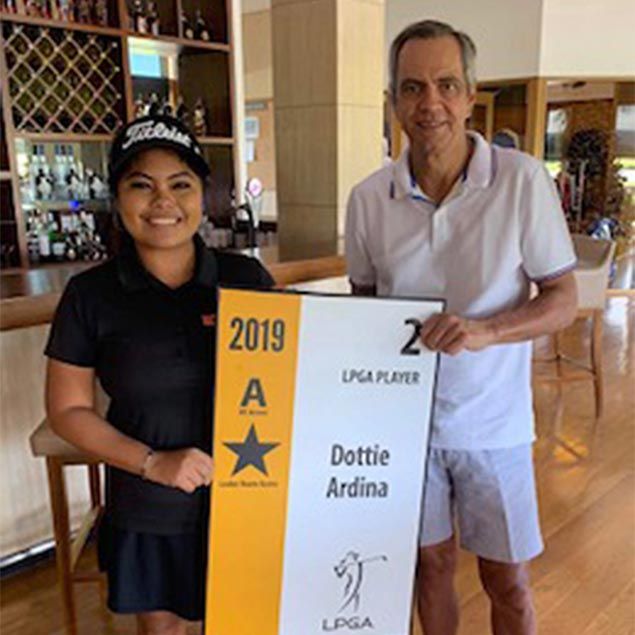 Despite these remarkable numbers, Jutanugarn is not satisfied with her performance.
In what should make rivals quake, the soft-spoken champion said, in an interview after being named No. 1 this year: "I have a lot of things to improve."
She added, "I said this year that my goal is to have good self-talk, but I didn't have it every tournament. Maybe half of it, I have good self-talk, but half of it, not. I feel like I really want to have better commitment. I didn't do 100 percent this year, so I have so much to improve next year."
If Jutanugarn, already the world's No. 1, believes she can still improve by 50 percent, imagine just what Ardina faces when she finally tees off next year.
But, there is hope. Ardina worked tirelessly to get somewhere in the Symetra Tour, considered the developmental league of the LPGA.
After three years of ups and downs, always with ICTSI patronage but never with the vital private corporate sponsorship, one of very few Filipinas who believed they were good enough to compete with the best internationally — Ardina made it!