FOUR consecutive bogeys isn't the typical finish for Lloyd Jefferon Go, but he had managed to build enough cushion to afford mistakes and still come out winner by a whopping 11 strokes in the 2014 Philippine Amateur Open Golf Championship on Thursday at Wack Wack Golf and Country Club.
Taking a seven-shot lead into the final day and playing almost pressure-free with his rivals failing to mount a serious challenge, the 18-year-old Seton Hall freshman had a closing 76 for a 291 aggregate to claim the most important title in his young career.
Jobim Carlos managed to climb to second, matching par 72 for a 302 total and take second via countback against last year's champion Jerome Ng of Singapore, who wound up with the same aggregate after struggling to a closing 80.
Go contributed immensely in Cebu Country Club's domination of the Interclub tournament the past two years but as an individual, the Philippine Amateurs easily ranks as his top achievement.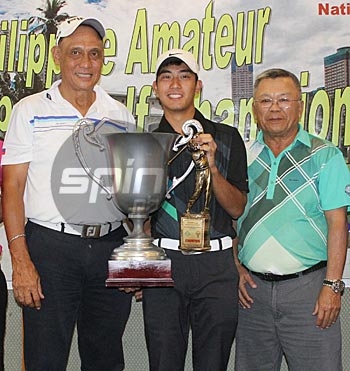 It also put an end to three years of foreign dominance in the country's national tournament for amateurs.
"I'm so glad to win this, it's a great way to start the year," said a beaming Go. "Before this I hadn't really won anything."
Starting the day seven strokes clear, Go played steady early on before slipping on the East Course's dreaded No. 8, a par-3 with a dome shaped green protected by deep bunkers where he made bogey when he missed the green and had to play out from behind a tree.
"Eight is really difficult," said Go with a smile.  
The Cebuano hotshot made another bogey right at No. 9, but by then Ng was four over.
"Jerome never really made a charge and wasn't able to really pressure me," Go said. "I really felt sorry for him, he couldn't make his shots, but if he had made those putts…"
Ng actually had several early chances to score, coming up with fine iron shots to give himself some good looks at birdies in the first four holes. But he simply failed to drain the putts.
"Maybe next time," said Ng, still with a wide smile despite carding his worst score of the week.  "LJ really really played well."
For Carlos, it was a brilliant comeback to second place after starting the day in joint fifth and 15 strokes off. But it also meant a third bridesmaid finish in the tournament, after winding up behind Gregory Foo at Canlubang in 2012 and Korea's Wang Jeung Hun at Riviera in 2011.
Now Go returns to the US with a major boost in morale and he hopes to help the Pirates dominate the Big East Conference in the NCAA, while hoping to get a chance in the Asian Amateurs and claim a spot in the Masters.
"That's a tough goal, but I'd like that," said Go, who also dreams of making it to the US Open through the US Amateurs.
Carlos also leaves for the US in a few days to rejoin the University of San Francisco golf team.
Gen Nagai of Japan, winner of the NGAP's Visayas Amateurs title and Go's teammate at Cebu Country Club, moved up from joint eight to place fourth with a closing 73 and a 304 total, while Justin Quiban wound up sixth after a final-round 74 and a 305 aggregate.
Singaporeans Johnson Poh and Marc Ong were tied for sixth at 206 after carding 76 and 78, respectively.
John Kier Abdon fired a 74, Gabriel Atiienza had a 78 and Singapore's Abdul Hadi scored 80 for a share of eighth at 308.
Gabriel Manotoc matched par 72 for a 309 total and joint 11th place with Gary Sales (75) and Antonio Asistio (78).