MOVING day at the 2014 Philippine Amateur Open Golf Championship saw a bunch of Singaporeans climb up the leaderboard but Cebu's teen star Lloyd Jefferson Go remained firmly on top, extending his lead to seven strokes on Wednesday at Wack Wack Golf and Country Club.
The 18-year-old freshman at Seton Hall in New Jersey bucked a persistent cough and came up with yet another brilliant finish following a sluggish start, with two superb birdies on the homeward nine for a one-under 71 and a three-day total of 215.
That was seven strokes clear of defending champion Jerome Ng, who led a group of four Singaporeans that tried to chase Go during a hot day at Wack Wack's fabled East course.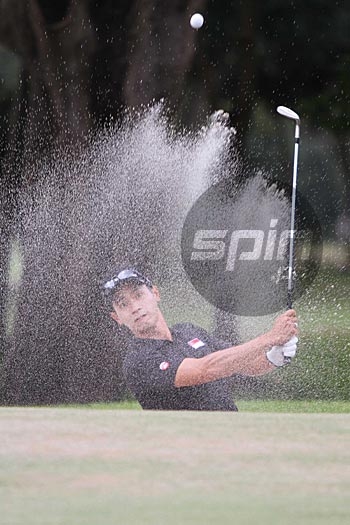 Ng, the Putra Cup star who started the day in second just three strokes off, had a bogey-bogey finish for a 75 and a 222 aggregate.
Marc Ong fired a 75 and Abdul Hadi carded a 77 and were tied for third at 228.
Johnson Poh, another Singaporean, shot a 78 and was at 230.
He shared fifth place with Gabriel Atienza, who fired an 80, and first-round leader Jobim Carlos, who continued his slide with a dismal 82.
The opening hole on the East Course still proved to be tough for Go for the third straight day, making bogey anew at the par-4 hole after dropping a shot there on opening day and suffering a double-bogey in the second round.
"Hole No. 1 for some reason I just stuck… I think I waited too long on the tee mound, I didn't get warmed up," said Go, who had a decent drive but hit both his second and third shots short.
But again, he got right back up after the faltering start.
Go noted that the greens on the front side played better this time than in the first two rounds, and he nailed a 20-foot birdie on No. 5 — although he promptly threw that away with a three-putt bogey on the next hole and his brilliant back-nine birdies came from off the putting surface.
He chipped in for birdie on No. 12 to get back to even-par and moved to one under for the tournament when he holed out from the bunker on the par-3 No. 16
Go arrived in Manila last week and sneaked in a couple of practice rounds while making the most out of his short break by still honoring commitments outside of golf. That leaves him little time to rest before having to return the US by Sunday, though, and the result is a persistent cough.
But the prize for all the hard work is within reach, although the young shotmaker doesn't want to get ahead of himself.
"Hopefully, but I don't know, we'll just see what happens," said Go, star of the champion Cebu Country Club squad in the Interclub golf tournament.
Japan's Gen Nagai, winner of the National Golf Association of the Philippines' Visayas Regional Amateur title, carded a 74 and was in joint eighth at 231 with Antonio Asistio (74) and Justin Quiban (80).