JUVIC Pagunsan fired a one-over 72 and wound up extending his lead to two after the second round of the ICTSI Riviera Classic on Thursday in Silang, Cavite.
Howling winds and pelting rain made club selection so tough and Pagunsan, a noted strong finisher even in the most challenging conditions, dropped two strokes on the par-4 18th.
But his two-under 140 total put him two strokes ahead of Dutchman Guido Van der Valk, who stumbled with a 72, and the charging Tony Lascuña and Japanese Takahashi Keisuke, who fired identical 70s that proved to be the norm in a punishing day at one of the country's toughest championship courses.
Clyde Mondilla, the reigning Philippine Open champion, came through with a rare eagle-3 on No. 16 to at least soften the impact of his double-bogey and bogey mishaps on No. 11 and 13, respectively. He carded a 72 for solo fifth at 143.
Joenard Rates, a former PGT Asia leg winner, closed out the frontside in birdie-double-bogey-birdie-bogey-birdie fashion that best typified the field's day-long struggle, salvaging the other 70 for joint sixth at 144 with Jhonnel Ababa, who also fumbled with a 72.
"As I've said, nothing is certain here even if I'm in the lead," said Pagunsan, upbeat but cautious of his bid for a record fourth straight victory on the Philippine Golf Tour following a sweep of the last three legs of the Visayas swing in Bacolod, Negros and Iloilo last June.
"There are so many good players out there, so I need to focus on my own game and not be complacent," he added.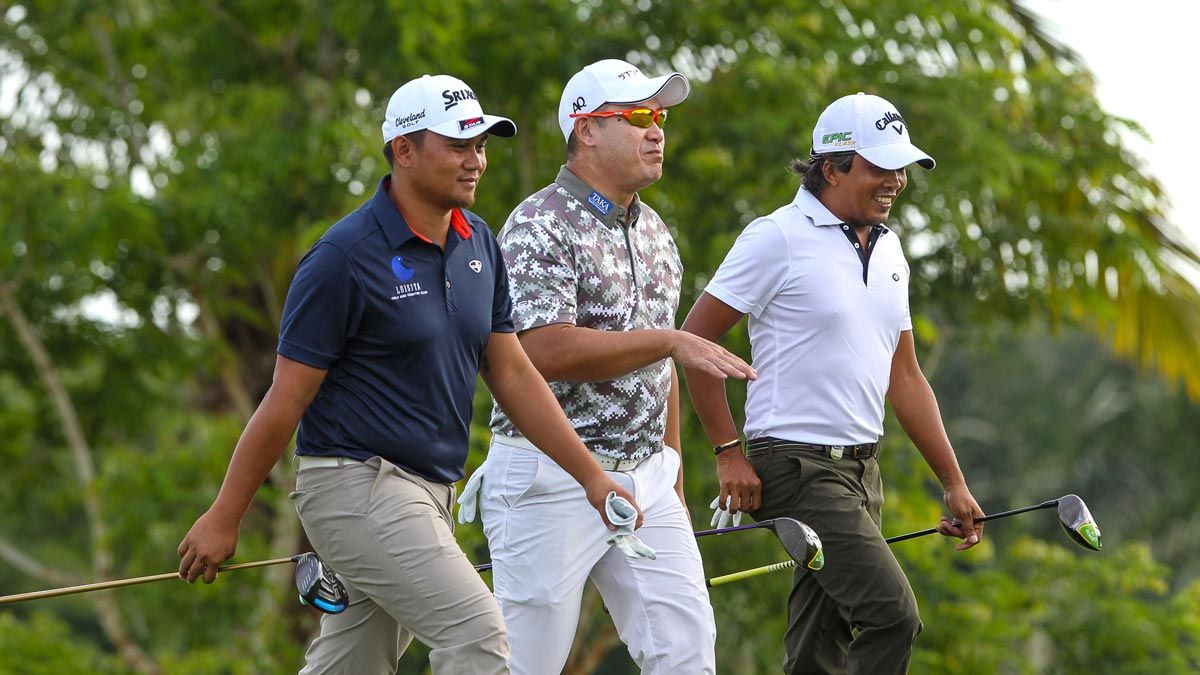 Van der Valk vowed to stay focused and fight for every shot in the third round of the P2.5 million tournament put up by ICTSI and organized by Pilipinas Golf Tournaments, Inc.
"It was tough. There was a lot of wind blowing around. I did well at the front but had some sloppy bogeys at the back," said Van der Valk, who added he got somewhat lucky on the last hole where his shot went on a hazard but still two-putted for par.
"I have to fight for every shot. Club selection and trying to control the ball are so hard," added Van der Valk.
Focus will also be on the multi-titled Lascuña, who finally moved into contention following a series of so-so finishes in the circuit he used to dominate. He hit two birdies at the front to negate a bogey mishap on No. 18 for that 70.
"I played well despite the tough conditions, rain and wind. The course plays longer when there is strong wind. But I'm happy with my game, at least I have a chance to win again," said Lascuña.
Angelo Que, winner of the last PGT Asia leg at Southwoods last month, faltered with a 74 but remained in the thick of things at 146 with Ira Alido, who shot the fourth and last 70 in the day, Nilo Salahog (72), Anthony Fernando (73), Rufino Bayron (74) and Reymon Jaraula (75).
Forty players advanced to the final 36 holes at 10-over with former PGT Asia leg winner James Ryan Lam (77) and Marvin Dumandan and Charles Hong, who turned in identical 78s, assembling identical 152s, in the event backed by Custom Clubmakers, Meralco, Champion, Summit Mineral Water, K&G Golf Apparel, BDO, Sharp, KZG, PLDT and M.Y. Shokai Technology, Inc.
Recommended Videos