JOBIM Carlos and DJ Padilla overcame another tough day at Splendido Taal Golf Club, banking on a late birdie to save a 74 and cling to a one-stroke lead on Friday over Jelbert Gamolo and Rupert Zaragosa after two rounds of the Delimondo National Pro-am.
The Gamolo-Zaragosa pair closed out with back-to-back birdies from No. 12 to finish with a 73 and tie for the lead at 144 but the Carlos-Padilla tandem birdied the par-3 sixth then parred its last hole on No. 7 for that two-over card and a one-under 143 aggregate, regaining the lead heading to the final 18 holes of the P2 million championship sponsored by Delimondo.
But Jet Mathay and amateur partner Alex Etter made it a three-way battle for the top P360,000 (pro) purse as they bucked the tough greens and matched Carlos and Padilla's opening round's 69 to pull within two at 145 in the alternate-shot format event.
ADVERTISEMENT - CONTINUE READING BELOW ↓
"We expect it to be tough and we're happy to stay on top," said Carlos, who also edged closer to scoring a breakthrough in a young pro career.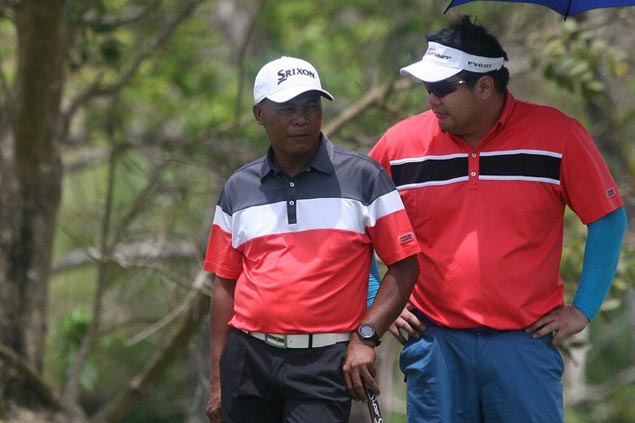 Elmer Salvador and Oliver Gan look to make a charge on the final day.
Jhonnel Ababa and Korean partner Jaemin Koo combined for a second 74 but fell five strokes behind Carlos-Padilla with a 148 while the rest stood too far behind to pose a threat in the second edition of the 54-hole tournament put up by ICTSI and organized by Pilipinas Golf Tournaments, Inc.
ADVERTISEMENT - CONTINUE READING BELOW ↓
Artemio Murakami-Takuya Kawamura and Richard Abaring-Karloz Alba turned in identical 75s for 149 while Joey Huerva-Junro Mamaril pooled a 150 after a 73.
Michael Bibat and Joel Yamyamin hardly improved with a 75 after a 76 for a 151 in a tie with Rufino Bayron and Meynard Ko, who also shot a 75, while seven pairs, including Justin Quiban-MI Rhounimi (76), John Kier Abdon-Raymund Sangil (77) and Elmer Salvador-Oliver Gan (77), assembling a 152.
Last year's champion Tonton Asistio and Jude Eustaquio limped with a 78 marred by triple bogeys on Nos. 2 and 16 and bowed out of contention with a 153.
An even par card after nine holes from No. 8 actually put the Carlos-Padilla duo five shots ahead of Gamolo-Zaragosa and Abdon-Sangil pairs. But a bogey on the 17th and a double-bogey on the next enabled the rest to close in on them, turning the battle for top honors into anybody's race.
ADVERTISEMENT - CONTINUE READING BELOW ↓