BAGUIO CITY - The Department of Tourism  has partnered with the long-running Fil-Am Invitational Golf Tournament to help boost tourism in the country's summer hideaway.
DoT-Cordillera representative Bayani Malicdem said the country's biggest and longest-running golf tournamentv is the perfect vehicle to boost tourism in the region, hand in hand with the agency's newly revived 'Bring Home a Friend' program.
Camp John Hay golf manager and Fil-Am co-chairman Tim Allen said the partnership with the DoT in terms of golf tourism was CJH Development Corporation president John Sobrepeña's brainchild.
Speaking during the press launch of the 68th Fil-Am DoT Golf Invitational by San Miguel Corporation last Monday, Allen said the tournament is one of Baguio's biggest tourist drawers with more than 1,200 players, many of whom are foreigners, playing in the event.
This year, the Fil-Am golf has a confirmed cast of 240 teams, 68 of which will see action in the senior side of 55 years and older.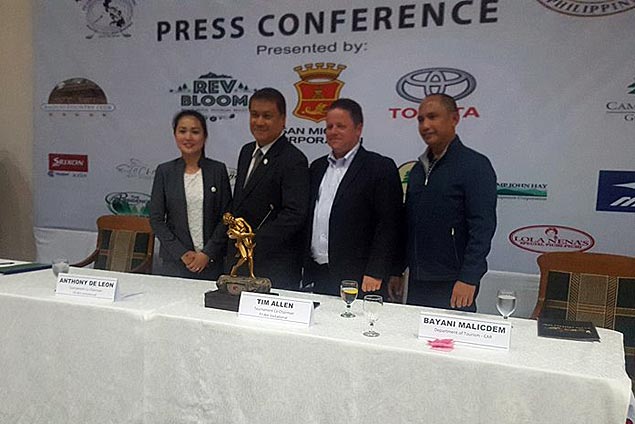 The senior Fil-Am, started in 2004, will have flights for Championship, A, B, C and D for both the Fil and Am sides.    
"This is up by 40 percent  from when we started when we only had three flights – Champ, A and B," added Allen.
Co-chairman Anthony de Leon, general manager of co-host Baguio Country Club, said the tournament is also gearing up for the opening of a third category - the super senior competition for 70 years and older next year.
Officials also agreed the delay in the start of the Fil-Am has greatly helped the event with players from the US able to celebrate Thanksgiving before flying to Baguio.
"It has been a long clamour by Americans or Filipinos living in the US to have a later start so that they can celebrate Thanksgiving with their families," said Allen, an American.
"When we announced that it will start on the 29th, we received an unbelievably positive response," he added.
Moreover, the Fil-Am will also be safe from the rains, said de Leon, who cited several stagings where play in the first week had to be shortened due to strong rain.
De Leon and Allen also declared the courses at their best shape in years.
"The courses have never been in this shape," said Allen.
Action in the senior side starts on Saturday and runs until December 7. with San Miguel Northern Cement led by former Eddie Bagtas defending its Fil-Champ crown.
The regular Fil-Am runs from Dec. 11 to 16. Last year, Manila Southwoods won both the Fil and Am championship flights in dominant fashion.
Yuto Katsugarawa, who shot an eight-under score for 152 points last year, will lead the Fil team of Southwoods while the Am team, which won by 88 points, will be led anew by veteran Junjun Plana.