JASON Perkins brought a smile to coach Allan Caidic's face when he showed up for De La Salle's game on Sunday night wearing the former PBA hotshot's retro Presto jersey.
"He just started laughing," said Perkins, recalling Caidic's reaction.
Perkins wore Caidic's No. 8 Presto jersey on his way to the Mall of Asia Arena for the game against University of the East, the same school 'The Triggerman' led to back-to-back UAAP titles in 1984 and 1985, marking the last time the Red Warriors won a league title.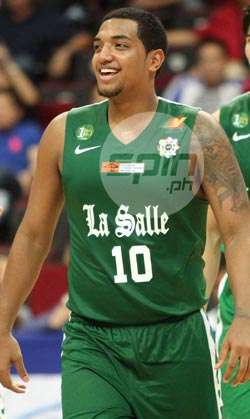 Perkins said there was really no special reason why he wore the jersey, which he stumbled on while shopping at the Alabang Town Center and has since been in his closet for some time.
"It was pretty much in my closet like any other shirt. I just thought it was a cool jersey," Perkins related to Spin.ph when asked about his decision to wear Caidic's iconic jersey.
When Caidic saw Perkins wearing the jersey to the game, the La Salle assistant coach immediately asked to have a photo taken with him.
It was with Presto that Caidic won the 1987 Rookie of the Year award, and later set the all-time individual record for most points in a PBA game with 79, including an all-time most three-point shots made.
Perkins said he knew Caidic holds the pro league's individual record in scoring, but only saw him play in YouTube videos.
Ironically, wearing the retro jersey of one of the finest shooters in Philippine basketball didn't translate into hot hands for Perkins, who finished with just two points in one of his worst games in a La Salle uniform before fouling out late against the UE Red Warriors.
The Fil-Am forward, however, didn't mind, but only because Archers escaped with a 60-58 win.
"It was pretty much because of stupid fouls and bad decisions," Perkins said afterwards. "It's okay. As long as we win."