THE backdrop of last Wednesday's send-off for the Tokyo-bound Pilipinas Aguilas football team at the Ortigas Center comprised of several large posters, each featuring an individual player in uniform with the question, "Ano ang pinaglalaban mo?"
Underneath each poster was an answer:
"Para patunayan ang aking sarili."
"Para sa nagsabing wala tayong laban."
"Para sa mga taga Mindanao."
"Para sa kabataan."
One poster displayed a player in full football gear and cradling an infant with the words, "Para balang araw, mapagmalaki niya ang pangalan niya."
This Saturday, the Aguilas will take the first step in realizing that dream when they become the first Filipino team to compete in an international tackle football game.
Their first overseas game also happens to be their first game ever as a team. The Aguilas face a daunting task when they face Japan, the No. 1 ranked team in Asia, in a qualifying match for the 2015 International Federation of American Football World Championship in Sweden which is considered the World Cup of international tackle football.
The Aguilas had roughly four months to train for the do-or-die game after being presented with the opportunity to play in the qualifier several months ago.
"We can either take part in it now or in four years so we decided, 'Let's gauge ourselves and see where we're at, let's see what we need to work on, and see how amazing the opposition is and what level of play international teams are,'" said Apollo Angco, chairman of the American Tackle Football Association of the Philippines (ATFAP).
Continue reading below ↓
Recommended Videos
Dodi Palma II, founder of ArenaBall Philippines (ABP), said the match is a culmination of his dream to bring American football in the country but admits there is a long road ahead.
"We have a monumental task. A very challenging task ahead of us," he admitted. Aside from being the Aguilas' team manager, Palma also plays as an alternate free safety.
The ABP is the first American football league in the country and played its first game at the Marikina Sports Park in April 2010. After four seasons, the league has grown to five teams and 300 players.
The members of the national team were selected from the ABP member teams. Surprisingly, only 13 of the 49-man delegation are Filipino-foreigners, the rest being homegrown Pinoys who learned the sport in the Philippines.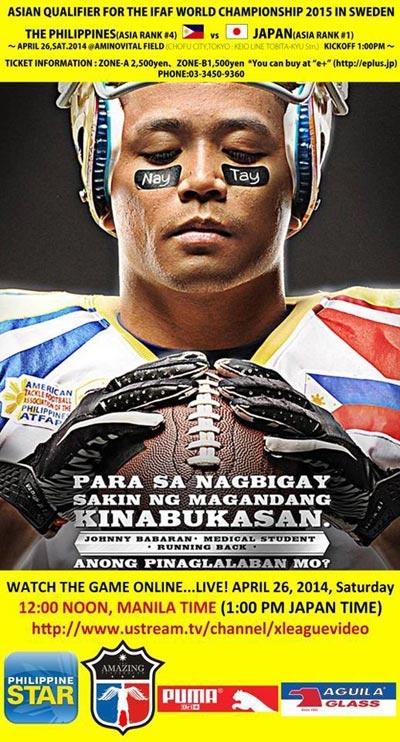 The Aguilas, being a recognized team by the Philippine Sports Commission and the Philippine Olympic Committee, were granted tax exemptions but that was it.
"We're doing this on our own. The players are funding themselves. We're buying tickets to go to Tokyo to prove that we are worthy in competing in this kind of sport," said Palma who is hoping for corporate sponsorships if they qualify for Sweden.
Angco, who played center-back for three years, said the effort is worth it since the team is expected to bring back valuable experience from Japan.
"We hope to bring back a lot of knowledge. To be able to learn from this experience win or lose. No one goes there to lose so we'll definitely try to go out there and win. If we can shock the world, why not right? If we can do some little milestones like touchdowns or make some great hits. The most important thing is, I keep telling the guys, we leave Japan with their respect."
Of the Aguilas' composition, Angco said a good 40 percent played some level of football in North America or flag football in the Philippines. The rest have been trained and developed through the other teams in the ABP.
A big chunk is composed of students mixed in with business professionals who have families and are in the later stages in their athletic career who sees this as their last chance. The players' age range from the minimum 18 to 40 years old.
Compared to the National Football League (NFL), IFAF rules are similar but with slight modifications to the size of the playing field, which follow the dimensions of soccer fields.
When it was mentioned that the violent nature of the sport might not be suited for the Filipino physique and temperament, Angco disagreed.
"That's a very big misconception. Tackle football isn't only about size, it's about teamwork. It's a cerebral game. Filipinos are built for this because they're very athletic. They're also very fast, they're resilient. You knock a Filipino down he's gonna go back up, he's not going away anytime soon."
In charge of coaching the team is Will Yeh, a four-time ABP champion coach who said they faced a lot of challenges in trying to get his team ready for the game against Japan.
"All of us have our own jobs, careers, school. None of us are full-time football players. A lot of us just play for the fun of the game. We tried to meet as much as possible. Another challenge is its really hot here and hard to find fields but our guys pulled through for us."
The Aguilas started preparing after the end of the ABP season last February.
Compared to the Philippines' four-month program, Japan has had an 80-year headstart in tackle football and is regarded as one of the Top 5 teams of the 67 countries playing the sport around the world. South Korea, its nearest rival, has 40 years invested in the sport.
Palma said they had three months of "good training."
"We have a very good team. We have some young guys who played in high school and even college. We have big guys who can play defense. Our captains are awesome and know football.," he said.
Palma said their objective is to promote American football in the Philippines.
"We're doing it slowly but surely in terms of gaining more members. From 15 members in 2010 we're around 400 right now. We're mostly based in Metro Manila but we've done trainings in Butuan, Iloilo and Davao. In fact one member of our national team is from Iloilo and three are from Butuan."
Palma, who roots for the San Francisco 49ers, said he first saw football on TV.
"I didn't grow up in the US. I just saw it on TV, played one silly game in college and I was hooked. A few years later I went to the States, watched my nephew play football and an NFL game and I told myself, 'I have to bring it here.'"
Speaking on behalf of his teammates, defensive end JP Suarez belied their underdog status: "The Filipino people play hard, work hard and hit hard… we're bringing there a lot of heart, a lot of passion. It really doesn't matter how long you've been playing the sport, what really matters is how much you wanna win.
"Our game plan over there is to play as hard as we can, hit them as hard as we can and then let the hospitals sort out the bodies at the end."
That's a sentiment shared by the burly Angco.
"If you're going to pick a fight against anybody, make sure it's not a Pinoy. We will not give up."
The match can be watched via online streaming on www.ustream.tv/channel/xleaguevideo on April 26, Saturday, beginning at 12 p.m.