IT all started one chilly night in Hanoi, back in December of 2010 when the Philippine Azkals – unknown to most outside of hardcore Philippine sports fans – barged into national consciousness when they shocked Vietnam, 2-0, in the AFF Suzuki Cup.
It was a moment forever embedded in the history of the sport as the 'Miracle in Hanoi,' a game which sparked the football revolution in the country.
Eight years later, the seeds of that match has finally gone into full bloom as the Philippines – the only basketball nation in this side of the world – booked a maiden appearance in the 2019 Asian Cup, the biggest stage for football in Asia.
Only three players from that team remain active in this squad in Phil and James Younghusband and Neil Etheridge. Chris Greatwich, the leading scorer of the Azkals in that tournament, is now one of the assistant coaches of coach Thomas Dooley.
ADVERTISEMENT - CONTINUE READING BELOW ↓
"I think if I've said eight years ago that we would be playing against the likes of Japan, Korea, Australia, you would have laughed me out of the room. You would think I was mad," said Greatwich.
"It's incredible how far this team has come. We're just so proud of them, a lot of work from beyond the scenes for this to be able to happen. It's just a testament to the hard work that these guys have put in. Not just this week, this whole campaign and even before that," he added.
To some, the fruits of that game came years too long. It was one long burn for the Philippines, filled with heartbreaks and frustrations.
With the letdowns, the fandom, the hype and the support slowly dissolved.
The Azkals actually had a chance to get that breakthrough back in 2014 when they made the Challenge Cup final, only to drop a demoralizing 1-0 defeat at the hands of Palestine that dashed hopes of the squad reaching the 2015 edition of the Asian Cup.
Phil Younghusband was just a wide-eyed 23-year-old kid when he scored the second goal in that historic night at the My Dinh National Stadium. Since then, he has become the face of the squad, becoming the country's leader both in goals and appearances, notching a milestone 50th goal on the night the Azkals formalized their entry into the continental showpiece.
It was a tough and rigorous process, but the Azkals talisman understood that it's something that they need to go through.
"It's been up and down but there's been progress. From 2010, we've made progress," said Younghusband, now the skipper of the team.
"Maybe the lack of success and wins in tournaments made people not talk about Philippine football but I think the team needs to be successful to bring people in, that happens all over the world," he added.
That doesn't mean the frustrations didn't get to him.
The Davao Aguilas striker admitted there were times he felt like they've hit rock bottom, contemplating on where they did wrong. But he insisted that the failures have helped shape the team's character - something that showed against Tajikistan.
ADVERTISEMENT - CONTINUE READING BELOW ↓
"Everytime, we've been low, we've been crying, we've been sad. We don't want to talk, we've reflected and looked at ourselves in the mirror," Younghusband continued.
"There were times where we felt really low but for this feeling, it's all worth it."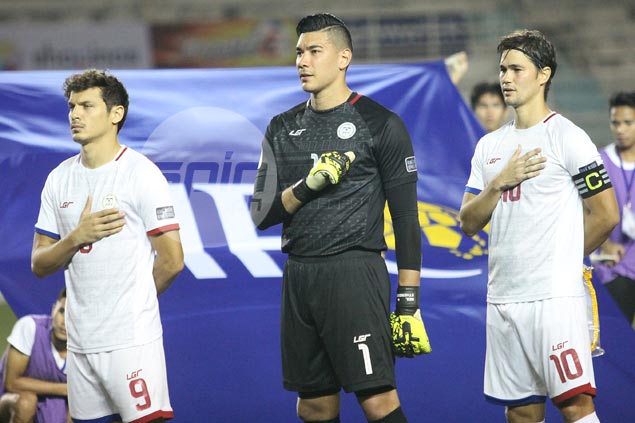 Like Younghusband, Etheridge understood the frustrations in the struggles that they've faced after that historic night in Vietnam.
ADVERTISEMENT - CONTINUE READING BELOW ↓
Personally, Etheridge is doing well as he's emerged as an unsung hero for Premier League-bound Cardiff City, but the Azkals 'keeper felt that they've hit a wall the past couple of years – a wall they've finally smashed through on Tuesday night.
He's just thankful for everyone who stayed amid all the struggles.
"It's been tough for the team. We've all made mistakes both on and off the field – management, ourselves as players. We've learned from it, we got stronger," said Etheridge.
"The Suzuki Cup was a fantastic time. The Azkals probably had a dip from then 'til now, but in all honesty, I'm just extremely happy. I can't say enough of the supporters that stuck by us. I'm happy to be where we are now," he added.
The 28-year old goalie admitted there were times he doubted being here in this moment, but in hindsight, the Azkals have always gone through that. After all their struggles the past couple of years, their capabilities of qualifying for the Asian Cup was largely doubted by many.
ADVERTISEMENT - CONTINUE READING BELOW ↓
"To give an honest answer, no," replied Etheridge when asked if he ever imagined getting this breakthrough.
"We made it to the semifinals of the Suzuki Cup, that was unexpected and in 2018, we qualified for the Asian Cup. As long as we take baby steps, steps forward as an Asian nation, it's always fantastic," he added.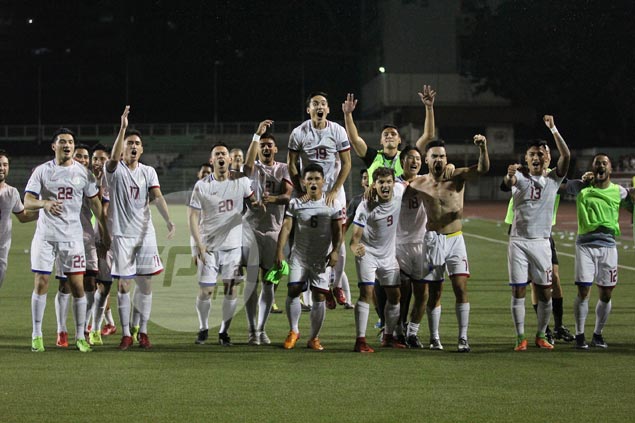 ADVERTISEMENT - CONTINUE READING BELOW ↓
Greatwich, among others, might not be able to experience what it's like playing in the highest level of Asian football, but Younghusband reiterated that they wouldn't be in this position had it not for those guys who started it with them.
And as the Philippines take the next step, Younghusband shared this moment of glory with all of his teammates back then because without that night in Hanoi, none of these would be possible.
"The only three remaining is me James and Neil, Chris is part of the coaching staff now but we're still all very close," Younghusband said. "Rob Gier facetimed us earlier, wished us well and I know they're all celebrating this just as much as we do because without those guys, this moment wouldn't happen."
Greatwich never had the chance to fully reap what he sowed as a player after retiring from international duties in 2015. But the 34-year-old midfielder is grateful that he's still here nonetheless - and happy to be there to guide the younger members of the squad and see his brothers Phil, James and Neil be rewarded for all their sacrifices.
ADVERTISEMENT - CONTINUE READING BELOW ↓
"It's amazing to come full circle. I mentioned it to a few of the boys, some of the older players that they need to understand the magnitude of this game, that this could be their final chance of making a big tournament," said Greatwich.
"I never had that chance. I missed that opportunity, the likes of myself, Rob (Gier), Juani (Guirado), these guys, they missed that opportunity. I think today, it was fantastic having that opportunity to be a part of it, albeit in a coaching capacity, in helping in a small way to get us into that competition.
"Amazing achievement for everyone involved in Philippine football."
Get more of the latest sports news & updates on SPIN.ph