TEAM Phil came up with a 5-1 victory over his brother James' squad in a charity football match Saturday at the University of Makati Field.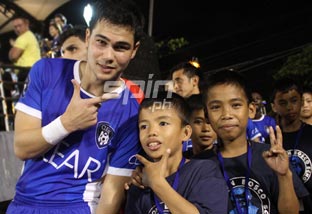 Phil struck twice within the first 30 minutes then added another in the final minute to emerge as the leading scorer in the Clear Dream Match.
James scored the lone goal for his squad in the second half of the celebrity football event held to raise funds for the Tuloy sa Don Bosco Foundation in Alabang.
Ossenyou Diop and Yannick Tuason also scored for Team Phil, while Fabio Ide, Rafael Rosell, Paolo Bediones, Eric Tai, and Daniel Matsunaga also saw action for the Fil-Briton striker's squad.
Also a member of Team Phil was comedic and bald DJ Tony Toni, who expressed gratitude to the event's sponsor.
"I don't have any hair but I'd like to thank Clear because it's not every day you get to sponsor a shampoo," said Tony Toni, whose radio colleague Slick Rick played for Team James, along with Andrew Wolff.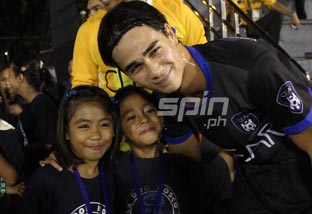 With the Younghusband brothers disallowed to receive any award, Loyola Meralco's Park Min Ho took home MVP honors, while Diop was named best striker. Other individual awardees were  Saba Garmaroudi (goalkeeper), Ynes Ashime (defender), Mikko Mabanag (midfielder), and Tai (People's Choice Award).
"Thank you to everyone who made this possible. We look forward to doing it again next year," said Phil Younghusband, who beat older brother James in their first match playing against each other.
"Phil has bragging rights now," James said.