JUST last month, Global Cebu was playing like the best team this country has to offer.
In that stretch, Global ruled its tricky group in the AFC Cup, ending the group stage with 10 goals to win its final three games, highlighted by a 3-2 victory over Johor Darul Ta'zim.
Sadly for Global fans, those moments seem like ages ago.
Now one of the country's preemiment clubs is on an alarming slide after the Cebuano club conceded goals in the final eight minutes in four of their last five games.
In both legs of the AFC Cup zonal semifinals, Global conceded three goals from the 89thminute which a highly anticipated battle with Ceres Negros in what could have been an all-Filipino Asean Zone Finals.
In those games, Global was in total control for most of the match only to be stunned by goals from Stipe Plazibat, who scored twice in Singapore to send Global crashing out of the tournament.
The struggles in this stretch have reached the apex when they swung by the Panaad Park and Stadium last Saturday to play domestic rival Ceres in the Philippines Football League.
They dropped a 1-0 result, no thanks to another late goal by Jeffrey Christiaens in the 83rd minute.
While their losses against Home United were heartbreaking since they looked sharp and in control for the most part, it was a completely different story in Bacolod.
Things just started to turn for the worse.
Ceres enjoyed a 68 percent possession in that game and had 10 shots on target, 18 shots in all. Global had one shot on target the whole game.
"I'm disappointed because in the past three or four games we always concede at the last minute," said Global goalkeeper Patrick Deyto, who has been unjustly mocked and crucified on social media for the past few games.
"I don't know what's wrong. We have to analyze what's the problem because we cannot keep going like this," he added.
[See Christiaens nets late winner as Ceres stuns Global in 'Visayas Clasico']
There's no doubt Deyto had a hand in their recent disappointments. But with the way Global played against its Visayan rival, it's evident that it's not just Deyto who's been struggling,
That 1-0 loss could have been bigger had it not been for several good stops made by Deyto, who'll be heading into the international break as the country's first-choice 'keeper.
This is certainly a problem that everyone had a hand in.
Prior to the match, Global interim head coach Marjo Allado talked about learning from their past results, particularly in picking up poor bookings late in the match.
There were no late game red cards for them this time, but the late meltdown continued.
"We just didn't learn our lesson over the past few games," Deyto continued. "We have to think about how we played, watch the tape. We have to be better towards the end."
Allado said that the players were very prepared entering the Negros game, despite playing their fourth match in two weeks.
For the former defender, the losses can be simply attributed to his squad's lack of focus in the endgame.
"It's not fatigue. I think it's all about our lack of concentration in the game. It's about defending in the last five minutes of the game, so concentration is very important," said Allado.
"The players are prepared for this game. We had just one lapse that cost us in this match. We missed one marker in the end," he added.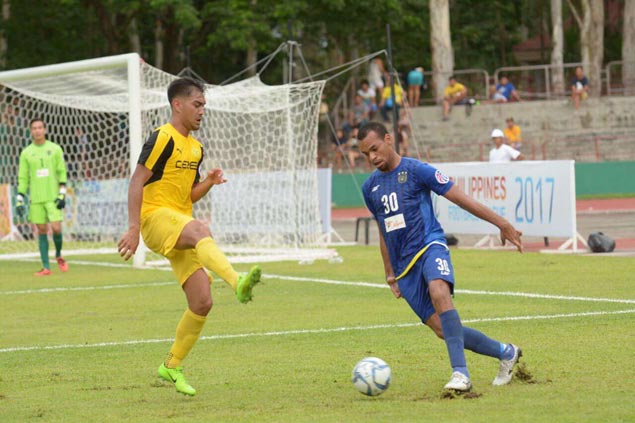 Recommended Videos