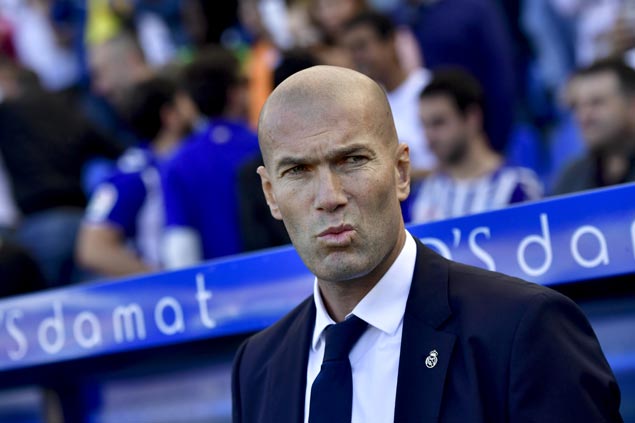 MADRID — It's been hard to know what to expect from Real Madrid these days.
Zinedine Zidane, always great as a player but increasingly unpredictable as a coach, has recently made a number of changes to his squad that have led to inconsistent performances and disappointing results.
Zidane is trying different lineups and different setups, switching players and experimenting with new formations, but whatever he has tried hasn't fully worked.
Madrid has won big in recent matches, such as 6-1 and 4-1 routs in the Spanish league, but it has also struggled badly in a series of draws and close victories against weaker opponents, including a lackluster 3-3 tie at winless Legia Warsaw in the Champions League on Wednesday (Thursday, Manila time).
Madrid's inconsistency was more visible than ever in Warsaw, as the Spanish powerhouse got off to a great start and opened a 2-0 lead before collapsing and allowing the hosts to take the lead.
It only avoided defeat thanks to a late equalizer by Mateo Kovacic.
"We know we have to improve and we must show that," said Zidane, who has been increasingly criticized by Spanish media and fans.
Zidane experimented with a formation that had four forwards playing up front against Legia. In addition to the trio of Cristiano Ronaldo, Karim Benzema and Gareth Bale, he also added Alvaro Morata to the lineup — a move that ultimately left Madrid's defense unusually exposed.
"I was looking to win the game," Zidane said. "We played 4-4-2. We did it in preseason and it's a system we're familiar with. It worked well for us in the early stages of the first half but then things got a bit more difficult."
Zidane changed his team's setup during the game by replacing left back Fabio Coentrao, who was returning after a long injury layoff, with midfielder Marco Asensio and reverting to a three-man defense. That also didn't work, and Madrid conceded yet another goal.
ADVERTISEMENT - CONTINUE READING BELOW
"We took a risk by playing with three at the back," Zidane said. "But I don't think that we looked fragile. We got off to a very good start."
Zidane's defense had already looked exposed when Madrid faced Legia at home a few weeks ago. In that game, Zidane didn't use Morata but played with a more offensive formation by setting free his defensive midfielders. He said that it was a calculated risk, and it paid off with a 5-1 victory.
But critics have long pointed to Madrid's defensive struggles under Zidane, with the team having conceded at least one goal in each of its last 10 matches.
"Our best games come when we defend and attack together as a team," defender Raphael Varane said. "Playing with four forwards, there's a different balance. We knew we'd have more space in behind and that we'd have to defend together but we didn't do that very well (Wednesday)."
It hasn't helped Zidane that his squad has been depleted by the absences of key players, including Sergio Ramos, Luka Modric and Pepe, because of injuries.
Zidane, the former France playmaker, gave no hints about what his lineup will look like for the Spanish league game against Leganes at the Santiago Bernabeu on Sunday, when Madrid will try to defend a two-point lead over Barcelona. The Catalan club plays later in the day at fourth-place Sevilla, which is three points behind Madrid.
Third-place Atletico Madrid, also three points back, plays at Real Sociedad on Saturday.