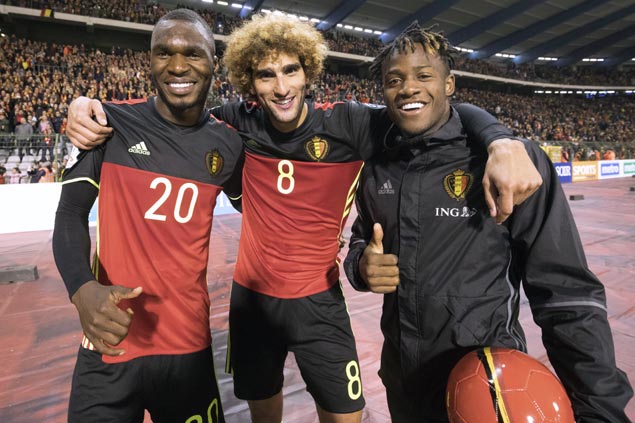 BRUSSELS — Belgium needed only a World Cup-record seven seconds to prove the gap between No. 2 in the FIFA rankings and Gibraltar, which is dead last and bound to stay there after Monday's (Tuesday, Manila time) 6-0 loss.
Christian Benteke stole the ball right after Gibraltar's kickoff, drove forward, fooled the defense with a nifty move and fearlessly drove home with a cross-goal shot.
It was final proof that the Red Devils, a dispirited team after an early exit from the European Championship, have found their groove under new coach Roberto Martinez.
Belgium has a perfect nine points atop group H, and only have Greece as a sizable challenger after it beat Estonia to also win its opening three matches. Also, Bosnia-Herzegovina beat Cyprus 2-0.
Lacking a top-notch stadium, Gibraltar had to play its home game in Faro, Portugal, 400 kilometers (250 miles) away, and looked forlorn from the very opening whistle in the near-empty stadium.
Two lazy backward passes later, Benteke snuck in, and underscoring the speed and form he has shown with Crystal Palace, he cut through the defense — and the rest was World Cup history.
"The most important thing was to score early," Benteke said.
His forward partner Dries Mertens said the possibility was there. "I told Chris, 'let's hunt and set the tone.' And he went for it."
Benteke scored two more, one a wonderful backheel, to lead Belgium to match its biggest away victory. The other scorers were Mertens, Eden Hazard and Axel Witsel against a team playing its first World Cup qualifying campaign after gaining FIFA membership in May.
The previous record for the fastest goal since detailed timing was kept was held by San Marino's Davide Gualtieri, who needed eight seconds to score the opener against England in a 1993 qualifier.
It was not the fastest goal in all competitions since some clubs have scored right at the kickoff with a huge high drive which caught a goalkeeper off his line.
ADVERTISEMENT - CONTINUE READING BELOW
Belgium is second in the FIFA rankings behind Argentina while Gibraltar is last at 205, together with six other nations.
Belgium was a hot favorite at the Euros over the summer and badly disappointed, losing to Wales in the quarterfinals. With Martinez, things click again within a team loaded with Premier League stars. A perfect start always helps.
"It is a terrific moment for Belgian football," Martinez said. "It showed the focus we had."
Belgium plays Estonia next month.