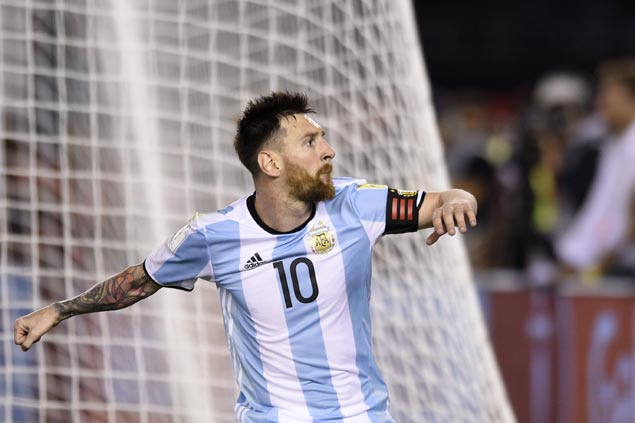 ARGENTINA beat Chile, 1-0, thanks to a penalty scored by Lionel Messi on Thursday (Friday, Manila time) in South America's World Cup qualifying group, and managed to stay in the chase for a spot in the tournament, going third with 22 points. Chile is in sixth, outside the qualification zone.
Messi's goal at 16 minutes gave Argentina a valuable victory, putting Edgardo Bauza's side once again in the qualification zone. The Chileans complained about the penalty decision, but failed to take advantage of an unimaginative Argentine team that managed to get few opportunities to score at the Monumental de Nunez in Buenos Aires.
The result takes pressure off Argentina, a team whose players have refused to talk to the media because of criticism they have endured over recent games. Bauza had to speak some words, but they were not too encouraging for the team's future. "What matters is that we won," the coach said. "This was very difficult. It was like a knock-out stage."
His Chilean counterpart Juan Antonio Pizzi disagreed. "I consider it totally unfair that we lost," he said. "We managed to control the virtues of the Argentinians, and they are many. We deserved to get one goal."
Messi was a dominant figure in the match, not only in creating space but also in marking Chilean rivals.
The Chileans could not count on midfielder Arturo Vidal and towards the end of the match were only offering opportunities to the hosts.
In the next round, Argentina will travel to Bolivia. The last time the Argentinians won in La Paz was in 2005. For that match Bauza won't count on suspended midfielder Javier Mascherano and striker Gonzalo Higuain. Chile will take on Venezuela at home.