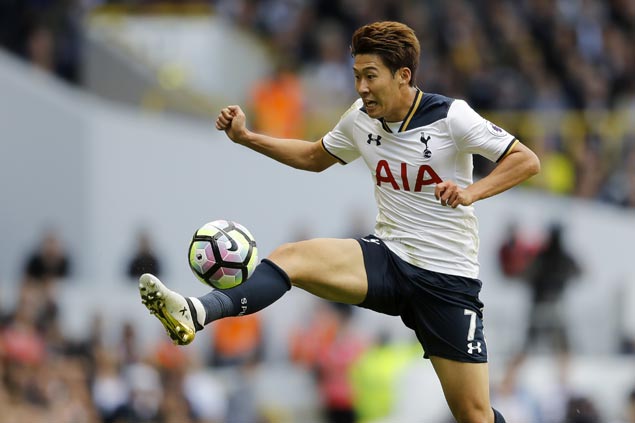 LONDON — Pep Guardiola was outwitted at his own philosophy by Mauricio Pochettino on Sunday as his perfect Premier League start with Manchester City was ended by Tottenham, which surged to a 2-0 victory to remain the only unbeaten team.
Tottenham's high-pressing proved just too energetic and slick for City to handle as Pochettino's side executed the passing game that is usually Guardiola's hallmark to perfection.
"You have to recognize when the opponents are better," Guardiola said.
"We knew how aggressive they are. It was difficult ... we lost a lot of balls. They were one step in front of us today."
Far from suffering a hangover after last season's title-challenge collapse, Spurs are enjoying their best-ever start since 1960-61 when they last won the top flight. And that's even as Harry Kane, the league's top scorer in 2015-16, remains sidelined with a hamstring injury.
City hadn't even trailed in the league season until traveling to White Hart Lane. The visitors only had themselves to blame for conceding in the ninth minute.
Danny Rose's cross from the left flank flew over forward Son Heung-min, and City defender Aleksandar Kolarov, under no pressure, swung at the ball before it bounced off his thigh and bobbled off the post into the net.
It capped a calamitous week for Kolarov, whose defensive susceptibilities were exposed in Wednesday's draw at Celtic in the Champions League.
City had won every game in all competitions until the trip to Scotland and Tottenham ensured Guardiola would taste defeat for the first time since succeeding Manuel Pellegrini.
The former Barcelona coach could only admire how Tottenham extended its lead with an intense, flowing advance of the highest quality in the 37th minute.
City conceded possession on the halfway line to Son, who charged forward before squaring to Alli. Although the return pass was intercepted briefly, Son regained the ball and poked it through a gap in the City defense for Alli to sweep a shot into the bottom corner of the net.
ADVERTISEMENT - CONTINUE READING BELOW
Tottenham could even afford to miss a penalty, with City goalkeeper Claudio Bravo blocking Erik Lamela's second-half spot kick.
"I don't think there's any denying they are a brilliant football team and they do like to play the ball," Alli said. "We knew that if we got in their faces and kept working hard that we'd create chances."
City and Tottenham complete the seventh round as they started — in first and second place. Tottenham is only a point behind now, though, after Pochettino sealed his first victory over Guardiola since the opening spell of his managerial career in 2009 when Espanyol conquered Barcelona.
A relatively kind fixture list at the start of his City career meant this was arguably Guardiola's first big test. He flunked it.
Although City has already won a Manchester derby against Jose Mourinho's United, that was against a side still rebuilding from last season's fifth-place finish. The other victories have all come against teams in the bottom half of the table.
Tottenham posed questions that lethargic City — sorely missing the injured Kevin De Bruyne's distribution — could not answer while the league's stingiest defense proved an impenetrable barrier while the full backs pressed down the flanks.
While media attention focused early season on the collision of managerial titans Guardiola and Mourinho in Manchester, the steady but impressive progress Tottenham has made under Pochettino since 2014 is often understated.
Last season, Spurs were champion Leicester's closest challenger until a late implosion dropped them to third, which was still their highest finish in the Premier League era.
If it keeps up this term's impressive form, Tottenham's sights will be set even higher, with the north London club longing for a first championship success since 1961.
"If we can play like we played today, why can't we be consistent for the whole season?" Pochettino said. "I know it's a big effort but that's the way we work."
ADVERTISEMENT - CONTINUE READING BELOW