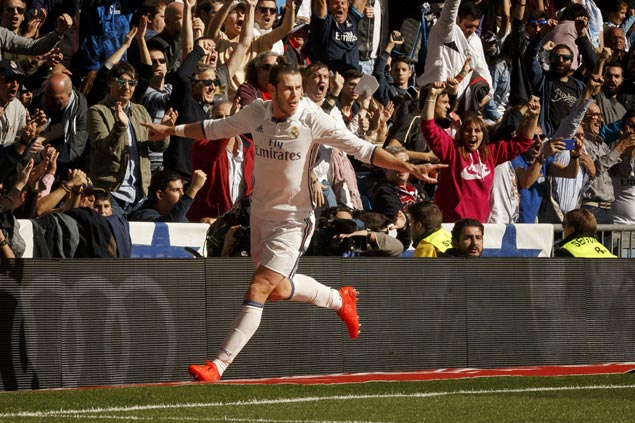 MADRID — With Karim Benzema out injured and Cristiano Ronaldo playing below expectations again, Gareth Bale got the job done for Real Madrid with two goals in the team's win against Leganes, 3-0, on Sunday (Monday Manila time).
Bale scored both his goals shortly before halftime, securing the Spanish league lead for Madrid ahead of the city derby against Atletico Madrid.
Madrid has 27 points after 11 rounds. Atletico, which lost 2-0 at Real Sociedad on Saturday, dropped to fourth place after Villarreal defeated Real Betis 2-0 to move up the standings.
Bale dominated action from the start and was Madrid's most dangerous forward throughout the match at Santiago Bernabeu stadium, and his first goal came just as the crowd was growing impatient with the team.
After a perfect long pass by Francisco "Isco" Alarcon in the 38th minute, Bale calmly found the net after his first attempt was stopped by the goalkeeper. His second came from close range in first-half injury time.
"I'm pleased with the work everyone put in, not any player in particular," Madrid coach Zinedine Zidane said. "There will always be one who makes the difference, but the great thing today was the team."
Bale also had two great scoring chances early in the second half, first with a close-range shot and then with a header, both requiring difficult saves by Leganes goalkeeper Jon Ander Serantes.
The striker has scored three goals in the last two matches for Madrid.
Ronaldo's up-and-down season continued and he had another lackluster performance at the Bernabeu, where he hasn't scored in five straight games, his longest scoreless drought at home since he arrived at Madrid in 2009. Ronaldo, who is set to extend his contract with Madrid until 2021, last scored at the Bernabeu against Sporting Lisbon in the Champions League on Sept. 14.
"I don't think he's worried, he looks good and committed," Zidane said. "It's true he likes scoring goals, especially at this stadium, but he's calm."
ADVERTISEMENT - CONTINUE READING BELOW
Benzema was sidelined on Sunday because of a knee ailment, and replacement Morata got Madrid's third goal from inside the area after a pass by Toni Kroos in the 76th.
Madrid, unbeaten this season, plays against Atletico at the Vicente Calderon on Nov. 19, following the international break.
It was the fourth consecutive loss for Leganes, which was making its first-division debut at the Bernabeu. It is just outside the relegation zone with 10 points.