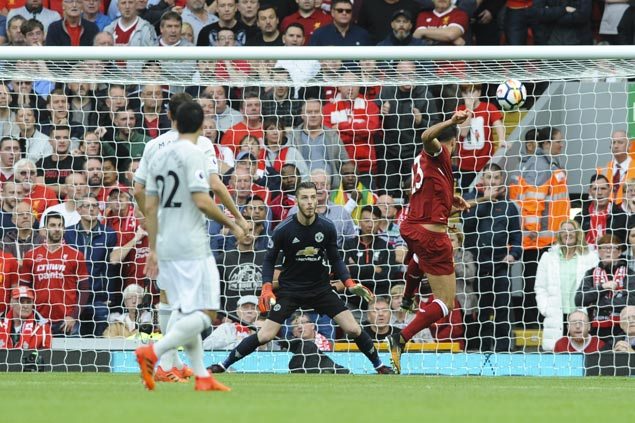 LIVERPOOL, England — Manchester United produced another resolute containing job at Anfield to hold Liverpool to a scoreless draw in the Premier League on Saturday, as the "clasico" of English soccer proved a let-down once again.
The match-up between England's two most decorated teams turned into a dull stalemate, just like 12 months ago at the same stadium.
And just like last season, United had David De Gea to thank for preserving a point.
In one of the few genuine openings created all match, the Spain goalkeeper stuck out his left boot to turn away Joel Matip's effort from point-blank range.
Otherwise, Liverpool controlled possession but couldn't pierce the wall of white United jerseys set up by coach Jose Mourinho, whose players carried out his game plan to the letter.
"For sure you could not play this way at Liverpool," Liverpool manager Juergen Klopp said, "but it's OK for Manchester United."
Mourinho usually adopts a cautious approach in big away matches and he reverted to type again, stationing Ander Herrera in front of United's back four alongside Nemanja Matic and ensuring wingers Anthony Martial and Ashley Young screened their full backs behind them.
It got the intended result, though Mourinho said United came for a win but retreated in the second half because he couldn't make any midfield substitutions to freshen up his team with Paul Pogba, Marouane Fellaini and Michael Carrick out injured.
Mourinho said he was also surprised Klopp didn't change formation or make more attacking substitutions.
"When at home and you don't move anything, I don't know," Mourinho said. "I was waiting for that.
"The second half was a bit of a game of chess. My opponent didn't open the door for me to win the game."
There will be critics who'll argue United, with its heavy spending of recent years and having scored 21 league goals already this season, should have attacked a Liverpool defense that has been fragile.
United, which stayed unbeaten, dropped points for only the second time this season and failed to score for the first time.
It was reminiscent of the 0-0 draw almost exactly 12 months ago, but at least there was some goalmouth action this time.
De Gea's save was stunning, sticking out his left leg to keep out Matip's side-footed effort. Mohamed Salah then blazed the loose ball wide.
Later in the first half and at the other end, Romelu Lukaku was denied by Liverpool goalkeeper Simon Mignolet after the league's top scorer finally found himself with space in the penalty box.
ADVERTISEMENT - CONTINUE READING BELOW
The crowd noise was deafening for the early stages but it quietened as United become more comfortable toward the end of the first half. After the break, it was largely forgettable, although Liverpool remained on the offensive and looked dangerous whenever Brazilian pair Firmino and Coutinho linked up.
It is only one win in the last five league games for Liverpool, which missed the pace and movement of injured winger Sadio Mane.