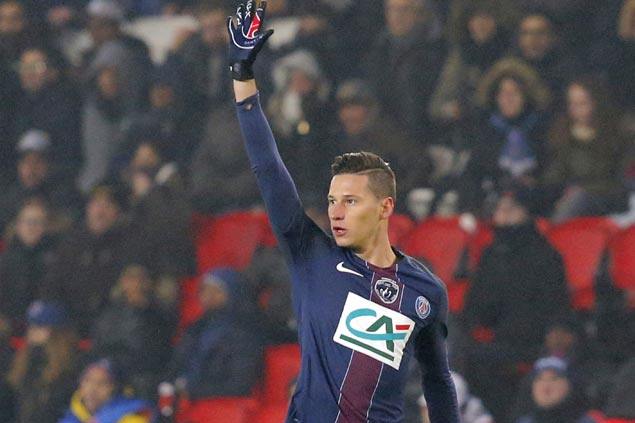 PARIS — Winger Julian Draxler's second goal in as many games showed why Paris Saint-Germain signed him as the defending champion won at Rennes, 1-0, in the French league on Saturday.
Running onto an astute pass from midfielder Marco Verratti, and without breaking stride, the German curled in a delightful shot from the left of the penalty area into the bottom right corner in the 40th minute.
"It was a great goal," Verratti said. "We needed a player like this."
PSG moved level on points with Monaco, which is in second place thanks to a better goal difference and plays on Sunday, as does leader Nice.
Draxler joined from Wolfsburg this month in a deal reportedly worth up to €47 million (about US$49 million), and scored an equally good goal on debut in a 7-0 rout of Bastia in the French Cup last weekend.
"He worked hard, scored a good goal," PSG coach Unai Emery said. "He's brought his quality to the team."
The 23-year-old Draxler, a regular for Germany at last year's European Championship, struggled to settle in at Wolfsburg after joining from Schalke early into last season and failed to score this season.
His arrival may not be great news for Angel Di Maria, who has been mostly out of form this season and faces tough competition from Draxler on the left wing, and from Lucas on the right.
It was a good day for Draxler, but not for Edinson Cavani, who stormed angrily past Emery when he was substituted with 20 minutes left. Di Maria also came on, and fell over backward trying to play a quick pass on a PSG counterattack.
PSG won its previous three games, scoring 14 goals and conceding none, but they were at home and against poor sides.
A trip to Rennes — which had lost only once at home — offered a much tougher test, especially considering PSG lost four times away from home in the first half of the season.
"It's a big win for us," PSG midfielder Blaise Matuidi said. "We're not very confident away from home and needed the points."
PSG started in determined fashion and Cavani should have scored after just 40 seconds.
Having missed four chances in midweek when PSG beat Metz 2-0 to reach the League Cup semifinals, Cavani fluffed this one by poking wide of goal after being put clean through.
PSG dominated the first half, with Rennes panicking and frequently losing the ball.
ADVERTISEMENT - CONTINUE READING BELOW
Verratti was enraged when he was not given a penalty after running onto Draxler's excellent pass and rounding goalkeeper Benoit Costil, who appeared to take him down. But the referee instead gave Verratti a yellow card.
"It's a huge mistake. It was a penalty," Verratti said.
He was still arguing with referee Benoit Bastien as the players prepared to start the second half.
Bastien also showed PSG midfielder Thiago Motta a yellow card in the 62nd, although he appeared to fall down as he rounded Costil.
"Well done to the referee for not getting conned," Costil said after the game. "(Verratti) was falling down before I came out and the second one (Motta's) was even more blatant."