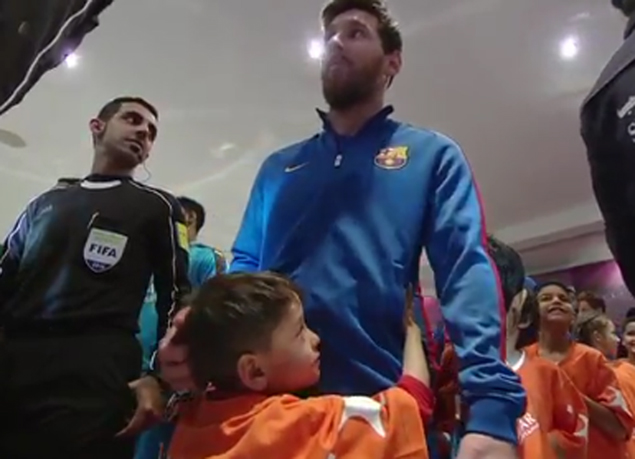 IT was an image that touched the hearts of millions: A 5-year-old Afghan boy wearing an improvised Lionel Messi jersey made from a plastic bag.
Now, nearly a year later, Murtaza Ahmadi has finally met his idol.
Murtaza made a special trip from Afghanistan to Qatar, where Messi was with his Barcelona teammates to play a friendly match against Al Ahli on Tuesday (Wednesday, Manila time).
In a meeting arranged by the organizing committee of the 2022 World Cup in Qatar, Messi held hands with Murtaza at the team hotel before picking up the boy and posing for photographs. Murtaza was wearing a Barcelona jersey.
"I'm very happy to have met my hero. It is a dream for me," said Murtaza, in quotes supplied by the World Cup organizing committee.
To highlight his day, Murtaza, who is now aged 6, walked out onto the field with the five-time World Player of the Year before Tuesday's match.
He stayed by Messi's side during the pre-match ceremonies and refused to let go even with the match about to start, drawing a laugh from the Barca star and the fans.
The boy became an internet sensation early this year when pictures of him playing near his home in eastern Ghazni province were widely circulated. They showed him wearing a plastic bag — in blue-and-white stripes, like the Argentina national team jersey — with Messi and the No. 10 written in black marker.
A few weeks later, Messi sent signed Barcelona and Argentina jerseys to Murtaza.
Murtaza's father, Mohammad Arif Ahmadi, said in May that the family was forced to leave Afghanistan amid constant telephone threats and fears that Murtaza would be kidnapped because of his sudden notoriety.
"Life became a misery for us," said the father at the time, speaking to The Associated Press over the telephone from the Pakistani city of Quetta, where the family had settled.
ADVERTISEMENT - CONTINUE READING BELOW