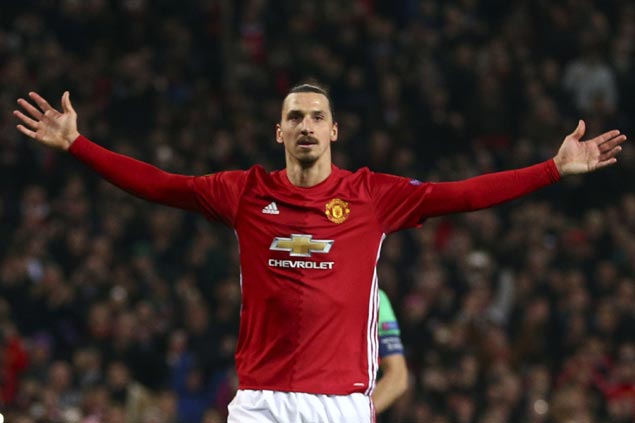 MANCHESTER, England — Zlatan Ibrahimovic scored a hat trick to push Manchester United to the brink of the Europa League last 16 on Thursday (Friday, Manila time).
With a deflected free kick, a tap-in, and a penalty, Ibrahimovic helped United dispatch Saint-Etienne 3-0 at Old Trafford in the first leg of their last-32 match, with his first hat trick for the English club and the 17th of his illustrious career.
The pre-match focus had been on the family reunion between the Pogba brothers, Paul (United) and Florentin (Saint-Etienne), but Ibrahimovic became the center of attention once again — as he often does against Saint-Etienne. The former Sweden international has scored 17 times in 14 games against the French club, with his previous 14 goals coming when playing for Paris Saint-Germain.
"Every time I played against them, with luck and with a good game, there have been goals," Ibrahimovic said.
The margin of victory may afford United manager Jose Mourinho the luxury of resting some key players for the second leg on Wednesday, with the game coming four days before United plays Southampton in the English League Cup final.
Paul Pogba won the battle of the brothers, running the game from center midfield and almost scoring when he headed against the bar from the edge of the six-yard box. Florentin, older by three years, ended the game early when he was taken off injured in the 79th — but only after being given an embrace by his more renowned sibling.
It was a family catch-up for the Pogbas at Old Trafford, with their mother and other brother, Mathias, watching from a corporate box wearing jerseys with United's colors on one half and Saint-Etienne's colors on the other.
The scoreline was harsh on Saint-Etienne, which created plenty of chances but was let down by poor finishing, particularly in the first half after United started sloppily.
"It was down to a lack of concentration," Mourinho said. "I had the feeling immediately in the dressing room: Too noisy, too funny, too relaxed. Then my assistants had the feeling in the warm-up, with some of the guys not really focused."