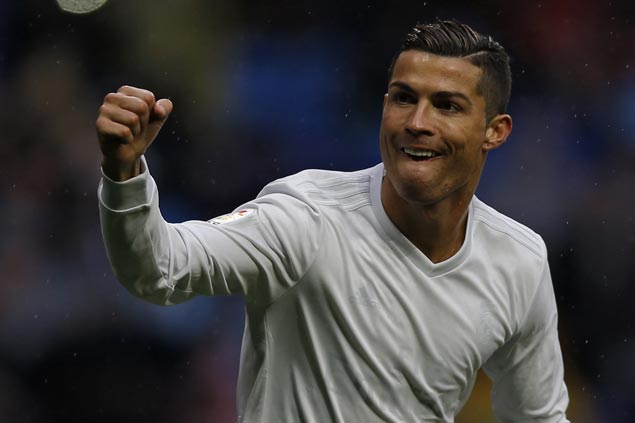 MADRID — Zinedine Zidane has matched another feat by Carlo Ancelotti at Real Madrid.
With two first-half goals by Cristiano Ronaldo, Zidane's Madrid defeated Sporting Gijon, 2-1, in the Spanish league on Saturday to equal the 31-game unbeaten run by Ancelotti's team in the 2013-14 season.
Zidane already matched the former Madrid manager by winning the Champions League last season, a title Ancelotti won with the Spanish powerhouse in 2014, when Zidane was an assistant coach.
"This is positive, but it's not my individual achievement," Zidane said. "It's an achievement by the whole team. You have to congratulate the players on these numbers."
Saturday's win in pouring rain at Santiago Bernabeu Stadium — thanks in part to a late penalty kick missed by Sporting — also gave Madrid a six-point lead over Sevilla, which jumped to second place by defeating Valencia 2-1. Third-place Barcelona plays on Sunday at fifth-place Real Sociedad to try to get back within four points of Madrid before their clasico next week at Camp Nou.
Madrid, which has won six in a row in the league, hasn't been defeated since April at Wolfsburg in the quarterfinals of last season's Champions League. It has won 23 games since then.
Madrid's all-time unbeaten run of 34 games was under coach Leo Beenhakker in the 1988-89 season. Barcelona holds the unbeaten record in Spain of 39 consecutive games last season, a streak that ended with a defeat to Madrid.
Madrid was heavily favored against Sporting, which had lost seven of its previous nine league games.
The hosts got off to a good start as Ronaldo — who had a hat trick against Atletico Madrid in last weekend's derby — scored from the penalty spot in the fifth minute and from a header in the 18th.
Sporting pulled one closer through Carlos Carmona in the 35th and had chances to equalize in the second half. The best one came with Duje Cop's shot from the penalty spot but the ball sailed high and wide.
ADVERTISEMENT - CONTINUE READING BELOW
"We can be happy with the three points but we can't be happy with the performance of our team," Zidane said. "We let the game become difficult for us."
Sporting, which hasn't won since the third round, is 18th in the 20-team standings.
It was Madrid's first game since losing Gareth Bale because of a right ankle injury that is expected to sideline him for at least two months. Zidane used Lucas Vazquez in the attack beside Ronaldo and Karim Benzema.