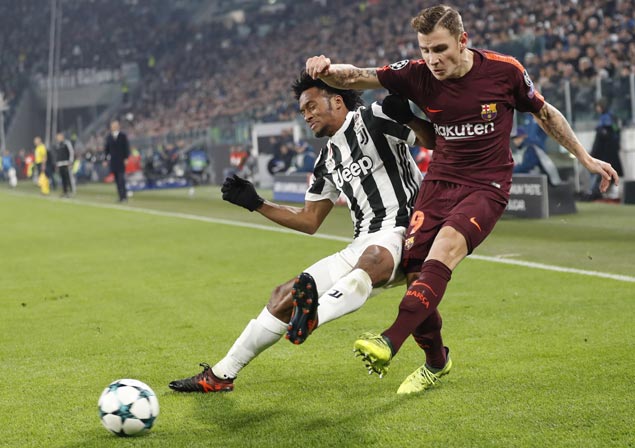 TURIN, Italy — Barcelona sealed top spot in Group D of the Champions League on Wednesday with a drab 0-0 draw at Juventus, which will have to wait until the final round to try and qualify for the knockout stage.
Barcelona, which rested Lionel Messi for the first half, went closest to breaking the deadlock when Ivan Rakitic hit the post with a free kick.
Paulo Dybala almost scored a stoppage-time winner for Juventus but Marc-Andre Ter Stegen palmed his effort around the post.
Juventus remained second in the group but is only a point above Sporting Lisbon, which beat Olympiakos, 3-1.
The Italian side — which reached the final in two of the last three seasons — visits Olympiakos in the final round, while Sporting travels to Barcelona.
"Today was very difficult because they defend very well," Dybala said. "Now we have to win the next game and not wait to see what Barcelona do (against Sporting).
"We are going to a passionate atmosphere at Olympiakos, but we are Juventus and must go to win at every stadium."
The match was short on quality, despite featuring two such prestigious sides.
There were plenty of mistakes, notably from Juventus striker Gonzalo Higuain, who slipped in the middle of the area on one occasion and also lost the ball in a good position.
The Argentine also fired an opportunity over the bar, while both sides were guilty of some sloppy passing.
Juventus had beaten Barcelona 3-0 in Turin in last season's quarterfinal on its way to the final. But the Bianconeri had lost at Barcelona by the same scoreline earlier this campaign.
Dybala was at the heart of most of Juve's good moves and the Argentine almost scored at the end of the first half when he took the ball round a couple of defenders before unleashing a shot which flashed over the bar.
Rakitic had gone even closer with a free kick that went past a number of players in the area before coming off the right post.
Barcelona almost took the lead with another free kick at the start of the second period, but Luis Suarez's effort was deflected over the bar.
Messi was brought on in the 56th but couldn't spark the match into life, although he went close to breaking the deadlock with a couple of free kicks.