BONGAO, Tawi Tawi - Riding in the back of a Mitsubishi pickup truck speeding on a scenic road along the coastline of Bongao Island, Loyola Meralco coach Simon McMenemy was a picture of bliss, considering he was in the middle of one of the Philippines' most dangerous provinces.
The 37-year-old Scot was sharing to SPIN.ph some of his experiences in the Indonesian city of Banda Aceh a few years after the deadly 2004 tsunami that killed 167,000 people.
"There's a reverence there, a sense that something very terrible happened. In the middle of a road, there was a ship that was cut in half," he said.
Asked why he preferred to ride out in the open, the former Azkals coach, who would wave and smile to everyone we passed by, explained it was the best way to know a place and its people.
A few minutes later, we arrived at TOG Sultaw, a small Air Force camp bordered by the Sulu Sea and Sanga-Sanga Airport. And on a small patch of grass beside the runway where a C-130 was about to take off, with the holy mountain of Bud Bongao as a backdrop, McMenemy and his players began teaching marines, soldiers and airmen the basics of football.
Football for Peace
Continue reading below ↓
Recommended Videos
Football for Peace
is the brainchild of Lieutenant Colonel Stephen Cabanlet. Outside his uniform, it's easy to mistake the soft-spoken marine for a high school teacher.
When the Azkals rose to national prominence in 2010 (with the help of their then coach McMenemy), Cabanlet, who was deployed with the 3rd Marine Battalion in Sulu, decided to use the sudden popularity of football as a medium that his men could use to win the hearts and minds of the children in their area of operations, a hotbed of an Islamic insurgency over the last several decades.
"Madaming nagtataka bakit football. Kahit ako minsan nagtatanong sa saking sarili. Minsan may mga pagkakataong binibigay sa atin na nagiging susi na pwede mong gamiting pambukas ng oportunidad - either sa peace or sa (personal) success," Cabanlet said.
In 2011, Cabanlet used football as a weapon for his men to achieve peace. What began as a pastime during off-duty hours drew curious children to their camp. The marines used it as an opportunity to establish bonds by teaching and playing with young people who grew up in a culture where guns are considered status symbols.
"Kapag ang nakamulatan mo ay baril, dala-dala mo na iyan, Iyon na ang gusto mong hawakan. Sa amin dito, imbis na baril ang ipapakikita namin sa mga bata na hawak-hawak ng mga marines, bola ang simbolo para iwas ang pag-iisip ng mga bata sa mga baril na parating nakikita nila sa araw-araw,"Cabanlet said.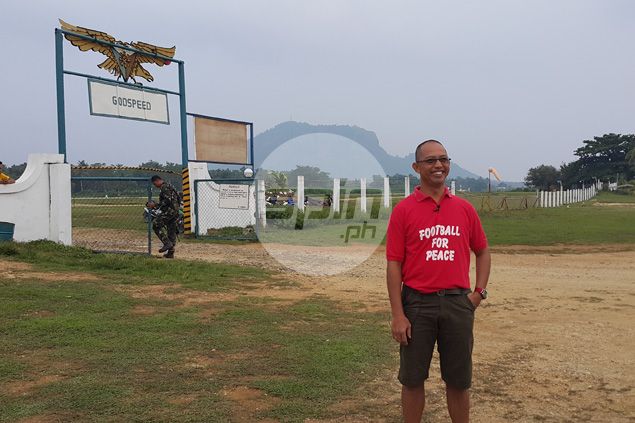 He noted that the children are not their enemies; what they are trying to change is their mindset. They want to put some semblance of discipline to the children's lives, particularly in how they value their studies and treat other people.
When the marines began Football for Peace, their objectives were pretty simple: to provide a venue for kids to become kids again, and to open their young eyes to the fact that change is possible despite the dire circumstances in a conflict area.
"Papalaruin ka namin ng football dahil gusto naming ikaw ay magbago. Papalaruin ka namin ng football kasi gusto ka naming maging katuwang para sa kapayapaan. Papalaruin ka namin ng football para mabago natin ang inyong komunidad," the colonel said.
Cabanlet said he realized that football - and sports for that matter - can unite Filipinos. "May Gilas na tayo, lumalaban na tayo sa volleyball at sa football. So dito ang bola, — anumang sports o laro na ating papasukan — patungo tayo sa pagbabago."
"Kung nangarap tayo ng pagbabago, saan ang simula? Sabi nga nila, sa sarili. Tayong matatanda sarado na ang pag-iisip. Kaya ang target namin ang mga bata: ito ang bola, ino-offer namin ay pagbabago. Bawat sipa mo ay pangarap, bawat sipa mo ay pagbabago, bawat goal mo ay may katapat na disiplina. Iyon ang binibigay namin sa mga bata," Cabanlet explained.
Cabanlet's faith in his fellow men was strengthened during the Zamboanga siege, where his battalion was involved in the fierce fighting. He was unable to be with his wife who was battling leukemia at the time and also did not have the money for her treatment. A newspaper reporter found out about his situation and wrote a story.
To Cabanlet's surprise and everlasting gratitude, people suddenly chipped in and paid for the hospital bills.
Sparks answer call
One Meralco Foundation president Jeff Tarayao said it was McMenemy who insisted on holding a clinic in Mindanao, so in the last week of September and for the first time ever, a team from a professional sports league held a football clinic in Tawi Tawi.
When McMenemy returned after a personal reconnaissance trip last August, the coach talked to the team, told them it was safe to go and asked for volunteers.
Answering the call were players James Younghusband, Simon Greatwich, Jake Morallo, Yves Ashime, Adam Thomas Mitter, Anthony Putrus Schnell, and Ricardo Padilla. Assisting him were assistant coach Gil Talavera and former Maldita player Isabella Fernando.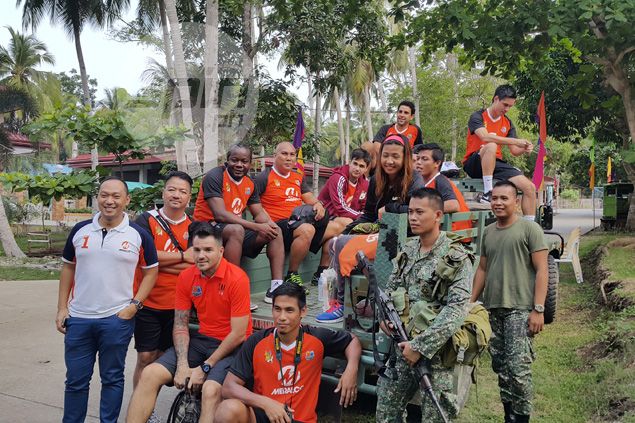 Ashime, the veteran defender from Cameroon, simply said, "Why not? It gives me the chance to share my knowledge and my passion. Unlike many sports, football is a sport for those who don't have much," citing Brazil's Ronaldinho's humble origins.
From the time they landed in Bongao, the Sparks eschewed the air-conditioned coaster provided for them and chose instead to ride in (and on top) of the escorting Marine MMPVs (similar to the US-made Humvees) where the football ambassadors can see and be seen. The contrast between the team's bright orange jerseys and the Marines' digital woodland camouflage was striking.
With a view of Bud Bongao and the roar of a C-130 Hercules taking off, the Sparks spent Day One training 40 marines, sailors and airmen inside the air force camp just beside the runway.
They took their coaches' lead and brought not only self-inflating balls, cones, nets and gear, but more importantly, the enthusiasm to share their skills to the servicemen in the limited time available.
The training was kept simple and fun, and was meant to be easily remembered by the marines and soldiers who would then impart it to the children. After the session, several excited townspeople who were watching from the sidelines braved the security escorts and asked the players for selfies, with Younghusband being the favorite and the target of questions about his older brother Phil.
'Kids here are fearless'
Day 2 was dedicated to the "One Day, One Goal Football Festival" where the Sparks got to interact with 300 kids from different elementary and high schools in a sun-beaten and dust-covered field in the middle of Bongao's educational complex. A beauty pageant was held the previous night as part of the festival, and volunteers toiled more than eight hours to clean up the trash left by thousands of spectators. Each team was assigned a coach who supervised drills followed by a friendly match.
The Sparks, no stranger to clinics and academies, later talked about the raw talent that they saw in the kids: it required a lot of polishing and the mastery of basic techniques but one thing stood out that made Mindanao's boys different from the kids in Manila.
"The kids here are fearless. We were all talking about that yesterday. During one of the games, one of the kids got a big cut on his face. The keeper was coming for the ball and normally you stop. The kid still went for it and got caught at the foot of the keeper and blood was coming out. That's how we noticed first that they were really fearless. I guess it's their way of life. They were really trained for worse," noted Fernando, the lone woman who joined the Sparks in Tawi-Tawi.
Undeterred by the lack of facilities and the late start, McMenemy was in his element and played both coach and entertainer, an advantage from his community outreach days. You could hear his brogue from one end of the field to the other.
Nothing, however, could prepare the coach for what would happen in the latter part of the clinic.
Impressed by one of the kids who was sharing a pair of beat-up cleats with another teammate, McMenemy decided to open a large purple suitcase he had been lugging everywhere throughout the trip. Inside were several pairs of soccer shoes and football jerseys that were donated by friends. When the coach handed a pair of shoes to the surprised boy, the look on the child's grateful face from a gesture so unexpected became too much for the normally cool and taciturn McMenemy, who later admitted that he had to turn away or risk losing his emotions and embarrassing them both.
"That's the job. I love football. I love the coaching. I love the professional side. But the bit that gets me emotional, that soothes my soul – you don't get to see me emotional when it comes to professional football — but the bit that gets to me is doing this," he said.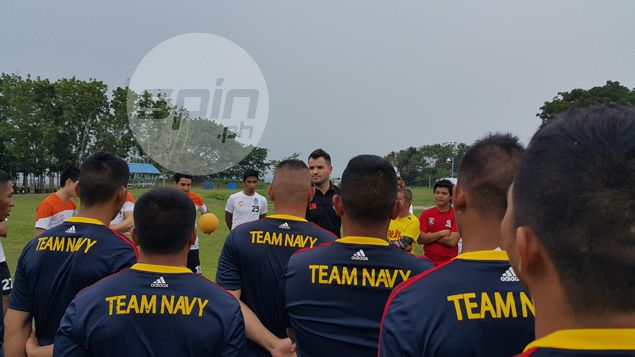 Eye-opening experience
I had the chance to talk with many of the Sparks, all of whom expressed hope in what they were doing and the willingness to return and become part of the clinic again. One of the most insightful came from Fernando.
On the return flight to Zamboanga, the former Maldita shared that the clinic was an "eye-opening" experience for her. She expressed admiration and respect for the marines and what they do.
"The best part of the trip for me was when we got to speak to the marines. They are in the frontlines and they really take this project seriously," she told SPIN.ph.
In between clinics, she said the marines would talk to them and share their experiences from places such as Sulu, Misamis and Basilan.
"During combat operations, the marines practically fight with these children's parents and unless things change, they will have to fight these kids in the future," she said. "If the kids see them, they will remember the marines next time they come back. The marines are using football to change the deadly cycle and the way these kids view life."
One of the organizers shared the story of a boy kid who told them that if he was given a jersey, he would show them he can dismantle an M-16 rifle while he was blindfolded. Another child chimed in, claiming he can do it faster. The organizer told them he would give them complete kits if they promised to never use that skill again and to not take up arms.
Such stories from the marines provided the Sparks with perspective and an understanding of where the children were coming from.
"I understood why they were so fearless in playing and so determined. They're different from the typical kids. They want to find a way out. It's difficult to also get out of there but this is really basically getting out of a life-or-death situation," Fernando said.
In a place of conflict such as Tawi Tawi, soldiers have a "you or me" mindset, a mentality that Belay believes has been mirrored by the children.
"They had one kid—this is kind of sad—he was with Abu Sayyaf group already and he was only six or seven years old. He decided to apply for the Football for Peace. He lived with his grandfather kasi wala na yung parents. He'd go to the (ASG) training then go home and when he started with Football for Peace he stopped going (to the ASG) and completely stopped. They found out, went to the grandfather's house, asked for the kid, got him back and shot him twice, (and he was) gone," Fernando recounted.
In a deadly conflict that has yet to see its last battlefield, the Marines, using Football for Peace, are hoping to end the war by bringing their enemies' children to a different field, one where they kick ball instead of each other.