AMID the sea of red that nearly filled the 40,000-seat My Dinh National Stadium in Hanoi, Vietnam, a tiny group of blue-and-white-clad Filipinos stood defiant in the stands, cheering their hearts out for the Azkals in their last Asean Football Federation Suzuki Cup group stage match against the host team.
The Kaholeros were completely outnumbered, but they were never outdone.
The booster squad of the Philippine national football teams, the Kaholeros once again went the extra mile in showing support for the Azkals by spending their hard-earned money to fly to Vietnam.
"Where the games are, as much as possible, we want to be there," Kaholero Jady Salonga said. "We're boosting the squad whatever it takes, but ayaw namin yung ma-spotlight kami."
While some were first-timers, others were in their second go-around, having been to the Bangkok Suzuki Cup two years ago as well.
"Iba kasi yung feeling when you support as an away fan," Ysabel Villaflor explained. "Iba yung culture and camaraderie when it comes to traveling with the team. There are always a lot of stories to tell. At iba yung feeling na nandun ka during one important game."
"And this year, it's for ours to take," Salonga butted in. "After the two heartbreaks that we experienced sa Challenge Cup tsaka Peace Cup, talagang gusto namin nandun kami to root for the team to give them a big boost na atin 'to at kukunin natin 'tong Cup na 'to."
Continue reading below ↓
Recommended Videos
They are an odd mix of people from different backgrounds who found kinship in their love for the Azkals and the sport. And their bond started in March three years ago when they randomly converged to watch the Azkals' Challenge Cup qualifiers match against Mongolia in a viewing party at a bar in Makati.
Salonga, 24, admitted he jumped into the bandwagon when the "Miracle in Hanoi" — the Philippines' stunning 2-0 shutout of Vietnam also at My Dinh in 2010 that started the Azkals phenomenon – happened, then "matured" as a fan by learning the sport and its history in the country.
Villaflor was also a late-bloomer, becoming a fan only in February 2011 when his brother-in-law, a football player, invited them to watch the Filipino booters' Challenge Cup qualifier against Mongolia in Bacolod.
Now, they are willing to go this far - taking leaves from their works and spending a great amount of cash - for the Azkals.
How much did they spend for the entire trip?
"A month salary's worth," said Salonga, who works at an Australian firm in the shared services sector.
But they were also practical as the Kaholeros wasted no time in looking for promo fares since it was revealed that the Azkals would play in Vietnam and not in Singapore, the other tournament host, during the Suzuki Cup draw last August.
"Sinasabi ng iba na we can do this because we can afford it, but it's really about the 'will' issue — kung kaya mo namang mag-ipon, kung kaya mo namang makakuha ng passport, kung kaya mong mag-tiyaga every midnight para abangan ang promo fares ng iba't-ibang airline," Salonga said.
"From August to, October, we were vigilant in looking for really low fares as much as possible."
"Those were our little sacrifices for the team," he added.
"And the fact na Suzuki Cup is every two years, mayroon kang time actually plan it," said Villaflor, who works in the legal department of a real estate company. "Mayroon kang leeway."
Traveling is probably what sets the Kaholeros, whose membership has grown to around 900 people, apart from chapters in Cebu, Singapore, and Taiwan, apart from another group of supporters in the Ultras Filipinas.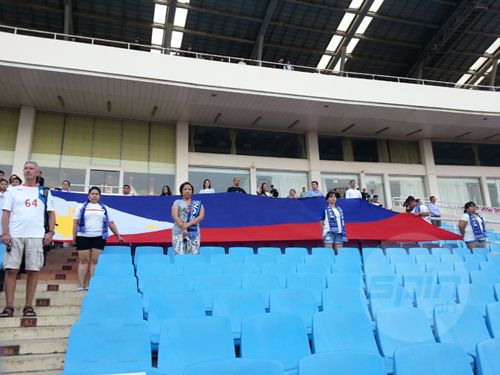 "There shouldn't be any competition," Villaflor stressed. There's a respect between the two groups, because we both have different beliefs in showing our support."
"But in the end, we're both supporting the same team."
Azkals players and officials lauded the efforts of fans in general.
"If we already play one-hundred percent, when we see them, we play one-hundred-fifty percent," Misagh Bahadoran said. "They like a Red Bull: they give us energy every single time we get tired."
The energetic midfielder, though, especially appreciated the Kaholeros for bringing along a large Philippine flag which, ironically, was banned by the Philippine Football Federation during home games at Rizal Memorial Stadium.
"It looked like we were playing at home, because their flag was bigger than others' flag," Bahadoran said. "That gives us honor and pride to fight more."
"It's always a welcome sight to behold every time we see that fans are there wherever we go, whether it's in the Philippines or abroad," Azkals manager Dan Palami said. "We know the effort and the logistical requirements that's needed for you to travel, because we travel as well."
Aside from their love of the sport, the Kaholeros also love to travel. During rest days, they sampled Vietnam's famous egg coffee and shopped for souvenirs along Old Quarter district.
"Two birds with one stone," Villaflor said. "I think it's one of the beauties of traveling as an away fan: you have the luxury of experiencing things other than football."
"But the best pasalubong is the home game and that trophy," she added after the Azkals clinched an early semifinal ticket with a rousing 4-0 win over Indonesia.
"Pero manalo, matalo, it's worth it," Salonga said.
Pam Puri, another Kaholero, though, would love to witness a breakthrough title conquest for the Filipinos in the Suzuki Cup.
"It will be totally worth it once we get the trophy. It's not yet over."
Still, they expect nothing in return as the continue to cheer for the Azkals.
"Kilala man kami ng players by name or by face or not, it's okay with us. We did our part," Salonga said. "It's just our gesture of showing how much we love the sport and the country."