THE character of a person, more so of an athlete, is truly molded at home.
Take the example of Ysabelle Samonte, a 12-year-old aspiring football player, who at a very young age already displays kindheartedness exemplified by her parents.
Since she started playing football five years ago, Samonte has been generously sharing all of her outgrown shoes to less fortunate teammates.
"I just wanted to share it with them. After all, it will no longer have use for me," said the shy Ysabelle.
"I feel happy when I see them using it. I feel good that I share these things. My dad taught me to be generous and kind," she added.
Her dad, Jonef Samonte, was hesitant to be interviewed when first approached by SPIN.ph while in the act of calling the kids to partake of the shoes he brought, mostly hand-me-downs from his daughter and two sons, who also play football.
"Actually, ayaw ko na sanang ma-publish pa ito. But you're insistent (in asking me). I don't want to be known, but we always do this anyway, sayang eh. There are kids who need this," the elder Samonte said.
"Ang daming maliliit na bata ang gustong maglaro, kaso walang sapatos. Medyo mahal rin kasi yung football shoes eh," he added.
Continue reading below ↓
Recommended Videos
Samonte bared that he has already lost count of how many shoes they have already shared to other children with the quick rate that his kids are outgrowing their cleats.
"Ang bilis kasi lumaki ng paa nila, so chances are, in three months nakakaliitan na agad nila yung mga sapatos, halos hindi pa gamit," said Samonte, the First Metro Asset Management Incorporated Director for Agency Development.
Among the recipients of the Samontes' kindness are underprivileged kids from Don Bosco in Makati and Smokey Mountain area.
"It's nice to share with them, especially from those areas. Marami kasing poor kids dun ang naglalaro din ng football, but they don't have the means to equip themselves. It's about time that we give them something that they can use," said Samonte.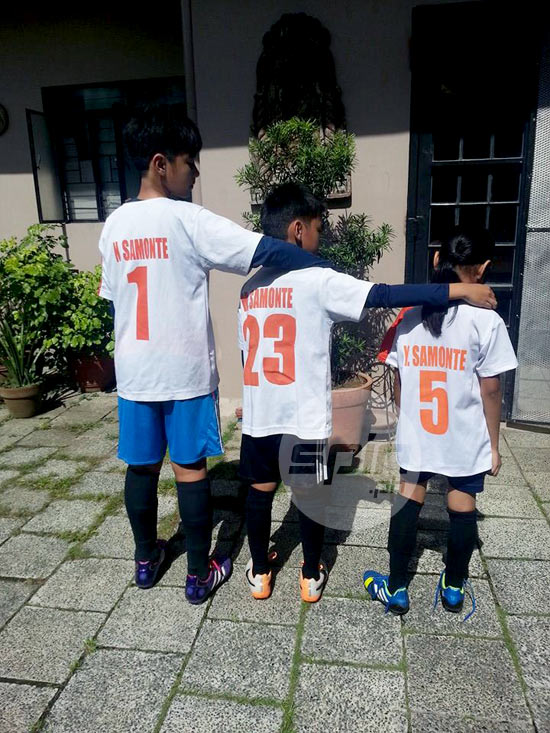 Samonte, who admits to be an avid PBA fan, revealed that shortly after he taught his children to share their gears, the kids have since made a habit of being generous.
"Actually, sila na mismo ang namimigay eh. I don't have to tell them. Every time there's a bunch of kids na nakikita namin, sila na ang nagbibigay," he said. "We're not rich, but at least my kids get to realize that with sharing, they are able to see na they're lucky na they can afford things. and then it's time to give back to the community pag hindi na nila nagagamit yung isang bagay."
"Ang dami namin nakikita na bata na naglalaro ng football tapos naka-white sneakers lang o kaya nakapaa tapos nadudulas. Unlike kasi sa basketball, kahit anong sapatos pwede dyan eh. Sa football kasi, you'll need specialized shoes na mahal talaga," Samonte added.
As she's become a blessing to poor kids for her generosity, Ysabelle was also blessed to bag a prestigious slot in the Globe organized TM Football Para sa Bayan talent search, where she joined 11 other young booters from different parts of the country to train at the Astro Kem Bola facilities in Kuala Lumpur Malaysia.
"It's a very good karma, actually. And I am happy to give back," said Samonte.
The young Ysabelle hopes her training in Malaysia will lead her to a bigger stage, a once in a lifetime training opportunity at the Barcelona Football Club in Spain come December, if she'll make it to the best 36 among the hundreds of participants in the Astro Summer Camp.
But regardless of the result, the Samontes are just grateful to have a program that gives young, aspiring booters the chance to sharpen their skills from international camps, which only bodes well for Philippine football development.
"It's very good, it's been giving a lot of young children the opportunity to be exposed, especially that we are not a football playing nation yet. Pero yung lumabas na tayo at mag-train abroad, that's the start and I am happy that Globe took the initiative to launch this program," said the elder Samonte.
[Watch the Samontes explain their generous ways here:]