"I DON'T know why, but its been one of his requests that he told me personally - that he wanted part of his ashes put inside one of his engines and rev the living s___ out of it. He wants to experience what it's like inside an engine." 
That, according to one of his closest friends, was one of the wishes of racing champion Ferdinand 'Enzo' Pastor, who was gunned down by still unidentified assailants while waiting for a red light to turn to green in a Quezon City intersection on Thursday night.
"I might do that," said Marc Peter Thomann, Pastor's race engineer and crew chief, in an interview with Spin.ph and newspaper reporters last Friday afternoon at the Funeraria Nacional in Quezon City.
The engineer vowed to honor Pastor's request while standing only a few meters away from the ambulance that bore the body of the late 32-year old star of Philippine motorsports who has become his close friend in the five years the two men have worked together in pursuing their dreams in the world of racing.

A public wake is being held at the Santuario de San Antonio in Forbes Park Makati City. His remains will be cremated next Saturday.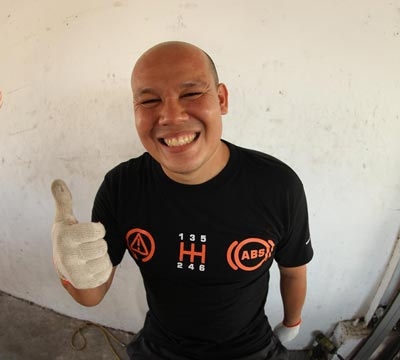 According to Thomann, Pastor, who is the godfather of his eldest child, would often visit the Thomann home in Pangasinan for a week or two when the hustle and bustle of life in the city became too much.
"(Enzo) spent a lot of time in the province. He loved to ask my wife to cook fried chicken - he said that it tasted better than the fastfood versions. That food in the provinces tasted better," Thomann shared.
"We're practically brothers"
After Pastor was fatally shot by still unidentified gunmen at a Quezon City intersection on Thursday night, Thomann was one of the first people to rush to see his friend's grieving family.
At that time, Thomann said Pastor's sons, aged 5 and 7, have not been told that their father has passed away. 
"This morning I went to their house, they (sons) were oblivious to what was happening, both of them just jumped and hugged me. I can't help but just cry. They don't know that they have lost such an important figure in their lives," Thomann recounted.
He said he feels bad for Pastor's wife, a young mother of two kids.
"Enzo was her rock - that's where she held on to and he was her strength. Right now we're going to have to be those tiny pebbles to form into a solid foundation for her to hold on to," said Thomann.
"It's really such a mystery to us."
Pastor's death just didn't make sense to him, his friend said.
"Sa totoo lang kami nga mismo nahihirapan. Hindi namin maintindihan. For us it's a piece of senseless violence. Perhaps he was in the wrong place at the wrong time. Wala talaga kaming alam na kagalit niya," the engineer said.
In the eyes of his friends, one of the top racing drivers of the Philippines was a good guy simply trying to do his best to help people move further up the ladder in the sport.
"He should have been the last person to deserve something like this," Thomann said.
In the end, Pastor died doing what he always loved to do.
An active organizer of local races, Enzo, described as "a hands-on guy," would transport the racecars to and from the venues himself. That was why Pastor was behind the wheel of an Isuzu Elf truck hauling an Asian V8 stock car when he was attacked by a motorcyle-riding gunman on the corner of Congressional and Visayas Avenues.
"We had a race in Batangas last weekend and he was the one who transported the cars from Pampanga in Clark to Batangas where the race was and since natapos na 'yung karera he was bringing the cars back to Clark," Thomann said.             
"It was something that he loved to do. For him driving - whether it was a race car, a micro car, a scooter, a bicycle - behind the wheel, he enjoys it. He's relaxed. He's one of the most responsible drivers I know. He tries to make it a point to get to a place on time without breaking any speed limits or any laws."
When the possibility of a traffic altercation triggering the killing was raised, Thomann said that, too, was his initial assumption.
"There are a lot of hot-headed people out there but based on the witness who was his assistant who I lent him, there was no traffic altercation or sort of gitgitan. The assistant just turned back to look at the car if it was still tied. Pag lingon niya there was already a guy coming forward pointing a gun and suddenly they were shot. They were stopped at a stoplight," he said.
Despite their seemingly hopeless situation, Thomann said his friend did the most he could do under the circumstances to save another life.
"You won't believe it but Enzo was brave enough to somehow fend off and shout instructions to my guy, 'Dapa!' So the guy hunkered down under the dashboard of the truck. He was hit by a bullet but thankfully it was a minor wound. Enzo basically saved my guy's life. He probably thought there was nothing else he could do- just save another man's life."
After shooting Enzo in the head, neck and arms, the gunman, wearing a gas mask and a black cap, casually walked back to a companion in a waiting motorcycle and fled.
Despite what has transpired, Thomann said they would continue with their ongoing race series.
"If I knew Enzo well and I do, he would kick our asses if we didn't. It's his legacy, it's what he started. That was his passion. He wants to help aspiring race car drivers in the Philippines to start somewhere and move up the ladder."  
Enemies on the track?
"If you're inside the racing industry, it's such a small world, it's a really small community. If someone knows na may kaaway ka everybody knows. There's some speculation here and there but its nothing to warrant such an action … What goes on in the track stays on the track," Thomann answered on queries as to whether Pastor had enemies.
"There is no money here. We don't even win cash prizes. We're all spending to have fun, to develop, to relax, to evolve this sport that we have. Whatever extra that comes out of those that I mentioned they're already a bonus," he added.
A tribute is being planned for Pastor, who is credited for leaving a very big impact on the sport that he helped make big again. 
"He gambled and now it's paying off. Now we lost him and I'll be damned if I don't continue this," a determined Thomann said.                        
"It's a mystery in life that won't be explained until we catch those who actually did it. I'm really hoping that our government would step in. I just feel so sorry not only for the family that has lost so much, for friends who lost someone so dear but (also) for Philippine motorsports, losing someone who has dedicated not only his resources but also his life to improve the sport."