PHILIPPINE Azkals team manager Dan Palami remains confident about their chances in the joint qualification for the 2022 Fifa World Cup and 2023 AFC Asian Cup despite the late withdrawals of players including goalkeeper Neil Etheridge.
The Azkals will play the final stretch of the second round of the joint qualification without nine players led by top goalkeeper Etheridge. The Filipino-British player will undergo surgery, according to the team.
Patrick Strauss, Niko De Vera, Ian Ramsay, Carlie De Murga, Raphael Obermair, Geritt Holtmann, Lloyd Fagerlie, and Jesper Nyholm will also miss the World Cup and Asian Cup qualifiers to be held under a centralized venue in Suzhou, China.
"We will have to make do," said Palami in a video posted on the Azkals Facebook account. "Like any Philippine team, lumalaban kahit dehado. But we are here to fight for the country."
Strauss suffered an injury during league play, while De Vera had to leave camp in Qatar due to a family emergency. Ramsay couldn't make it to Doha due to travel restrictions as De Murga was unable to secure a Chinese visa for the competition.
Obermair begged off as he couldn't make it in time for the training camp in Qatar, and Holtmann, Fagerlie, and Nyholm have yet to secure their Philippine passports.
Palami says the team being led by captain Stephan Schrock is capable of delivering a respectable showing against Guam on June 3, Maldives on June 9 and China on June 15.
"It's always been a challenging task to assemble the players. We had 20 players who are going to participate in this phase of the competition. Hopefully, we can get through but yes, a lot of things have happened. A player had to leave camp because there's a family emergency. Some of the players were supposed to be here had to beg off due to several documentary deficiencies and therefore unable to participate."
ADVERTISEMENT - CONTINUE READING BELOW ↓
"But even then, we have talented and skillful players who are here with us. There will be 20 players. We are happy to have them and the coaching staff have been working with them to make sure that they will be able to give everybody a good fight and make a good representation of ourselves as a Philippine team," he added.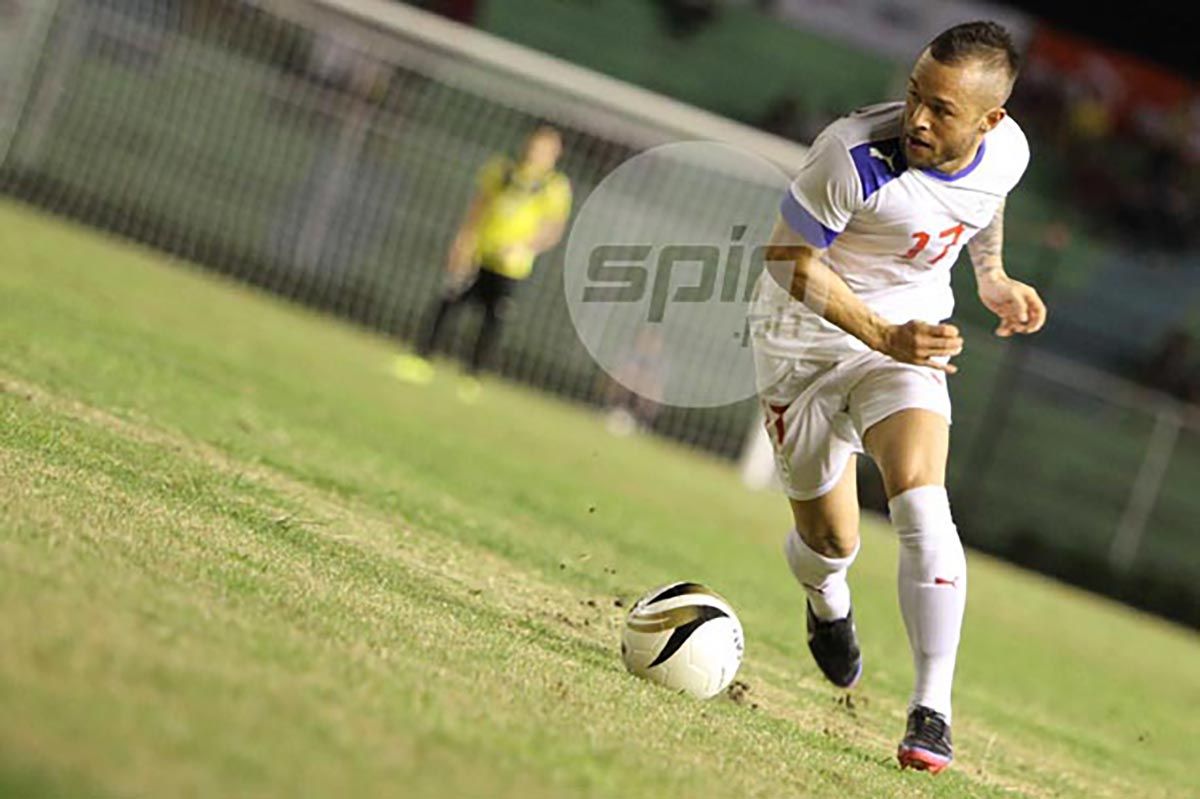 The Azkals team manager said there is no doubt about the commitment of the players, even though they will miss the qualifiers.
"Some of our players actually committed and if they could come here, they will be here except that the documentary process could not be finished. There was one player here who already came here before but he had to leave because the passport has not been completed and the registration has been done," said Palami.
"We will make do with what we have. 'Yung mga Azkals naman natin, lumalaban kahit saan even if we are playing our home games away," said Palami.
For his part, De Murga on his Twitter account wished for the best for the Azkals.
"Due to visa problems, I will not be able to join the Azkals for the World Cup qualifiers games in China. I wish all the best to my brothers. I'll be supporting from the distance," wrote De Murga, who added his focus now shifts to the AFC Cup preparations of his Malaysian club FC Terengganu.