ADD Loyola Meralco's James Younghusband to the growing number of people who are critical of officiating in the United Football League.
While insisting he isn't taking anything away from Stallion which scored a come-from-behind 4-2 win over them on Thursday night, the Sparks skipper rued a questionable call in a play where he ended up with a bruise on his right shoulder.
"The game was exciting for the fans. The Stallions deserved to win," said Younghusband, who was sent off late in the match after incurring a second yellow card. "I think we did well to get the goals up, but I think we didn't know how to hold the lead."
"I think, as well, the officiating has something to do with that (loss).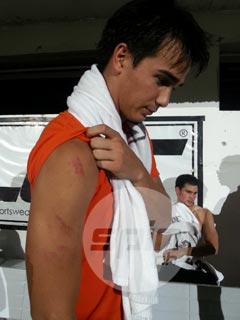 In loose ball battle late in the match, Younghusband was going for the ball after a Stallion center back let the ball bounce when the Azkals star found himself  getting hit by the shoe stud of Stallion goalkeeper Wilson Muñoz.
Instead of calling a foul on the Stallion, the referee gave them the free kick.
"So hopefully for football, we get better referees in the future, get them young, get them trained up, get them watching the Premiership, and get them watching La Liga, see how the top referees do it."
With the Sparks ending their first-round campaign by remaining in third place with 20 points in nine matches, Younghusband conceded it will be tough to unseat league heavyweights Global and Stallion from their lofty places in the second round.
"I think Global and Stallion are the top contenders. I think we're gonna have to climb a mountain to get back and look like contenders for the league."
"We have to look back at ourselves and start again, look at this second round as a fresh start," the right-winger added.