FOOTBALL and law have always gone hand in hand for Ignatius Michael Ingles from the time he entered Ateneo law school.
That is not bound to change, even after Ingles topped the bar.
Just days after getting the highest grade among the 949 law graduates who passed the 2012 bar exams, the former Ateneo football team captain and United Football League mainstay bared his desire to one day practice law within the context of sports.
"Sana I get to practice different concepts of law within the context of sports. Maka-handle sana ako ng athletes at sports teams," Mickey, as he is fondly called by friends and teammates, told Spin.ph.
That shouldn't be a surprise, considering how the 5-foot-3 midfield dynamo had successfully juggled football and studies up until May last year when Ingles finally decided to stop playing in the country's premier football league to focus on his review for the bar exams.
Until then, football and Ingles had been inseparable. He first laced up his boots at age four as he grew up idolizing the great Diego Maradona and became good enough to captain the Ateneo team that ruled the UAAP championship for three straight years from 2004.
Even after graduating with a BS Management degree with a major in communication technology and going to China to study Mandarin for a year, Ingles found himself playing for Shanghai International Football League club Azurri, where he ended up starting in seven games.
He has also found a way to touch on sports within the confines of the classroom.
Ingles' legal thesis revolved around the question on whether an athlete can sue an opponent - as well as his coach - who injured him during a course of a match.
"Athlete talaga siya at heart. Yung thesis niya nga about sports," Andoni Santos, an Ateneo law student and a winger for Pachanga-Diliman in the top tier of the UFL, said.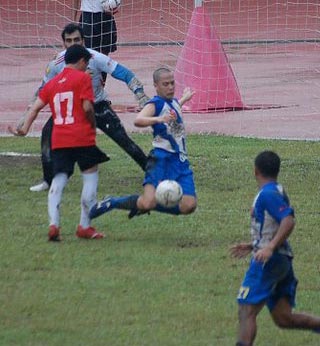 By topping the bar examinations, Mickey had already raised the profile of the student athlete, not only breaking all stereotypes about jocks being bad in school but also proving that one can excel at the highest level of both fields - even if done at the same time.
But Mickey insists football has likewise been good to him.
"Nakatulong talaga (ang football) kasi stress release siya. And it puts me in a good mood, lalo na if you play well," Ingles said.
That's the reason why when he came back from China to enter law school, Ingles immediately joined Ateneo's alumni team, Loyola, where he played Division 1 ball in the UFL until 2011.
He decided to move down to Division 2 with Agila after Loyola's tie-up with Meralco led to more frequent practices for the Sparks - and scheduling conflicts for the law student.
"Buong law school ko, nag-UFL ako," said Ingles, who had the chance to play with Sparks defender Patrick Ozaeta, his teammate since high school, as well as stars Mark and Matthew Hartmann.
He was also good at it.
Santos, who was Ingles' teammate for almost four years in the Conflicts of Law football tournament, said the quick midfielder has strong fundamentals and a blue-collar work ethic - much like current Pachanga teammate Boyet Cañedo, who recently completed a hat-trick in just six minutes against Air Force.
"As a teammate, hardworking siya. Parang si Boyet yung laro niya, maliit na mabilis, may fundamentals, at marunong pumasa — a little bit of everything," Santos said.
For now, Ingles plans to continue working at the Salvador and Perez law firm in Makati, and rates his chances of a UFL comeback at "10 to 20 percent."
"I'd want to (come back) but the circumstances wouldn't permit me to do so," said Ingles, who turned 29 last February 17. "Tagal ko na rin walang high level na laro kaya feeling ko naiiwanan na ako."
Ingles, however, plans to continue playing in the Ateneo Football League, the Jesuit school's alumni tournament.
"No regrets naman. It turned out well. Sometimes, kakatihin ka, nakaka-miss yung times ng ganun," he said. "The thing I miss the most is the constant improving. Other than that I'm fine naman.
"Pag nakalaro ako once to twice a week ngayon, satisfied na ako."