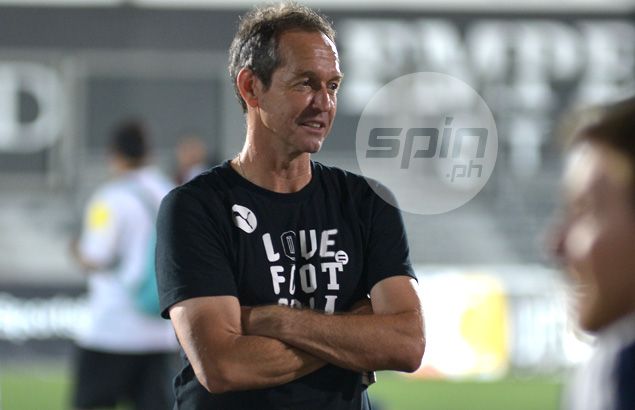 PHILIPPINE men's football team coach Thomas Dooley has fired back at dropout Stephan Schrock, saying the Azkal star's actions were "unacceptable" and "unprofessional."
"What Stephan did was unacceptable, unprofessional," the Azkals coach said of Schrock, who announced on Monday, along with Dennis Cagara, he will not play for the national team so long as Dooley is in charge.
The feud started during the Asian Football Confederation Challenge Cup, where Schrock and Cagara complained about their diminished roles in the squad.
But Dooley stressed his decisions to limit their playing time was nothing personal and purely because they were nursing injuries.
Dooley said he decided to start Schrock off the bench in the semifinal against Maldives for the midfield dynamo to be fresh in case they made the finals, which they did, facing Palestine.
But the relegation didn't sit well with Schrock, who started in the championship match but was seen clutching at his injured hamstring a handful of times, prompting Dooley to replace him at halftime.
But Dooley felt Schrock refused to understand his decision-making, which led to the player's hint at leaving.
"I'm sad when players are selfish and put themselves ahead of the team, lying, and being selfish. That's poison to the team," the usually soft-spoken mentor said.
Because of his actions, the German-American mentor said he has decided that Schrock, arguably the Azkals' finest talent, won't have a chance to suit up for his squad in the future.
"He will not play for my team anymore," he said. "You don't need the best players to win, but the best team."
In Cagara's case, Dooley said the emergence of other left-backs, including Filipino-Japanese teenager Daisuke Sato, has given him more options.