WINNING the ball at midfield, James Younghusband slid the ball to Javier Patiño, who held up before passing forward to Miguel Tanton, who, in turn, rewarded a transitioning Manny Ott behind him for the Philippines' equalizing goal against North Korea.
More than Iaian Ramsay's game-winner near stoppage time, it was that captivating pinball-passing sequence that led to a team goal a few minutes earlier that highlighted the Azkals' development under coach Thomas Dooley.
Gone are the days when the team settled for long balls, dumping the ball to Phil Younghusband or Stephan Schrock and letting them create chances, while just staying deep on defense and praying the other team doesn't score.
With Younghusband and Schrock not match-fit, the Azkals were forced to rely on each other against North Korea in their final match of the World Cup/Asian Cup second-round qualifiers on Tuesday.
Instead of being forced, the Filipino booters embraced their new identity and put up a performance to remember against a two-time World Cup participant.
"We just showed we can play football," Dooley said emphatically. "I love football and how it's supposed to be played."
[See Pride soars after Azkals' heroic stand against North Korea. View GALLERY]
The Azkals have shown flashes of their improved team play since Dooley took over two years ago, but it has rarely resulted in victories, until this World Cup/Asian Cup qualifying campaign.
Continue reading below ↓
Recommended Videos
Right in their opening match, the Filipinos brandished a more attractive playing style in stunning powerhouse Bahrain, 2-1, in Bulacan last June, but a string of poor results masked the Azkals' improvement.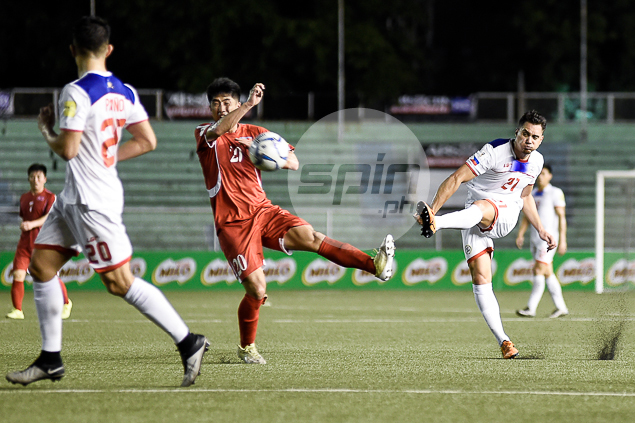 But by doggedly sticking to the system, the Azkals continued to gain ground as they put up a gallant stand despite being a man down before bowing to top seed Uzbekistan, 1-0, in the opponent's turf last week, before finally getting rewarded with a win, against North Korea.
The Azkals did taste a bit of success with a primitive playing style as it was those long balls that catapulted them to prominence in 2010 when they shocked Vietnam, 2-0, in the Suzuki Cup in what was dubbed as the 'Miracle in Hanoi.'
Around the same time, North Korea was in its second World Cup stint.
But now, against more quality opposition, the Azkals knew they had to step up their game.
"We are competing with better teams now," Azkals manager Dan Palami said. "Whereas before, while we were winning games, we started winning against Laos, Macau in the Long Teng Cup."
"We have finally progressed to these kinds of games that have shown how much we have improved," added the football godfather, who has almost singlehandedly bankrolled the squad since 2010.
Neil Etheridge, one of only two remnants along with Younghusband from that 2010 side, can attest to how the Azkals have progressed.
"We've got a lot more professional players now," said the Filipino-British goalkeeper, who plays professionally for English third-tier side Walsall FC. "The UFL really, really helps. I hope that the UFL continues progressing. The players that are playing in the UFL are coming to a great standard and a great level of football, their fitness is great."
"It's a good level for everyone to keep continuing and pushing hard into the group," added the 26-year-old netminder. "We've got a lot of members of the squad that are strong and there's a big fight for positions now, which is fantastic for the team, the country."
"It's hard for coach Dooley to pick a starting eleven," he continued.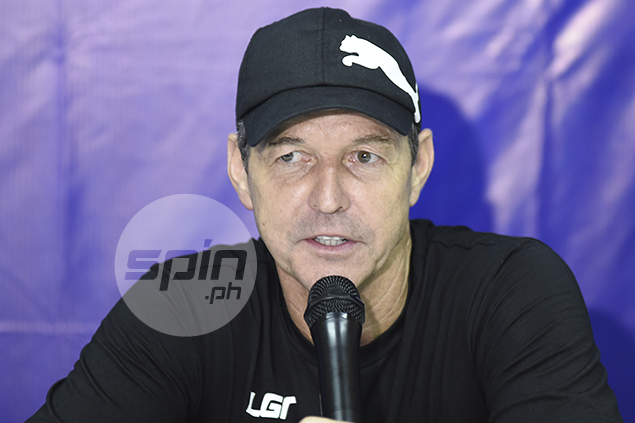 With basically a new squad, the future looks bright for the Azkals, who advanced to the third round of qualifiers for a maiden appearance in the Asian Cup in 2019 in Saudi Arabia.
"It's a step forward again for the Philippines," Palami said. "It's another milestone for our football history."