NEAR the end of the first half of the AFC Cup ASEAN Zone Semifinals, the people behind Ceres Negros were sent scampering – and it wasn't because of anything Johor Darul Ta'zim did on the pitch.
The secondary light, which supports the Panaad Park and Stadium's main floodlights, flickered for half a second — an issue surfacing despite five days of check and re-checking from the match organizers heading into the contest.
Thankfully for them, no significant hassle ensued and they were able to contain it from causing even bigger problems during the match.
To viewers on television and even spectators on the stadium, that could be just a mere slip-up, a minor issue that could easily be put on the backside of an otherwise unforgettable match between two Southeast Asian giants.
For the people running things behind the scenes? They just dodged a major bullet.
Teams in tournaments of this maginitude subject themselves to strict AFC International Standards when they host international matches. Every time a host fails to meet those standards, sanctions will be meted out. Fines for most mishaps, suspensions for more drastic situations.
"We're having a lot of time for the lights to make sure we meet the standards of 1200 Lux. So we have to ensure that before the international matches, we focus and we re-focus. We don't depend on an electrical company," said Warren Concepcion, the head of the Local Organizing Committee.
"The reason why there was this interruption in the two towers because of the wiring… but we were able to fix it before the end of the match," he added.
But the actual cost – and preparations – for tournaments like this goes way beyond the lights and in-game issues.
For a single game, it usually takes the organizing committee more than two weeks to prepare, and that's even with the Panaad Stadium already being qualified as 'international ready.'
For clubs unlucky to have stadiums that needs to be re-arranged, preparations can take at least 20 days of work on the stadium alone, making the preparation all the more stressful than what it already is.
"We prepare in Panaad for two weeks, about 15 days. It depends on the stadium. Sometimes in the stadium alone, if it's in the international football specifics, you need to prepare for it for seven days. If the stadium is not prepared for international football, then you need to prepare for a minimum of 15 to 20 days because you are going to re-arrange things to ensure the standards are met," Concepcion added.
From marketing materials, to the lodging of the visiting team, to maintenance of the field, to hiring security and personnel and making sure everything's set in the stadium, it's clear that hosting an international football game is far harder than most people think.
"I think we're spending close to two million," Concepcion said when asked to give an estimate on the cost that the club shells out for each international match.
"Sometimes it goes beyond because we see to it that our marketing and promotions in relation to matches are well spent. In terms of our exposure, our promotions and other related things, related to promoting the event. From our tarps, our coordination to the schools, we also spend money for that," he added.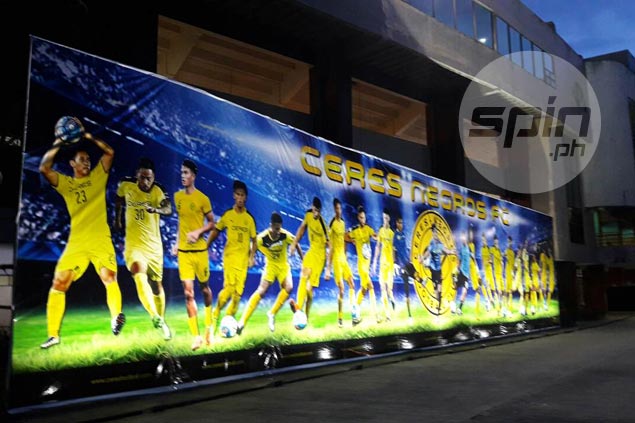 In this tournament alone, Ceres has already hosted four games – and while in no way are they claiming that they've had perfect hosting stints, the club is proud to say that they're learning each day.
Nicolas Golez, the club administrator, knows that they're not only representing the Negros region in tournaments like this – they're flying the flag of the Philippines in the whole ASEAN region as well.
That's why when everything's left settled from the preparations, focus now turns to the safety of everyone in the stadium – which could definitely be the hardest part of the whole gig.
"Our main concern is the safety of everyone. It's not easy for us to have a stadium like this, built for 20 years but of course we have to put the best security, it's not easy. If something happens to a single person, it's our responsibility," said Golez.
"We make sure everything's in top shape. Sa security, we plan three weeks ahead. We have K-9 Units, S.W.A.T teams, everything. Because it is an international event, it's not just the club, it's also the Philippines that we represent."
But when everything's all said and done, Golez said that it's a total team effort from the ground up in making a hosting successful.
Of course, preparing for games on this magnitude isn't the easiest job in the world, but what matters is how they continue to grow each time they host.
"There's of course always a struggle but each time we host, we learn from it. I think we have a very good group that's very helpful. Local organizing committees are up to date when it comes to AFC standards as well as our ground personnel, so I am very happy. It's a team effort," Golez said while also crediting the Negros Occidental province for its continuous support to the club's growth.
"We also have the support of our local government, the province of Negros Occidental headed by Alfredo Maranon and of course the city of Bacolod as well, headed by Mayor Bing (Leonardia). It makes a big difference for us cause they provide as with the traffic, the security and of course the club doesn't own Panaad so they make Panaad available for us. It's very very easy for us, in that respect."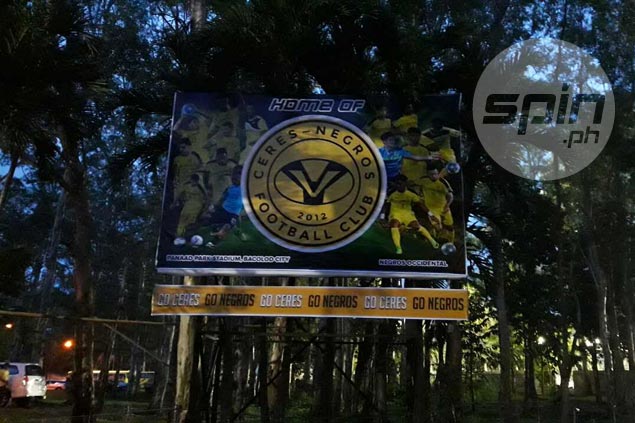 Surprisingly, despite all the hard work and the money that is being spent in every international tournament, the club still gives the fans free admission to these matches.
Such practice was instilled by Ceres chairman and owner Leo Ray Yanson from the time when they were starting and it carried on these days where they're considered as one of the top clubs in the Asean Zone.
In a way, it's all about giving back to the fans and instilling that football spirit further to their fellow Ilonggos.
"All companies, all agencies they are all bound to who we call the boss. Our team owner Mr. Leo Rey Yanson decides to give out the tickets for free. It's been the story of Ceres Negros Football to give back to our fans and supporters in Panaad so our boss decided to give out tickets for free," Concepcion explained.
For Ceres, there are far bigger returns to their clubs than the gate receipts. With the continuous involvement of their fans, and the club's on-going success in both domestic and Asean levels, that more than makes up for all the stress and money spent on organizing games like this one.
"Of course it's all worth it. To tell you the truth, we are humbled by our results, cause it's not easy. This is all a product of hardwork and it starts from our owner Mr. Leo Rey Yanson," Golez said.
"His mindset is for us to win all the time but it has to be through hardwork. He's a very humble man and we, the club, are very lucky to have him as our owner."
Concepcion echoes his colleague's sentiments.
"Two things when you are in the local organizing committee and you work with the club that you love most, you always look for a successful hosting and the team will win in the home field. Lahat ng pagod, lahat ng hirap, lahat ng kung ano, all this will all be done and out and covered and changed to a smiling place, once the team wins here in Panaad."