CELEBRITIES with ultra-tight work schedules need to go the extra mile to find time for their personal hobbies. Actor Jericho Rosales literally has to go hundreds of miles to a beach somewhere to indulge in his off-cam love: surfing.
"We're really, really passionate about surfing," said the 32-year-old actor after making the long trip up north with girlfriend Kim Jones and good friends Buji Libarnes and Nikki de la Paz to hit the waves off the coast of San Juan, La Union.
It is during these times, while surrounded by people close to him and riding some of the most beautiful waves in the country with 'Nuggets' – his yellow Zamora longboard especially imported from Malibu, California, that Echo is at his happiest.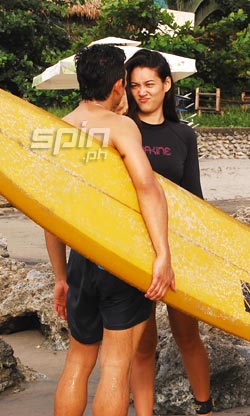 "He's really in his element when he's surfing. He's really good," said Jones, the Fil-British television host who has embraced her boyfriend's hobby.
On this particular trip, where he was accompanied by Spin.ph for a photo shoot for Men's Health magazine, Rosales was like a kid in a candy store, unable to stay away from the water.
According to Rosales' road manager Sally Balasbas, the actor finds time for at least two trips to the beach a month from his packed calendar. Destination is either Pagudpud, Ilocos Norte, San Juan, La Union or Baler in Aurora Province, and it doesn't matter if it's just a day trip.
"Sabi niya, 'Nagkakalakas ako 'pag nakakakita ako ng tubig e'," she said.
On days when tapings are cancelled, Echo would request that he be driven to the beach, never mind if the escapade will eventually lead to 'continuity problems' for the shoot when the actor shows up the next day sporting a deeper tan.
On such days, Balasbas said the actor just playfully asks his makeup artist to "work his magic" on him.
That has been Rosales' routine since he was introduced to surfing by good friend Lui Villaruz after the actor hyperextended his knee in a basketball game and on doctor's orders had to undergo weeks of rehabilitation.
Not wanting to spend long hours cooped up in a rehab clinic doing boring exercises, Rosales – who admits he cannot live without engaging in any kind of sport for prolonged periods of time – took up the advice.
"I got injured sa right knee ko and [Villaruz] said it would be good for my knee," Echo said, "pero actually hindi."
The sport is no longer a hobby for the actor; it has evolved into a lifestyle. "It's more like a movement, parang throwback talaga na '60s lifestyle yung surfing," he said.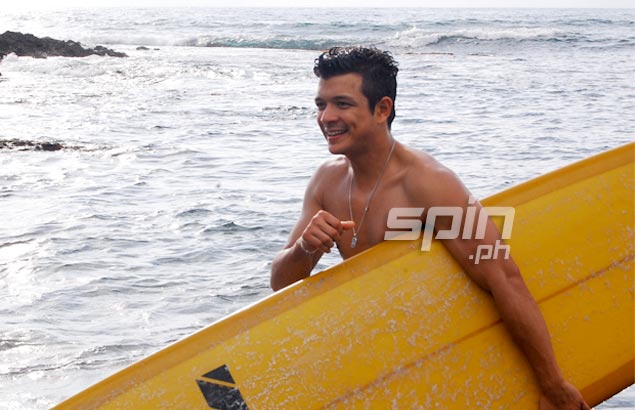 Best friend Buji, an architect who designed Echo's 'super 60s' house, describes the actor as a surf addict who has steadily improved and has expanded his horizons in terms of approaching the sport.
"He started off shortboarding talaga, but now he has found the beauty of longboarding," he said.
Buji explained that shortboarding involves using boards that are under seven feet and entails a more aggressive style where riders 'rip, tear, and shred' the waves or, as he put it, "winawasak nila 'yung alon."
In longboarding, it is easier to catch waves with boards of over nine feet and the style is generally more graceful because the surfer just goes with the flow and glides with the wave rather than trying to make something happen on his own.
Rosales lists American pro surfer Rob Machado as his idol but has no intention of joining a competition anytime soon, saying the sport for him is purely for relaxation and fun.
Asked to rate his skills on the board, the actor said: "I can't rate myself, my friends will rate me."
Times spent riding the waves have also become bonding moments for Echo and the stunning Jones, who has always loved the beach while growing up in Australia but has come to love it even more when Echo taught her how to surf last year.
"I look forward to our trips down here, seeing the water, talking, being away from the city and just coming here and really being in the surf community.
"I never want to leave," she added.
Rosales' passion has also evolved into a business as he and his friends have put up a company that sells shirts and board shorts designed by Buji and bring in Rosales' favorite Zamora surfboards from Malibu.
"It actually started as a blog spot and then it became a surf movement, and now it's a brand. It's called CTL or Coast Thru Life," Rosales said.
As for the surfboards, he said: "We get specs kung ano yung tama para sa tao. Kung beginner ka o ano, o yung gusto niyang haba ng board, we bring it in."
The brand has been launched online but the group of friends has not come around to opening a retail store because of their hectic schedules. "Hopefully next year full blast na. Very busy lang," Rosales said.
Asked how long he intends to keep on surfing, Rosales said: "Until the day I can't stand up on a board." On second thoughts, he chuckled: "Pero actually, di pa rin ako titigil noon. I'd be lying down on a board.
"Until I grow old talaga. This is our life. This is us. This is what we do."