Tracing its roots back to the 1940s, skateboarding has spawned a subculture of its own; a breeding ground for trends and affiliations beyond the actual sport. Partly owing to how it is depicted in films and the media; early links to punk culture; and to how—as a matter of fact—it can damage curbs, pavements, and other structures in public spaces; skateboarding is loosely associated with rebellious behavior. And while it's not an accurate perception, it's a common one.
Despite the Philippines' decades-old growing skate community, there are still plenty of misconceptions about it. Chalk it up to a lack of education about skateboarding's rich history. Here, skateboarders are often unfairly labeled as lawbreakers. In a way, it's true; for the most part, skateboarding in public areas is not allowed.
If you're seen grinding along a sidewalk, chances are the nearest security guard or police officer will apprehend you right away. Even in some of the more affluent areas of the metro where there are plenty of open spaces, skateboarders are usually relegated to dirty construction sites to practice in secret.
But skateboarding is a legitimate sport, its scope reaching far beyond illegal practices and fun childhood video games. It has come a long way from what it was in the '40s, a pastime for surfers when the waves were flat and referred to as "sidewalk surfing."
The demands of the sport have been firmly established in numerous competitions over the past decades. And while others might think of skateboarding as a mere hobby, it's a sport in every sense of the word. It's competitive, is physically taxing, and requires athleticism and skill of the highest standard. Not convinced? Go ahead and try balancing on a board to see how challenging it is.
Skateboarding is, to an extent, fairly popular in the Philippines—just look at the thousands of participants in Go Skateboarding Day events. But the fact that it is not fully embraced by the majority, remains.
Given the recent turn of events, there might be hope for the sport and the Pinoy skate community. Filipina skateboarder Margielyn Didal recently captured gold at the 2018 Asian Games. Her success has brought tremendous pride to the country and yet, she hasn't felt the support that she should be receiving. In interviews following her victory, she mentioned how she has felt ostracized for being a skater, being told off by law enforcement and mall security guards whenever she brandishes her board in public.
With any luck, Didal's victory will shed a more positive light on the sport and skaters will be given the freedom to practice in public. Hopefully, the Philippine Sports Commission takes action.
It goes without saying that skateboarding is a demanding sport. Anyone who has tried it or who has been to a skate park and witnessed skaters sweating it out while in action would agree.
Like other athletes, skateboarders need to hydrate their bodies and keep their energy up after playing.  A drink that contains electrolytes and energy, but with no added caffeine, should do the trick.  B'lue PRO is packed with Vitamin B3, Vitamin B6, and electrolytes that help hydrate and revitalize your body when you sweat it out.
B'lue PRO comes in two flavors: Pink Grapefruit and Peach Orange.
B'lue PRO Pink Grapefruit also contains Taurine, while B'lue PRO Peach Orange has green tea and ginseng. Keep going with B'lue PRO.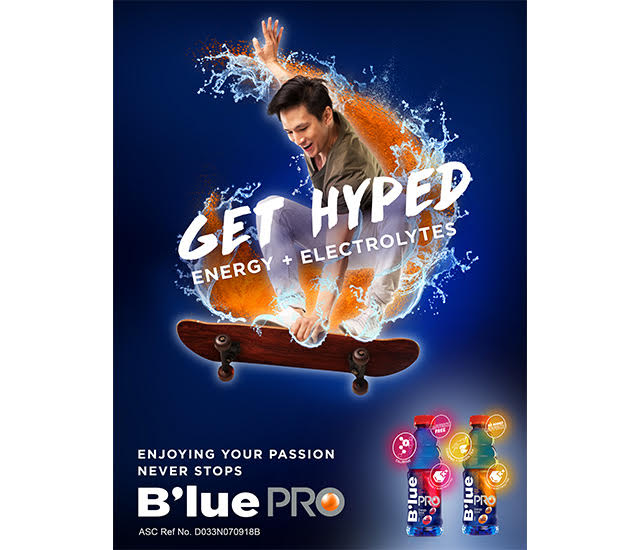 Visit this website for more information on how to energize one's body without caffeine. Follow this Facebook page to learn more.
---
More From B'lue PRO