FILIPINO powerhouse CODM squad Smart Omega have now qualified for the CODM World Championship 2022 after overcoming PH rivals Blacklist International Ultimate yesterday in a five-game thriller in the lower bracket finals of the Garena Regional Qualifiers.
They avoid a reverse-sweep scare as they nearly squandered a 2-0 map lead to eventually win 3-2 in game 5 at Search and Destroy at Raid.
Team captain and main sniper Jerrold "Woopiiee" Regay provided the firepower for Smart Omega with 20 kills to will his team to victory.
The fan favorites and people's champion then faced Singapore's ALMGHTY in the grand finals in a seemingly non-bearing series which the latter eventually won. Both teams are already qualified for World Championships with the region being allotted two slots in the worldwide tilt.
The lineup, composed of Jerrold "Woopiiee" Regay, Kennedy "iDra" Mondoy, John Kenneth "KenDy" Pimentel, Nel "R1SKY" Buemio and Ronan Arkie "Rage" Eleria, now gears up for the final battle against the rest of the world which is slated to be on December.
ADVERTISEMENT - CONTINUE READING BELOW ↓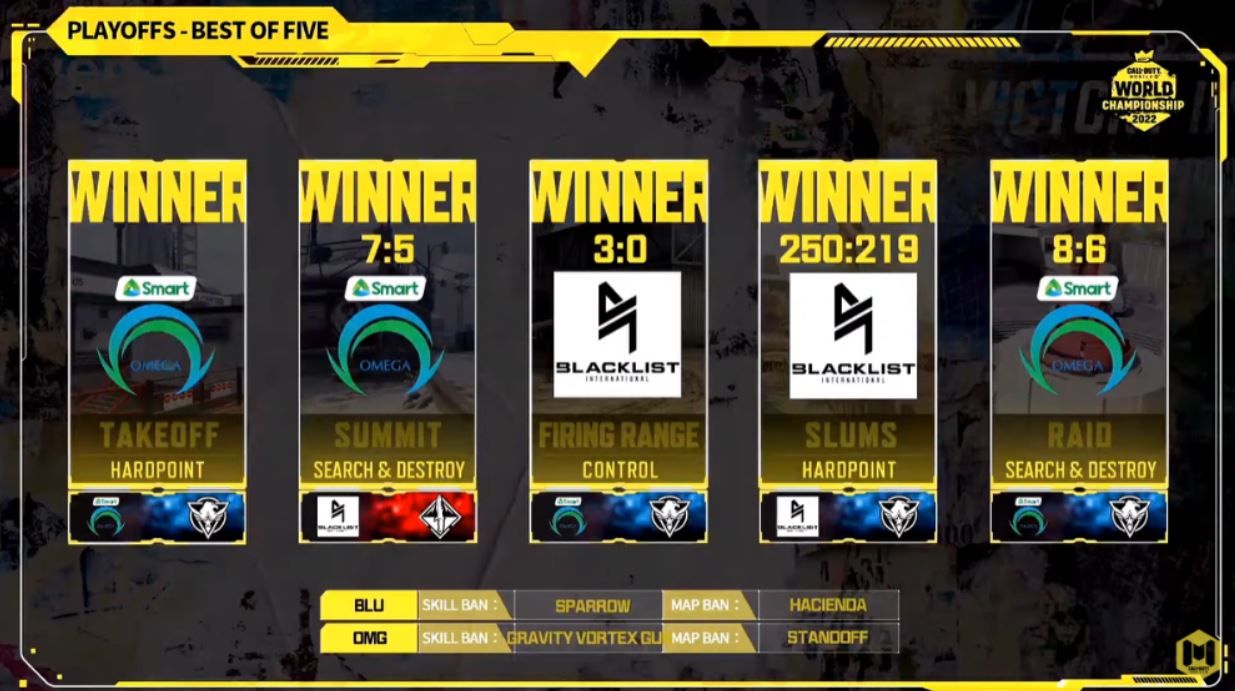 Smart Omega's tough journey in the Garena Regional Qualifiers
Life wasn't easy for Omega Esports during the duration of the playoffs of the tournament. Despite finishing with the top seed coming out of Group B and being seeded directly into the upper bracket semifinals, they had a long route to secure the ultimate glory in qualifying for Stage 5.
They started their playoff run with a loss against the same team in Singapore's ALMGHTY, bowing down to them 1-3 ang falling to the lower bracket on just the first day of the playoffs.
In the second day, Smart Omega statred their lower bracket run against Thailand's WDC Freeslot, which only gained not one, but two consecutive map wins to grab an early 2-0 lead and push the Filipinos to the brink of elimination. However, Smart Omega showed their heart of a champion by answering with a run of their own, scoring three wins in a row to deliver a reverse sweep in the process.
Smart Omega then faced Group A top seed ABC Esports of Indonesia in their second series of the day. ABC, like Omega, was kicked down from the upper bracket after losing to Blacklist Ultimate.
The two teams engaged in a tight battle right from the get-go with both teams trading blow after blow. After exchanging wins in four straight games, Smart Omega finally ended the match with a clutch game 5 win in Search and Destroy at Raid, courtesy of a clutch play from Kennedy "iDra" Mondoy. The win allowed them to secure a top 3 finish and the right to face the loser of the Blacklist-ALMGHTY matchup for a chance to qualify for Stage 5.
ADVERTISEMENT - CONTINUE READING BELOW ↓
The third and final day of the playoffs started off with Smart Omega being a spectator to the upper bracket finals between Singapore and the Philippines, which Singapore ultimately won. That meant Smart Omega was to face bitter rivals Blacklist International Ultimate in a PH vs PH matchup with the winner going to the World Championship.
In the first game in Hardpoint at Takeoff, both teams went at each other at full force, knowing the stakes for the matchup. Blacklist eventually won, 250-222. However, the point was awarded to Smart Omega when a Blacklist player used a banned item, resulting in a disqualification.
Smart Omega building off that momentum win in Game 1 pounced on a discouraged Blacklist squad in Game 2 in Search and Destroy at Summit. The former eventually won 7-5 to build a commanding 2-0 lead heading into Game 3.
However, Blacklist would not go down so easily as they struck back, showing why they were the Eastern World Champions a year ago. They scored two map wins in a row in Control at Firing Range (3-0) and Hardpoint at Slums (250-219) to set up a winner take-all Game 5, Search and Destroy at Raid.
ADVERTISEMENT - CONTINUE READING BELOW ↓
That was when Woopiiee's heroics came into play as he carried Smart Omega to a hard earned 8-6 win. The 'best sniper of the Philippines' provided clutch play after clutch play to finish with an absurd 20 kills to his name including 3 kills in the final round to seal the deal for Smart Omega.