NBA 2K has just broken the long-held glass ceiling for video game price tags.
Gamers, used to seeing $60 price tags for most newly released video games, will be in for a $10 increase when they pick up the "next-gen" versions of NBA 2K21. Developer 2K Games has announced that the PlayStation 5 and Xbox Series X versions of the highly anticipated hoops game will be $70. (That's around P3,467.)
"We believe our suggested retail price for NBA 2K21 on next-generation platforms fairly represents the value of what's being offered: power, speed, and technology that is only possible on new hardware," the company said in a statement to technology site Ars Technica.
Ever since the PlayStation 3 and Xbox 360 era, video games — while becoming increasingly expensive to make — have mostly been sold for $60. (In the Philippines, the DataBlitz price of two recent PS4 releases, The Last of Us Part II and the Final Fantasy VII Remake, are P2,995 and P2,950, respectively, or an average of $59.)
"This is mostly due to consumer expectation," said Business Insider's Ben Gilbert in a 2018 explainer video. However, because of the increasing costs of video game development as graphics become more lifelike and worlds become more expansive, this $60 price tag has long been considered by publishers as unsustainable.
Continue reading below ↓
Recommended Videos
Hence, publishers have been resorting to downloadable content, season passes, purchasable cosmetics, and other "games as service" systems to eke out some extra revenue.
However, with 2K's announcement, IDG — a research firm specializing in the video game industry — predicts that many other games will follow suit and bump up their sticker prices.
"IDG works with all major game publishers, and our channel checks indicate that other publishers are also exploring moving their next-gen pricing up on certain franchises," IDG said in a report.
Both the PlayStation 5 and the Xbox Series X have not announced any firm release dates yet, but will arrive in the holiday season.
NBA fans will need to choose carefully which version they will save up for. If you buy the current gen edition of the game when it releases on September 4 — say, for the PS4 or XBox One — your progress in some game modes may not carry over if you later choose to buy the PS5 or Xbox Series X version.
(It should be noted that it will come with a feature called MyTEAM Cross-Progression that allows your MyTEAM points, tokens, cards and progress to move between consoles built by the same manufacturer.)
However, if you buy a $99.99 Mamba Forever edition (with Kobe on the cover), you'll be entitled to a copy of the PS5 or Xbox Series X edition when it releases. It also works both ways: If you buy the $99.99 Mamba Forever Edition for PS5 or Xbox Series X, you are also entitled to a free copy of the PS4 or Xbox One version.
NBA 2K has released a not-confusing-at-all infographic on what you'll get with each of the different editions.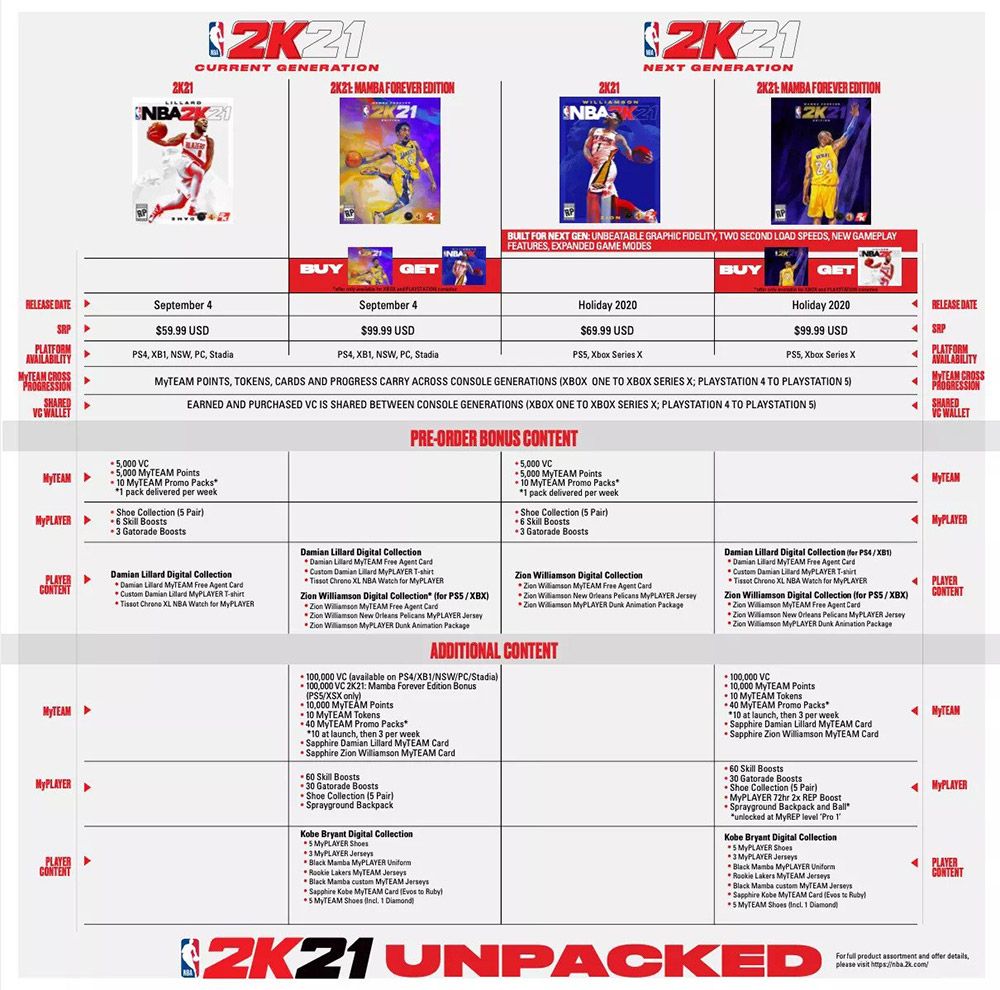 2K's decision on pricing and cross-generation compatibility has led to some criticism and grousing in the game's Reddit thread. In a post entitled calling for a 2K21 boycott and labeling the upcoming game an "obvious money grab", user rottencheese121 wrote, "70 dollars for a next gen game my ass lol."
Spin fans unite at the Spin Viber Community! Join the growing community now and complete the experience by subscribing to the Spin Chatbot.