JUST THIS week, Omega Esports' Dota 2 team, together with several other former and current players, was permanently banned from all Valve-sponsored events after an investigation revealed that they were involved in match fixing.
The morning after organizers announced the penalty, Omega Esports issued a brief statement, saying that they have not yet received an "official copy of the decision", but are conducting their own internal investigation into the matter.
In light of the incident, the primary whistleblower, Moon "Moon" Lim, a Dota 2 esports tournament executive, posted a long thread on Twitter that details how suspicions of cheating turned into a full-blown ban.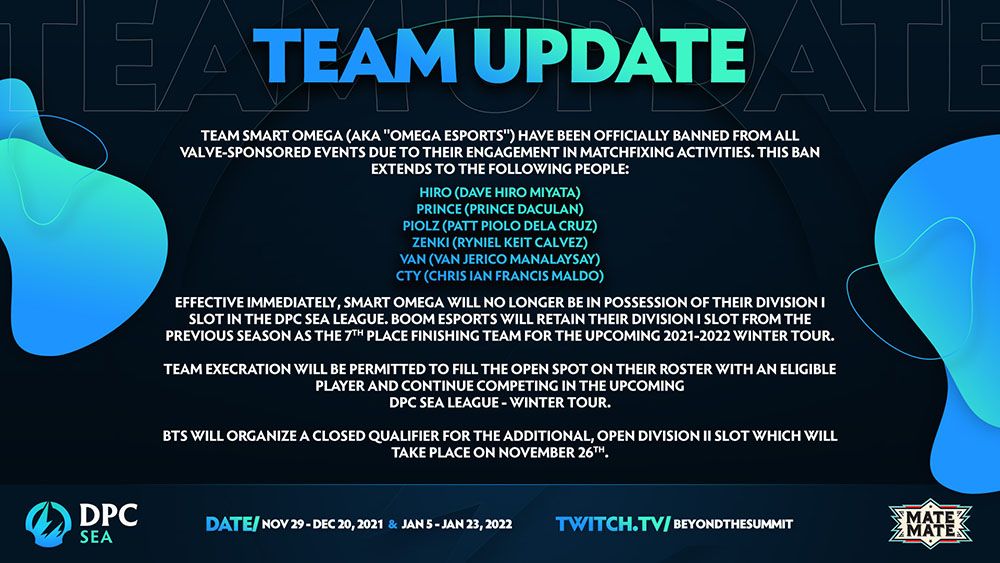 Continue reading below ↓
Recommended Videos
How Omega Esports' Dota 2 team was investigated for match-fixing
It all happened in a Tier 2 tournament known as the OB.Moon Studio Asian Arena, organized by Moon Studio.
"I am sorry that this happened to Omega at OB.Moon Studio Asian Arena. OB Moon Studio Asian Arena is one of my favorite event so far, but it was also one of my most difficult event in my 2 years of tournament organization," said Lim.
Even before the tournament began, there were already suspicions raised about the Filipino Dota 2 squad.
"My CEO was quite frustrated with me, asking me for reasons why I invited omega, I explained that CTY [Chris Ian "CTY" Francis Maldo, Omega's head coach] really wanted his team to show to OMEGA that they can do something good," she reflected.
But red flags were already raised.
"At 8th September 2021, i received a sensitive report from my integrity team, telling me to take precaution in the match on Omega vs Lilgun," she recounted. "So, I posted what I posted there, which I show publicly, to allow teams to come forward, to give a chance to them, to confess by themselves."
By that time, however, Lim was in Ukraine arranging a tournament, and she was unable to get properly started on the investigation. She slowly looked for telltale signs, but she admitted that it was difficult as Omega managed to deliver some impressive performances. She even expressed her support for CTY at the time.
"It was very difficult for me, I watched a few of the replay again and again, checked on the moments, checked on the movements, checked on player response, checked on mouse click, and how fast they reacted and such," she recalled.
She added: "I begin my suspicion but I kept it inside me. It became really difficult also because omega managed to draw some games, which was good because I encouraged CTY on those wins."
She tried to dig even further. Unfortunately, another setback delayed her investigations, as she manned the Asian Tigers 2 tournament that took place from October 23 to November 7.
Moon submits Omega Esports report to Valve
On the last day of that tournament, she submitted her report to Valve. She received a reply on the 16th, which asked her for a more detailed report. She then submitted more reports on consecutive dates, with the 23rd serving as the final nail in the coffin.
"On Nov 23rd itself, I heard CTY telling me that something happened," she related. "He kept on telling me it's the slot, it's the slot. I just don't know what was going to happen. And then I realized, Valve actually already banned CTY and Omega."
Moon said in the thread that she never expected Omega to lose their slot.
Immediately after discussing her side of the story, Lim followed up with eight notable points.
She stressed that CTY, as well as the organization, weren't aware of her actions. She also denied the involvement of Boom Esports (the team who assumed Omega's vacated Division 1 slot in the upcoming DPC season) in the behind-the-scenes investigations.
She even praised Boom's manager, Bram, for rejecting all the "322" and other matchfixing offers.
However, Moon also expressed her sympathy to Omega's international players, Ramzi "Ramz" Bayhaki, Liew "Eren" Jun Jie, and TI veteran Lee "Forev" Sang-don, who were all caught in the crossfire caused by their Filipino counterparts.
"Ramz, Eren and Forev of course do not know of these. I never expected my reports will affect them. I thought I could quickly submit the emails. I really tried to speed up my emails so at least they could go somewhere. I hope they do not hate me. I am really sorry. I really never expect to hurt Ramz, Eren and Forev," she lamented.
She doesn't need to worry about that, at least from Forev. The Korean pro, Smart Omega's newest import who is now looking for a new team, acknowledged that Moon's efforts were for the benefit of the Dota scene.
She also called on other teams to come forward if they knew of any other incidents.
"I want to also encourage teams to come forward if they have anything troubling them such as matchfixing or they just wish to admit, and talk to someone," she mused.
As for Valve's decision, she said she didn't have any expectations about her reports and she also revealed that she never sent organizers BTS the email of this incident.
Ultimately, it was Valve who decided on the final decision.
We are now on Quento! Download the app to enjoy more articles and videos from SPIN.ph and other Summit Media websites.