A FIRST-TIMER in Philippine shores won his first international championship in the 4th Club Punta Fuego and Rider Cliff Diving Invitation Challenge on Saturday at the Punta del Sol Peninsula in Nasugbu, Batangas.
Braving strong winds and cloudy skies, Jan Heinzel of Germany capped his victory in the Open Class with a triple somersault with one-and-a-half twist done from a height of 20 meters for an impressive 275 points on his fourth dive.
"It was quite windy and cloudy. During competition you don't mind and you focus so you can dive in any weather," the 24-year old high diver told reporters.
Second place went to fellow German Christian Wurst with 261.55 points while completing the podium finish was Australian Liam Atkins with 257.1 points. The lone Philippine entry, 2000 Sydney Olympian Zardo Domenios, finished with 221.35 points for fifth place.
Organizer Marie Dimanche of the Philippine Diving Association said they increased the diving platforms to 20m and 15m from last year's 14m for the fourth edition.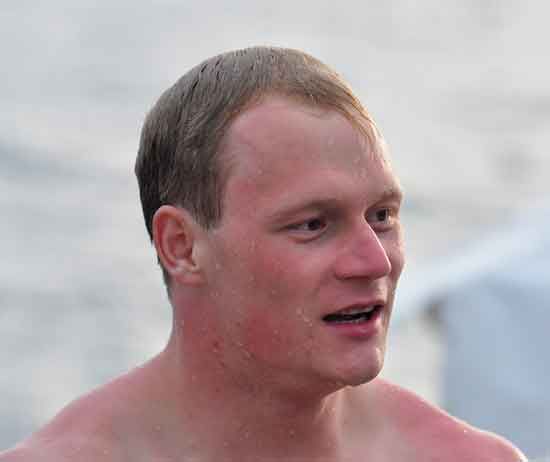 Continue reading below ↓
Recommended Videos
"There's a big difference between 20 and (the standard height of) 10 meters. 20m is still scary for me. It's so difficult when you dive from 20," admitted Heinzel.
The nine-year veteran, who started high diving when he was 19, is set to compete in the European High Diving Championship in Switzerland but expressed eagerness to defend his title next year.
Dimanche added the Saturday event, primarily designed to help the Philippine national diving team gain much needed exposure, had the highest turnout of participants in its four-year history.
In the 10m Youth Category, D'xismen Dumaguit topped the Boys' Junior Division, followed by John Elmerson Fabriga and Anjoe Loberanes, in second and third, respectively.
In the Girls' side, first place went to Riza Jane Domenios, followed by Hazel Bernadette Abiera and Kathleen Mae Eban.
Winners received medals, cash prizes and gift certificates from sponsor Rider Sandals of Brazil.