COLORADO-based mountainbike company Niner has been championing the bigger wheel size for some time (mountain bikes originally came with 26-inch wheels), and now every manufacturer has jumped on board. True to their progressive roots, Niner has now entered the realm of the gravel-grinder bicycle - a niche of bikes used for long-distance races on dirt and fire roads. The acronymn RLT stands for "road less travelled" - implying that this particular bike likes going off the beaten path.
We were given the opportunity to ride what was the only Niner RLT in the country (it was hand delivered by their reps en route to the Taiwan Bicycle Show) for a few weeks, and here's what we thought.
First, a caveat. Being around 5'8" tall puts us in between sizes for bikes - we usually fit a medium for most brands, and indeed sometimes a small. In the RLT's case, the only size (and indeed, the only bike) available was a size 50, which roughly translates into a small. While we were able to get comfortable on the bike by swapping parts out, we feel that things would've been better if we had a size 53. But that's not to take anything away from the RLT.
Continue reading below ↓
Recommended Videos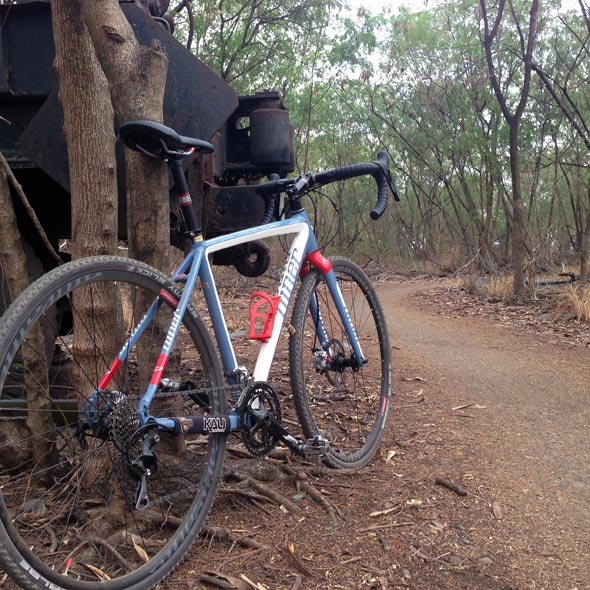 The frame of the RLT comes with a lot of nice touches - no doubt born from Niner's MTB expertise. Cables are routed cleanly inside the frame, and the aluminum tubing swoops and sways in all the right places. The fork is made of carbon fiber, and is rated for mountain bike use - which means it's darned tough. The parts were a mostly Shimano affair, with the disc brakes courtesy of Avid. The wheels, saddle, seatpost, stem, and handlebar were all Niner house brands (in fact, their branding is everywhere on this bike). Tires are Schwalbe Sammy Slicks, in a narrow-ish 700x33c width. They roll fast on pavement, and are only out of depth in really wet or rocky trails.
Yes, we took the RLT not just on the road but on the trail as well, and we were surprised as to how composed the bike felt in the rough stuff - provided that we picked the smoothest lines possible and avoided the sharp rocks. The slightly-small frame did make the bike easy to muscle around, at the expense of some stability. A wider handlebar would've helped us get more comfortable, too. The beefy carbon fork took everything in stride, and helped mute some road vibrations as well, despite the narrow tires. The Shimano drivetrain gave us no trouble, and the brakes bedded in after a few rides, giving us enough braking power to lock both wheels. Overall, the bike can be ridden on singletrack, but we think it's best ridden in its own element - dirt roads.
Hitting some long dirt roads, we were able to appreciate the RLT even more. Tucking into the drops gave us a more aerodynamic position when faced with a headwind, and the wide range of gears let us motor away, leaving a trail of dust behind. The same can be said when rolling on tarmac or on city streets. The RLT's geometry helps tame our cracked and broken pavement, and the disc brakes come handy when a motorcycle rider decides to cut into your lane. Another bonus is that the RLT comes with provisions for racks and fenders - so commuting is another feather added to this bike's cap.
The RLT 9 was designed for dirt roads, and indeed feels most at home on one. However, that's not to say it will feel out of place on pavement or even on forest trails. In fact, the bike begs to be ridden in varied terrain - because it can. The only question is if you're willing to get something this pretty, that dirty.
SPECIFICATIONS FROM NINER BIKES
• Custom gravel-tuned Niner carbon fork shares DNA and safety testing standards with our legendary MTB version
• Fire road geometry – slightly longer CS, lower BB and slacker HT angle
• Low profile disc brake post mount
• PF 30 BB shell is geared or singlespeed compatible with the new Niner
BioCentric 30
• Hydroformed Aluminum alloy frame is light, efficient and beautiful
• 135 x QR rear spacing
• Available in: Fresh Mint, Industry Grey
• Frame Sizes – 47, 50, 53, 56, 59. 62cm
• MSRP Around P60,000 (frame and fork), from Grantrail Cycles