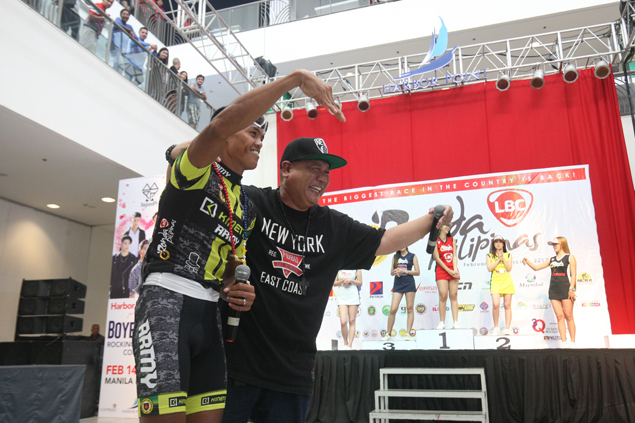 LUCENA CITY - Cris Joven of Kinetix Lab-Army seeks to continue his pursuit of Navy-Standard Insurance's Rudy Roque and Jan Paul Morales when the LBC Ronda Pilipinas 2017 resumes on Sunday for the Lucena-Daet Stage Five.
Joven, 30, made his move by snaring the Subic-Subic Stage Four the other day to jump from 14th the day before to ninth place in the overall individual race, or less than five minutes behind pace-setters Roque and Morales.
Roque kept his stranglehold of the red LBC jersey with an aggregate time of 11 hours, 12 minutes and 15 seconds while Morales, the defending champion, is at No. 2 with a clocking of 11:13:45.
Joven, whose best finish here came five years ago when he wound up fourth, has a time of 11:16:48.
Stage Five will have the riders being flagged off in Lucena and end in at the Camsur Water Complex in Pili, Camarines Sur.
Joven knows he needs another strong effort to close the gap on the leaders.
"It's too early to say who will win it but I need more strong efforts like in Stage Five for me to catch up on them (Roque and Morales)," said Joven, who is from Iriga, Camarines Sur, in Filipino.
The only thing bothering Joven though is his conditioning.
Joven admitted he sat out the whole of last year to join the Army and only started training on January 11 this year, giving him just a few weeks to prepare for the 14-stage event considered the biggest cycling race in the country.
"I hope I can last the whole 14 stages because I really had little time to prepare for Ronda. But I will not give up and I think it will all be about heart," he said.
Ronda is staking P1 million to the champion courtesy of presentor LBC and in partnership with MVP Sports Foundation, Petron, Mitsubishi, Versa.ph, Partas, Maynilad, Standard Insurance, CCN, Bike Xtreme, NLEX, PhilCycling and 3Q Sports Event Management.