LUCENA CITY — Jai Crawford led an ambitious early breakaway and gained enough separation from three-day leader Daniel Whitehouse to claim the title in the 8th Le Tour de Filipinas which came to a dramatic conclusion on Tuesday.
The 33-year-old Australian spearhead of Japanese continental squad Kinan Cycling Team joined a breakaway just 10 kilometers into the tour's longest lap at 207.35 kilometers and didn't let up until the final sprint infront of the city hall here, when he had the title secured.
Crawford finished fifth in Stage Four three seconds off the first group led by stage winner Park Sanghong of LX Cycling Team, enough to overhaul his two-minute deficit in the only Philippine race recognized by the international cycling body UCI.
Crawford finished in 17 hours, 33 minutes, and seven seconds to win the title by 28 seconds over Whitehouse, who finished just 14th in Stage Four and was 2:28 behind Park.
Crawford, the second-placer in the 2009 Tour de Langkawi, came all the way from ninth place in the overall general classification to win a UCI Category 2.2 race for the third time in his career.
"It's very nice. It's very good to start the year like this," said the former member of the Australian national team. "If it's a race like this, if you are willing to attack, you come up with good results."
Continue reading below ↓
Recommended Videos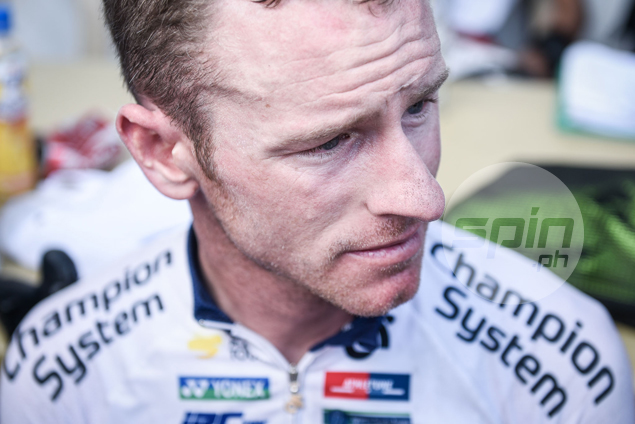 Crawford and five other riders that included Spanish rider Edgar Nieto of Philippine continental team 7-Eleven Sava RBP were in firm control upon entering the only climb of Stage Four inthe road more popularly known as the 'Tatlong Eme.'
Nieto, who is married to a Filipina and is now based in the Philippines, also had the chance to snatch the title but fell behind in the final five kilometers of the race due to sheer exhaustion.
Top 10 individual general classification after Stage Four:
Jai Crawford 17:33:07; Daniel Whitehouse + 0:28; Fernando Grijalba + 0:51; Benjamin Hill + 0:52; Ryu Suzuki + 0:55; Edgar Nieto + 1:02; Salvador Guardiola + 1:05; Thomas Lebas + 1:05; Mario Vogt + 1:28; Nathan Earle + 2:32.
Top Three team general classification after Stage Four:
Team Ukyo 52:47:14; Kinan Cycling Team + 7:25; Attaque Team Gusto +14:20.
Stage Four Top 5:
Park Sanghong 5:00:13; Matt Boys + 0:00; Mario Vogt + 0:00; Damien Monier + 0:00; Jai Crawford + 0:03.