A DECADE ago, 'Because it's there' and 'Because I can' were standard replies to anyone who asked why I was into endurance racing. Marathons, ultra marathons, open water distance swimming, cycling fondos, and multi-sport activities have fascinated me and occupied a significant portion of my waking life ever since I finished my first marathon back in February 2008. Beyond the distances covered on land and sea, on two legs, four limbs, or two wheels, these tests of endurance and will power have rained benefits and taught me a few things that are worth volumes more than what I can learn from any expensive lecture series or online education program.
It's A Team Sport. On the surface, running marathons and racing triathlons can easily be dismissed as individual sports, perfect for the Type A personality athlete who is aggressive, competitive, and ultra focused on nailing that podium place. But there are others - like me, for example - who prefer to compete mainly against themselves, often racing to finish, and enjoying the company of fellow participants in the process. Encouragement from fellow athletes especially during the most trying stages of the race brings out the best in most competitors. Help comes in all forms: a rallying cry, a packet of salt or gel, or a helping tow over that craggy hurdle. The trail running community, in my experience, has some of the nicest folks who are always ready with a smile and a helping hand. And since off-road races can easily run into double-digit hours to complete, the people you meet and share the trail with become instant friends you can rely on beyond the realms of Facebook and Instagram.
Continue reading below ↓
Recommended Videos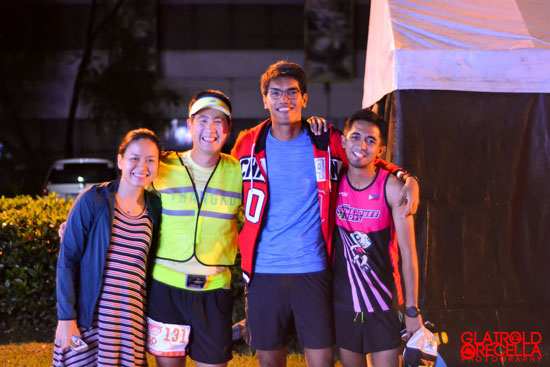 Photo courtesy of Glairold Recella
I Make New Friends. Making friends doesn't cost much. A simple 'Hi' or 'Thank you' break down walls and can often get a conversation going. A smile is a universal currency that buys so much wherever on the planet I find myself. It crosses race, religion, language, and politics, and opens doors to hospitality and kindness. I've made friends with people by simply saying hello or pausing momentarily to ask how they're doing. I've become better acquainted with people whom I have shared the same struggles on the road or trail, because misery truly loves company; and these friendships forged under such circumstances are oftentimes the most enduring.
I'm Constantly Learning. I always look forward to picking up a new insight or helpful piece of information when I train or race. Training and racing conditions are never the same: the weather, the participants, the route, and even my fitness level — these are never constant. I've made it a point to always pick up something new from each experience, pleasant or not. In fact, it's the unpleasant ones that provide the best education, forcing me to reevaluate strategies and come better prepared.
Sound Mind and Body. I'm stronger physically and mentally because of all that mileage. I receive validation of the former once a year when I undergo my annual medical check-up, the one time I'm always glad to hear that everything about me is average or normal. The reviewing physician (whom I've had for years) likes to tell me before walking me through my assessment in detail that 'it's the usual boring stuff' — which is fine by me. Admittedly, it's an enormous ego boost to be able to outswim, out bike, or outrun 'kids' half my age; but more important is that I'm able to train and race with a clear head and injury-free. As for the mental part, let's just say that I've run into my fair share of high-stress situations that required me to think on my toes and remain calm and collected while crafting a resolution.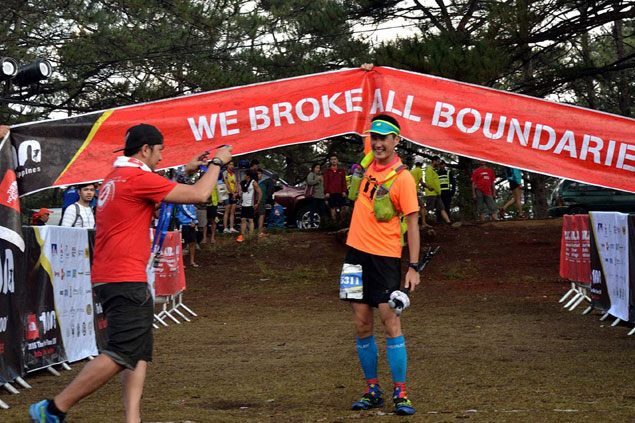 Photo courtesy of Kian Vicera
I Feel (More) Alive. Endurance sport races have the natural disposition to make me feel like I'm dying most of the time. There's often a point in the races I've done lately when I question the wisdom of joining in the first place and/or just want to chuck the whole thing. Those dubious moments can last mere seconds or stretch over agonizing minutes while slogging through a ruthless incline on the bike or struggling to put left over right up a technical trail assault. But all the negativity dissipates once I get over that hump that's an unequal blend of mental and physical scrappiness, which can come at different stages. Feelings of achievement and gratitude wash away all the doubt, leaving me with a greater sense of being alive even before I've crossed the finish line. Those happy hormones generated by physical activity that sports scientists talk about are real. Though my body often takes a beating, I'm delighted to be able to feel discomfort rather than not feeling anything at all, while my mind and senses are alert and seem to be kicked into overdrive whenever I'm out there running, biking, or swimming.
Philosophically, I've learned so much about others and myself in the immersive experience of endurance sport; the road and trail are great teachers if you're willing to listen and learn. Although the number of races I've joined has lessened considerably over the past two years (as my race whoring years are behind me), I have no plans of staying out of the pool, off the bike saddle, or away from my running shoes. Countless adventures await, and I'd be stupid to ignore the call. My hope is that more people give endurance sport a try and just maybe they'll discover the same things I've found, and then some.