IF you want to know where to find the best places in the Philippines to go ride a bike, ask Jens Funk. 
For someone who has been traveling across the Philippines via bicycle over the last 11 years, the 47-year old Funk, however, admits it is not an easy question to answer.
"(It's) hard to say. All (the places) are awesome and spectacular," the German told Spin.ph in an interview.
Funk is the proprietor of the Cebu-based Bugoy Bikers, an outdoor company devoted to promoting the Philippines as a biking and tourism destination to an international clientele.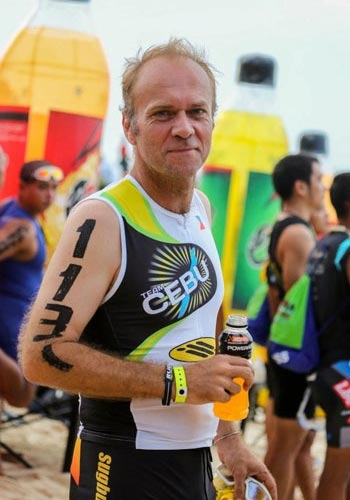 The IT consultant arrived in the country in 2001 as part of the German Development Service where he taught computer science in Cebu. In his spare time, Funks and a Dutch friend would explore the islands on their bikes. The three-year record of their journeys would result in a book, 'Cycling Philippines.'
The experience, more importantly, prompted Funk to stay a bit longer than he originally planned.
A life-long cycling devotee, Funk decided to start Bugoy Bikers which he has managed full-time since 2008.
"I am into biking my whole life. To see a country by bike is the best way to see a country."
True to its catchphrase, 'We show you the islands by bike,' Bugoy Bikers regularly holds trips for travelers who wish to discover the Philippines on their own terms: on two wheels, the wind in their faces, the open road and the occasional mountain trail that leads to God-knows-where.
"It was very difficult at the beginning. The Philippines has been totally unknown as a bicycle country. But then people have seen with my own eyes how great biking is here, (and) this has slowly spread," explained Funk who is hoping the country can attract more bike tourists with the same success as neighbors Thailand, Vietnam and Laos.   
Ranging from two weeks to a few hours, the tours offer much more than the standard fare tourists in air-conditioned buses are accustomed to.
"On a bike you can stop wherever you want. You can interact with locals. You can 'smell' the country ... there are a lot of good reasons!" Funk pointed out.
All the tours are accompanied by a jeepney that serves as the support vehicle that transports the staff, provisions and the bikers' personal gear.
They Said It!

"To see a country by bike is the best way to see a country." - Cycling tour operator Jens Funk 
Business has caught on: Trip Advisor currently ranks Bugoy Bikers as the #1 top attraction in the Cebu City area, with 27 of 29 reviews crediting them as "excellent."
"Most of our clients are from Europe or the US. For our day tours we get more and more guests from Manila. They all love it and most of them come back," Funk said.
The most popular trip for the Bugoy Bikers is what they call their classic 14-day tour that covers the island provinces of Bohol, Leyte and Camiguin that can accommodate up to 12 guests per trip.
Apart from the Chocolate Hills, Bohol is famous for its Spanish colonial architecture, white beaches and its fauna; Leyte for the views afforded by its coastal highway and its history; while Camiguin's landscape has been compared with that of Hawaii and has natural hot springs, ancestral homes and one of the largest concentration of volcanoes (eight) anywhere in the world.
Bike tours to islands that are considered off the beaten path such as Batanes and Coron in Palawan can also be arranged as part of customized tours for clients.
On a personal level, Funk said his favorite locales to bike are "Palawan, Camiguin, Siquijor and Bohol."
Funk would go on annual four-week bike tours around the globe and has cycled across India, Mongolia, Pakistan, Tajikistan, Myanmar and Cambodia but each time would come back to the Philippines, a place which he now considers his home.
Asked what sets the Philippines apart from the other places he's visited on his bike, Funk mentioned two reasons why he chooses to stay.
"Well, the most amazing thing is the hospitality. That's unique and also the plenty of beaches everywhere!"
We couldn't agree more.
For more information about the Bugoy Bikers Philippines, click on: http://www.bugoybikers.com & https://www.facebook.com/pages/BugoyBikers/111775395523368