IN this second and final installment of my feature on bike fit guru David Greenfield, we learn about bike fitting for road and triathlon bikes, new knowledge and how it influences bike fitting, and a fashion accessory that makes for a great bike fitting tool.
[For Part I, click HERE]
So, you don't recommend a client to have the same bike for both road and triathlon?
You know, I'm a bit of a realist when it comes to this, in that, if you have limited time and have x budget, and you love road riding and love training with your friends — and they're all on road bikes — then be on a road bike and enjoy it with your friends. And then, with the proper road position, you can go into the drops, and be essentially in the same position.  Yes, you're catching a lot more wind with your chest, because your arms are open. But, it's (body position) not so dissimilar when you rotate your hips and move them in front of the saddle and go to the drops. Most people don't realize that when — for example, you look at someone like Mark Cavendish, or any of your top sprinters — as you look at them as they come to the line, you will see that their body position is very similar to a TT position.  They actually naturally put themselves into that power position.
There is something called a tweener position that you can do for both road and tri. I try to keep that only for ITU (International Triathlon Union) style racing:  An ITU position is a tweener position, but it's a specific position for ITU racing. When I try to make a road bike usable for triathlon or a triathlon bike with drop bars for the road, it destroys its ability to be a good road bike or a good tri bike. You end up with nothing. 
My recommendation is: if your goals are to ride with the group and go on the weekends to have fun, and you also want to do one or two triathlons a year, your road bike is fine. Keep it as a road bike. You're not going to be as efficient or fast in the triathlon without question, and you'll be a little annoyed that people on tri bikes who are (typically) weaker than you are passing you; but if you're only doing one or two sprint or Olympic distance triathlons a year, use your road bike. If you're moving to the half-distance, you need to be true to your sport. If you're going to do a half, or plan to do more than half a dozen races a year, get a tri bike.
And, the nice thing I found about the Philippines is that in group riding here, you're accepted in tri bikes. Nowhere else in the world other than the Philippines have I seen road riders allow triathletes to even join the ride. That's a fortunate thing about the Philippines — that you are open to that. Which is nice.
What do you know now about bikes that you wish you knew then?
It took me a while to learn that I could in fact adjust the pelvic cradle and bring back neutrality in the hips. This is something that I do that I don't believe anyone else does. It started when I would do fits and I would be on one side and I would get a number, then I would do the other side and the number would be different. I was like, 'Oh, I have a leg discrepancy and this and that.' Then when I saw that, I tried to quantify it. What I did was, I took a shelving system from a restaurant and I flipped it upside down. I took out the shelves but left the perimeter, so I had a little piece that slid up and down between the four legs. I put memory foam on the bottom and my friend who was podiatrist told me the number, what density to use that reflects the natural compression of the foot. So I would put people on there, then I would slide my bar up and down with a laser line on either side that moved laterally and horizontally and then find the trochanter (an anatomical part of the femur connecting to the hip bone) on either side, then would measure the difference and build a shim (a thin, tapered or wedged piece of material used to fill in gaps or spaces between objects) that matched that difference. That was a whole to-do. It was just a whole big process. That was my take.
There are some people who shim underneath the rails of the saddle; I don't agree with that. There's different ways of shimming, or band aiding. So I was doing that, and I was doing a lot of work with a physical therapist and talking to her about it. She suggested I study Applied Kinesiology, because it might be what I was looking for. So I went back to school and between my exercise physiology from university and physical therapy, I was able to take the kinesiology and learn a way to break up the fascia (connective tissue fibers, primarily collagen, that form sheets or bands beneath the skin to attach, stabilize, enclose, and separate muscles and other internal organs) and cartilage that locks the hip into pelvic obliquity (pelvic misalignment) and learned to release that. I actually expanded upon how the kinesiologists were doing it to make it much more efficient, and they were very excited about my input to that. 
So now what I do is I make adjustments to the hip, and I teach people how to maintain it, instead of having to build a shim. But 95% of the time, the leg length discrepancy is a pelvic obliquity — it's not a real leg length discrepancy. Only when it's a real leg length discrepancy or if there's been an accident that results in the discrepancy, do I do some shimming; and I'm prepared to do it. I'm okay with it. That's one of the things I wish I knew in my earlier years. I've been doing this since 1994, so it took me until 2002-04 to really get to that next level.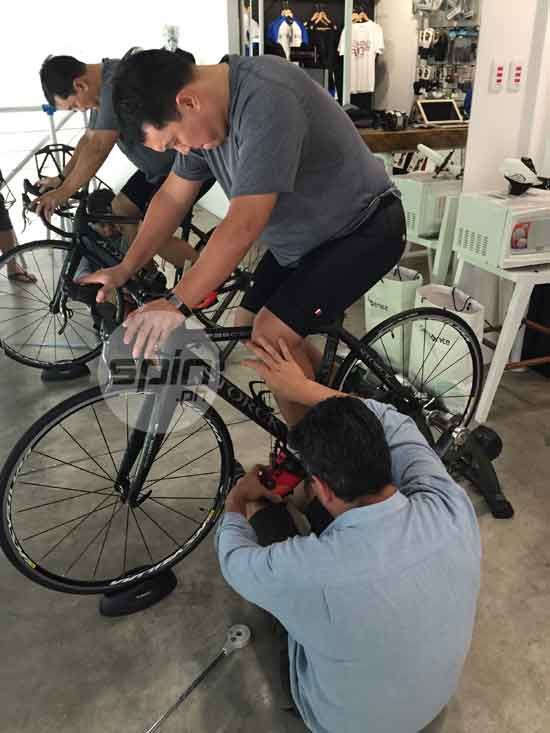 Is there anything (that's happened or that's been developed) in the last few years that has enhanced the bike fitting protocol?  Or has it (protocol) basically stayed unchanged?
I would say that repeatable, recordable, and reliable methods are always the best. Simply by doing things and meeting more people, seeing more body types (e.g. short legs long torso, short torso long legs), just different things, working with different athletes having kinds of different movements — you learn from everyone. It's just building that database. I think the most important tool in the fitting world is doing fits. It's just that repetition of meeting different people and doing fits. 
As far as general tools that have changed things, Paul Swift (of BikeFit) has a gauge that can test the varus and valgus (the inward and outward angulation of a bone or joint) of the foot, which I think is important, because when you're in the womb, your feet come together and there's a natural varus and valgus there, so no one is absolutely the same. But he has a nice tool that can really quantify it and you can see if there are a lot of adjustments that need to make to it. The goniometer (an instrument that either measures an angle or allows an object to be rotated to a precise angular position) has improved mildly, but not dramatically. I've actually switched from a standard plum bob to a nice piece of art that works the same way that I bought from Forever 21 (!). I'm not even kidding. I bought my most recent fit tool from Forever 21. It's a necklace for women, but it works fabulously. It works really, really well, and is actually very accurate.
Trivia Question:  What was the longest time it took for you to do a bike fit?
It was with David Glover, and it took eight hours, because he had massive issues all over his body. He was a professional triathlete. Strong athlete and a very nice guy, but he had a lot of issues.
Parting Shot
I like to revisit the fit as well, and continuously fine-tune it. I don't believe a fit is a once and done deal. If I do my job properly, and I fit you properly to where you are now on the bike, and I give you instruction on how to improve yourself and the bike, then in theory, you should need to see me again in six months. If you've been working on what I've told you, then you deserve to come back. Anyone who I've fit who pays attention and does the work and puts out the effort is always welcome to come back and see me again for little tweaks and just to revisit. I'm excited for that. I like to see how people are doing. I generally like almost all of the athletes I work with.