DAVID Greenfield is affable and affectionate with the people who know him. He strikes me as the kind of guy I'd want to knock back more than a few cold ones with on any given day, and get inebriated by both booze and banter. But I'm not here to get sloshed (yet), while doing a quick-and-dirty ambush interview on bike fitting with him at Storck Bicycle Philippines' store and showroom soft opening at the Portal in Mandaluyong. Here's more about David, as lifted from www.elitebicycles.com.
David was born and raised in Kingston, Jamaica, while his parents were there working as American contractors for the state of Jamaica. At the age of 11, David and his family relocated to Philadelphia (USA), where he has been ever since. Though Jamaica is his place of birth, David considers Philadelphia his home.
In his mid-twenties, David began competing as a triathlete and rose to the professional ranks in 1997. He traveled around the United States and Europe competing as a professional triathlete in both ITU and WTC sanctioned events. He broke numerous bike course records around the globe — some that still stand today. David attended championships in both ITU and Ironman distances. At the height of this career, David had a competitive world ranking and was crowned the Jamaican national champion in 1999.
Continue reading below ↓
Recommended Videos
In the late nineties, David was frustrated with the quality, construction, and geometry of contemporary mass-produced 'peg' bikes. It was then that he decided to build his own bicycle. He traveled around the United States and the world studying the art of bicycle fit and frame construction from the leaders of the industry. In 2001, he and Elite Bicycles became incorporated; In 2003, he and Elite moved to their current location at 2124 South Street, Philadelphia.
Here now is Part I of our interview with Greenfield:
How is your bike fitting different from others? What is the Elite advantage?
I work with the natural flow of the human animal; I incorporate the physiology of what the client has been doing all of his/her life, the sports and how he/she has naturally adapted movement over time. I take how they naturally want to move and incorporate proper stance and natural flow to how the human animal best moves or functions, and I need a middle ground between those two. It's not the first 40k I care about, but the last 40k. I want the client to be in a position to give them a sustainability and to support their natural movement, so that when they pre-exhaust and fail and can no longer hold absolute perfect stance, the position allows their natural movement to still be productive, but not injurious.
A lot of my ideology is prophylactic injury prevention. It's to ensure that the person is comfortable and has a sustainable position, and that at no point does it put them under strain or pressure. That's one of the things that separates my fit from others.
I have been properly educated in physical therapy and kinesiology (the study of human movement), and I like to test the range of motion, flexibility, electrical-muscular engagement pattern (how your body has trained itself to move). With that, I can analyze and study the inefficiencies in the system, and I can guide the athlete how to strengthen or train that area to bring it up. So in addition to just positioning a client on a bike, I'll help them to identify their weaknesses and give them specific guidelines to build that up. I also try to help the athlete understand how one is most efficient on a bike in terms of movement and hopefully guide them on how to achieve that.
But that would mean that the athlete has to be honest and not sandbag/downplay/exaggerate his achievements…
Yes. Over the years I've come up with a series of tests that I repeat to address that. Some of the tests are easy enough for the athletes to identify as a test, but many of my tests are quieter, and many athletes don't realize that I'm already conducting the test. You can learn a lot from watching someone just getting in and out of a chair, or watching how they turn over from getting off their back from a lying position. Understanding the functional movement — being able to understand how a person moves and why he moves as such. I've spent some time to learn to discern what it is you're exactly doing.
The problem that I find with a lot of electronic bike fitting/testing is that the athlete will always slightly cheat; it's natural that when you know you're being tested (e.g. your cadence or how you spin your left or right leg), you pay a little more attention to what you're doing. My favorite thing to do is to have someone spin and (I'll) walk away, letting him/her think that I'm not paying attention, when I really am observing the natural functional movement and flow. Doing this, allowing it while correcting them into a powerful position.
With the BBP (Biomechanical Bicycle Positioning) System, I'm looking at who you really are and I'm not band-aiding anything. I'm actually working off of who you are, how you move, and making it as natural for you as humanly possible, so that you have the sustainability. That, along with the education, both on the bike and how to better serve yourself and exercises to specific movements for yourself, is what I provide.
How do you reconcile what you do with the other protocols (Retul, SICI, etc) that have certified your system?
My protocol is the best pieces of all of them.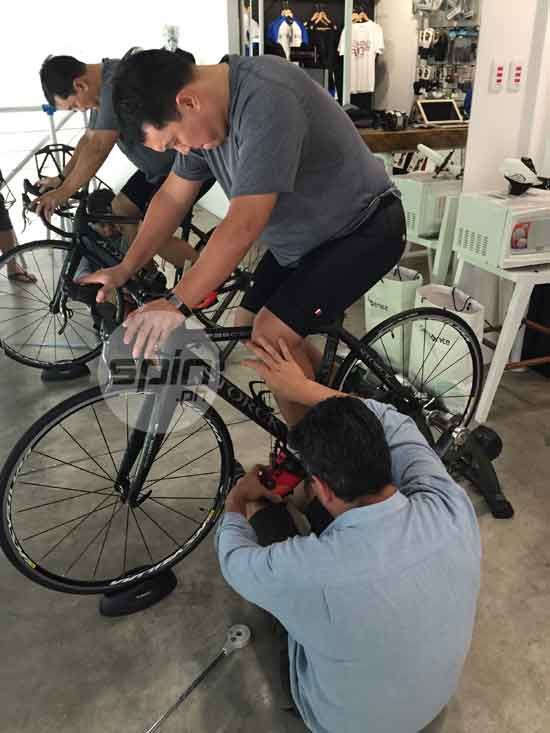 Is that a conscious effort — that you try to take the best of each and put them all together?
I'm not so arrogant to say that I can't continue to learn. I'm always learning. Every time I do I fit, I feel I'm learning a little bit more, because I'm seeing yet another test study, and I can learn from that. The various protocols have merits that I like. But I don't believe that one system is the 'end all, be all.' I agree with a number of approaches, but don't agree with others. I've really tried to seek out as many people whom I find knowledgeable in more ways than one.
If you have perfect cycling form, then you can get a real number that will give you a good mathematical solution. There's a difference between how a body reacts on a trainer and how it acts outside (on the road or trail), so that also has to be taken into consideration as well. And I find that a lot of fitters don't take that aspect into consideration. The force of the pedal stroke is giving lift and then the force of the wind is also giving lift.
The other thing that I think is sometimes neglected by the other systems is the balance or weight distribution between the saddle and the bars. A lot of people seem to forget about that as an important aspect, and that's one of my main goals. I try to achieve that, and try to work on getting the rider to hold himself or herself structurally and not muscularly. That will change the sustainability.
From what I've gathered from people who have undergone bike fitting with you, there's perceivably more testing and evaluation done compared to other bike-fitting protocols. How much of a difference do these additional assessments and measurements make?
I would say it (my system) is justified in that I offer a money-back guarantee that I can make anyone two kilometers average speed faster. In sixteen years, I've only returned money to one client. It had nothing to do with the fit. She signed up for an Ironman distance triathlon, she didn't train, she got a fit. Then, she went the next week to do the race, hated it, came back and said, 'I hate it.'
But that's not your fault…
But just to be fair, I gave her her money back. But that's the only incident in sixteen years.
I believe there are some competent (bike) fitters out there. I respect a handful of fitters out there. And I think they can put someone in the proper position, almost mirroring mine. What the testing allows me to do is to have an intelligent conversation with the athlete about where they have inefficiencies, and where they can be improved.
Also for triathletes, my focus isn't only on the bike. I'm also looking at their ability to run after the bike. It's a little trickier than just doing a TT (Time Trial) fit. I actually have a different mentality towards fitting a TT from I do fitting a triathlon bike, and I don't believe they're the same — because they're not. And it has a lot to do with the position of the hips, how they're rotated, and where they are in relation to the bottom bracket, and the rotation around.
In Part Two of my interview with David, we'll find out about road and triathlon bike fitting, things he wishes he knew then that he knows now, and the longest bike fit ever. Stay tuned!