THEY are fixtures at the finish line in each Ronda Pilipinas race, brightening up the day for cyclists and fans alike at the end of a long, grueling day under the scorching summer sun.
Organized by LBC in 2011 and the brainchild of its president Dino Araneta, the Ronda Girls have become welcome sights as they go from town to town with their ready smiles, skimpy dresses and refreshing demeanor.
But beneath those smiles and glamour, these girls have compelling life stories to tell, just like you and me.
Take the case of Leandrae Ordonez, better known in the Ronda delegation as Dhae, who revealed to SPIN.ph that her participation in the multi-stage race has become a source of hope for her ill grandmother.
Just a day before joining Ronda in the Visayas leg last March 11, Dhae and her family were devastated by the news that their lola Josefa Dalusong has been diagnosed with Stage 4 colon cancer.
"Siya ang nagpalaki sa aming magpipinsan, kaya di ko talaga matanggap 'yung nangyari," Ordonez said in between sobs. "Wala kaming pambayad sa hospital. Di namin alam kung san kukunin. Ayaw naman naming i-give up agad si lola, syempre, kahit papano gusto naming ilaban siya."
Continue reading below ↓
Recommended Videos
Making it to the Ronda Girls cast, Dhae said, will go a long way in helping defray the hospital cost - and perhaps prolong her lola's life.
"Good thing I was invited to join Ronda by Ma'am (admin head) Badette (Guerrero). Sinubukan ko lang talaga na mag-audition kasi my friends tried out," she recalled.
She left for the Ronda race with a heavy heart.
"Ayaw ko sana iwan yung lola ko, kasi ako rin nag-aalaga. Kaya nga to the airport, sa ospital na ako galing, sa Veteran's (Memorial Hospital). Ako rin kasi ang nagbabantay sa kanya," Ordonez said.
"Kaso I am thinking kung nag-stay ako, problema ang pambayad. Kaya sabi ko kailangan ko talagang umalis," added Dhae, saying the money she received as podium girl all went to the hospitalization and medical needs of her lola.
Dhae's story is just one in a Ronda entourage, which has become more of a community over the years.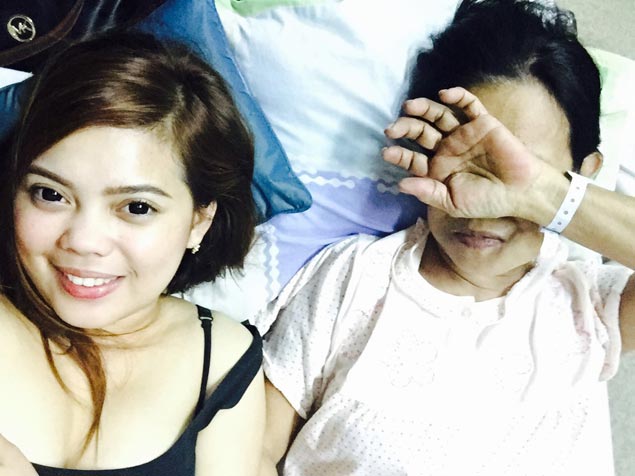 Race project director Moe Chulani told SPIN.ph that apart from uplifting the level of cycling in the country, the 2016 edition of Ronda Pilipinas has aspired to make life better for some members of the entourage.
"Dhae was just one of the hundreds of people who we see smile each day, do their jobs efficiently for the race, yet we don't know they're going through difficult times," said Chulani, the former team manager of the Pasig Pirates in the now defunct Metropolitan Basketball Association (MBA).
"So we tried to help them. I am even happy to tell you that some members even help others. In the delegation, Dhae's lola was also referred to the Philippine Charity Sweepstakes Office (PCSO) by another Ronda staff, she will now receive medical assistance," he added.
Chulani also mentioned the plight of team cameraman JM Gonzales.
"JM is jobless, then he went to Ronda. In one meeting, somebody whispered to me that his only means of livelihood yearly - yearly ha - is his Ronda coverage. So I called him and talked to him," he said.
"Now JM will start his job within this month as waiter and attendant at the White House Hotel in Boracay. The owner is my friend," said Chulani.
That's not all.
"May isa pa nga kaming marshall, he told me hindi na niya sana papa-enroll anak niya. But after making it to the pool, he went straight to his child's school to enroll him. You see, it's something money can't buy. Iba ang pakiramdam when you know you are able to help. That's Ronda," he said.